Impact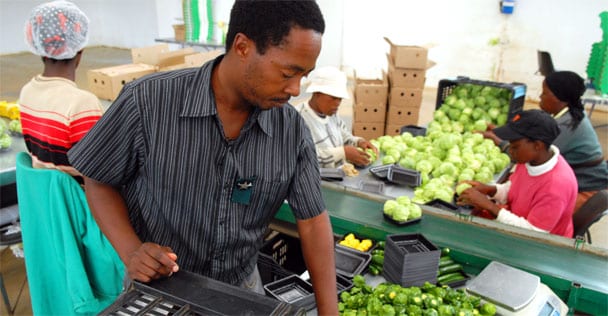 Through SWEEP, TechnoServe has trained 357 entrepreneurs and assisted 286 businesses that have generated more than $20 million in revenue, employed and sourced products from 6,820 people and generated $6.7 million in wages and payments. We also have mobilized $4.3 million in finance and trained 11,349 youths to improve their business and technical skills.
Stories
TechnoServe is helping Themba Dlamini to develop a thriving produce business that can lift his community out of poverty.
Read More
Through training, seminars and strategic support, Technoserve is helping Eswatini Kitchen to flourish. Its success has created employment opportunities for vulnerable youth.
Read More
On The Ground
Projects

Community-Based Livelihoods Development
A five-year partnership with FHI360, funded by the U.S Agency for International Development, provides an integrated approach to community livelihood development through three objectives: 1) improve the livelihood capabilities of vulnerable households including women, youth and caregivers within these households, 2) protect the rights of women and children – particularly orphans and vulnerable children (OVCs) and 3) strengthen the capacity and coordination of government institutions, communities and other organizations to protect and promote the social and economic well-being of the target population. TechnoServe is responsible for the implementation of the economic strengthening and promotional activity initiatives in the program. These include value chain development and micro entrepreneurship training of trainers to promote economic development and financial literacy, which will protect and grow the existing assets of women and OVCs.

Linking Health Outcomes to Income Generation
A two year PACT PEPFAR (President's Emergency Plan for AIDS Relief) funded program has enabled TechnoServe to deliver basic business training through a "train the trainer" and mentorship approach, which is being delivered to organizations supporting vulnerable households and caretakers of orphans and vulnerable children (OVCs) who are part of the WORTH savings program. A needs assessment was conducted to establish the WORTH group's activities, capabilities and skills gaps with particular regard to their ability to undertake successful income-generating interventions. The curriculum and hands-on mentorship and support is tailor-made to address these gaps and to enable women to create income opportunities that will enable them to improve the health outcomes (clinic access, food, transport, school fees, etc.) of their families and dependents.

Promoting Food Security and Resilience in Impoverished Areas
Through the European Union, TechnoServe will embark on a program aimed at improving rural food supply, increasing farmer profitability, addressing informal market inefficiencies and promoting rural enterprise. The program will address farming practices for subsistence and staple crops while also promoting crop diversification for income and nutrition. This program will aim to enhance profits and market access for farmers and vendors, promote the skills necessary to enhance food security among rural women micro-entrepreneurs, and create access to networks through health, education and agricultural public-private partnerships.

Supporting the Honey Value Chain
Through a grant from the U.N. Food and Agriculture Organization's Swaziland Agricultural Development Program (SADP), TechnoServe will continue the expansion of the honey (beekeeping) program through the development of a lead beekeeper initiative. Training will be provided to 60 lead beekeepers and 300 emerging beekeepers to continue the development of this highly valuable sector. TechnoServe will also provide continued support to the Honey Council in order to stimulate and support the industry's growth.

Improving Food Security for Farming Families
TechnoServe will undertake innovative approaches to address the causes of food insecurity across the pillars of access, availability, utilization and stability of food. Initiatives will include linking 1,000 farmers to the formal cassava value chain, undertaking a study of the inefficiencies in maize production (Swaziland's main staple crop), advocating for improved policies and trade regulations, communicating the threat of Aflatoxin and developing and promoting crop insurance to help shield farmers from food insecurity caused by climatic disasters.
Promoting Youth Entrepreneurship
Through a European Union-funded program, TechnoServe is aiming to improve the livelihoods of Swazi youth. Using a proven "train the trainer" methodology, TechnoServe will train 20 non-state actor partners in an economic training curriculum, which will create the potential to train up to 19,000 youths in Swaziland. These non-state actors will directly impact youth at school, at a tertiary level and at other colleges and institutions. These include vocational training institutions, teacher training colleges and students involved in Junior Achievement programs, free enterprises, council of churches, nonprofit organizations and business associations.
Developing the Capacity of Entrepreneurs
Through a seven-year program funded by the U.S. Agency for International Development, TechnoServe has developed entrepreneurs by focusing on three objectives: support and strengthen today's entrepreneurs and SMEs, plant the seeds for the entrepreneurs of tomorrow and build local sustainable capacity of financial institutions to support those entrepreneurs and SMEs. Through industrywide initiatives and direct client support in horticulture, cotton, handicrafts, tourism, agro processing, honey, field crops and livestock, TechnoServe has grown local businesses and developed sustainable value chains. TechnoServe has helped aspiring young entrepreneurs turn their business ideas into reality through the implementation of six national business plan competitions. With a proven combination of training, mentoring and networking activities (as well as seed capital vouchers and follow-up "aftercare" support) participants received assistance in creating thriving small- and medium-sized companies that generate employment and income opportunities across a wide range of sectors. By initiating the school aged youth entrepreneurship (SAYE) "after school" program to inspire young people and teach them about the world of business, TechnoServe helped foster a new culture of entrepreneurship. Junior Achievement Swaziland was born out of these initiatives and today runs the "JA Company Program," the "Economics for Success Program," and a highly successful job shadow program enabling thousands of youth to explore the possibilities of creating businesses and fostering economic growth. Access to finance is a considerable constraint to the development of SMEs in Swaziland. To help private lenders expand their services to these riskier borrowers, TechnoServe launched a $25-million Development Credit Authority (DCA) loan guarantee scheme (backed by the U.S Agency for International Development) for viable Swazi SMEs. To this end, the commercial banks have also since expanded their loan portfolio and are implementing the Entrepreneurial Finance Lab Psychometric Testing platform to assess loan candidates for micro-, small- and medium-sized loans.
Contact
TechnoServe Swaziland

P.O. Box 663
Ezulwini, Swaziland H106

Tel: +268 404 1941/2/3
Fax: +268 404 1947

Debbie Cutting

Country Manager
dcutting@tns.org