Brazil
In Brazil – South America's largest country, with a population of 200 million – nearly one in every ten people lives in poverty. While positive demographic shifts are building momentum with millions of Brazilians entering the middle class, many families remain vulnerable to even small economic shocks within unstable livelihoods and local economies.
1 in 10 Brazilians lives in poverty.
While inequality threatens Brazil's future, its strong private sector represents an asset for inclusive economic growth. The Brazilian public sector and civil society have the capacity to identify and replicate successful models for development, and TechnoServe is well-placed to help create public-private partnerships that demonstrate measurable, sustainable improvements to people's lives. For more than five years, TechnoServe has worked with leading companies across various sectors — such as Anglo American, AB Inbev, Walmart Foundation, Coopfam, and Cooxupé — to leverage the power of the private sector to catalyze a new future for Brazilian entrepreneurs, workers, and farmers.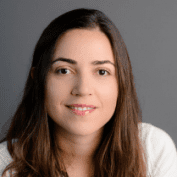 Mônica Coutinho
Country Manager, Brazil
Opportunities Realized for Rural Youth in Brazil
Resources
2018 Annual Impact Report
Read our 2018 Annual Impact Report online. Explore our results from 2018, TechnoServe's 50th year.