About Us
TechnoServe helps people lift themselves out of poverty by harnessing the power of the private sector. A leading nonprofit organization operating in almost 30 countries, we work with hardworking women and men in the developing world to build competitive farms, businesses, and industries. By linking people to information, capital, and markets, we have helped millions to create lasting prosperity for their families and communities.
Rated the #1 Nonprofit at Reducing Poverty
Watch the video below to learn more about how TechnoServe fights poverty.
---
---
TechnoServe works with enterprising people in the developing world to build competitive farms, businesses, and industries.
Vision
We will be the most effective catalyst and partner for transformative, on-the-ground, market-based solutions to poverty.
From inspiration in Ghana to transformation around the world, for more than 50 years TechnoServe has helped empower the poor to provide for themselves and create a pathway out of poverty. Experience the historic journey.
Our mission of helping people lift themselves out of poverty is built upon the ideas of fairness and equity, which extend into our workplace.
TechnoServe's work has helped transform the lives of millions of people in poor communities around the world by helping them learn to improve their farms, businesses, and industries.

$201m Financial Benefits

317,493 Beneficiaries

38% Women Beneficiaries

$27m Finance Mobilized
Where We Work
We work in poor communities that fight poverty

every day throughout Africa, Latin America, and Asia.
We are a global team of dedicated individuals that create business solutions to poverty. Get to know our:
Unlocking economic opportunity in partnership with the public and private sector has shown us that business solutions to poverty are possible. Markets can work for the poor when capacities, incentives, and connections are built for inclusive economic growth that leaves no one behind.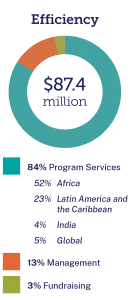 Discover more about our transformative work in the developing world.