Impact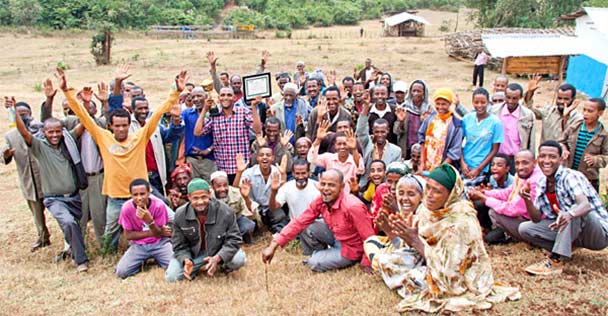 As part of the Coffee Initiative, TechnoServe has helped establish 123 cooperative-owned wet mills, creating opportunities for 95,483 smallholder farmers to boost their incomes.
Stories
A remote community benefits when a cooperative connects with international buyers and earns a premium price for its coffee.
Read More
Our Coffee Initiative is helping East African farmers to build better lives, one coffee bean at a time.
Read More
On The Ground
Projects

Partners in Food Solutions-TechnoServe Alliance
The Partners in Food Solutions (PFS)-TechnoServe Alliance matches the expertise of leading global food companies with the needs of African-based food processing companies in Ethiopia, Kenya, Malawi, Tanzania and Zambia.
View project

Supporting Farmer Cooperatives
As part of the Maize Alliance in Ethiopia, TechnoServe is supporting nine farmer-owned cooperative unions, which are umbrella organizations for primary cooperatives, to improve their access to markets. Through training and coaching, TechnoServe strengthens the cooperatives' business and financial management skills as well as implementation capacity, with the immediate objective of delivering on contract agreements to the World Food Programme's Purchase for Progress (P4P) initiative.
Promoting Sustainable Water Management
Hundreds of millions of liters of effluent are discharged into the rivers of Ethiopia's Sidamo region during coffee processing without adequate waste water management. This polluted water then becomes source water for communities and wet mills downstream. The problem has become so acute that legislation was passed to prevent new wet mill construction within five kilometers existing wet mills. TechnoServe is currently working with 10 Sidamo wet mills to implement appropriate water purification solutions, from constructing shallow evaporation lagoons to installing grass-based wetland treatment systems. TechnoServe will support an additional 20 wet mills implement sustainable water management practices over the next two years.
Supporting Smallholder Coffee Farmers
Coffee contributes more than 30 percent of annual export earnings, and provides a livelihood for over one million households. Since 2009, TechnoServe helped establish 90 new farmer-owned wet mills across Ethiopia as part of the Coffee Initiative. These wet mills have given smallholder farmers a way to produce consistent, high-quality washed coffee and earn premiums averaging 50 percent above the price of unwashed coffee. In the program's first year, a cooperative with a new wet mill located near the town of Jimma took top prize at the national Taste of Harvest event. In 2012, a TechnoServe-assisted cooperative in Agaro won the Africa Taste of Harvest competition. TechnoServe is continuing its work by providing agronomy training to over 50,000 coffee farmers in Ethiopia.
Contact
TechnoServe Ethiopia

P.O. Box 100598
Addis Ababa, Ethiopia

Tel: +251 1 663 0017
Fax: +251 1 663 0018

Mefthe Tadesse

Country Director
mtadesse@tns.org