Impact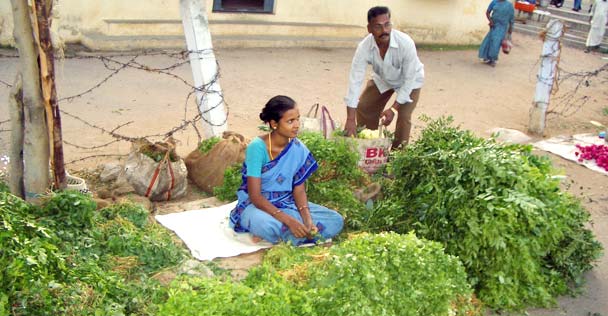 In 2012, TechnoServe has provided agronomic training and business and marketing support to more than 10,000 farmers and farm workers -- 45 percent of whom are women -- across 17 states in India. We have developed innovative ways of helping farmers adapt to climate change and water scarcity. And we have provided intensive support to 25 entrepreneurs to grow strong businesses, improving their local economy.
On The Ground
Projects

Boosting Incomes for Soy Farmers
Soybean farmers in the desert state of Rajasthan have far lower productivity than in other regions of the world.
...
TechnoServe supported 5,000 smallholder soybean farmers to realize their potential, improving productivity and developing linkages to better markets. Our teams provided training on scientific and up-to-date cultivation practices, helping farmers produce more for smaller investments and connecting them to better markets. During the three years of this program, 5,000 smallholder farmers benefited from training and agricultural inputs, 70 percent farmers achieved a yield increase of more than 50 percent and average income for participants grew by Rs 9,500 ($175) per hectare.

Expanding Opportunities for Farmers in North East India
TechnoServe is working to strengthen agricultural value chains across India's North Eastern states, promoting
...
aggregation and effective post-harvest management of crops in order to benefit smallholder farmers. Our work has involved identifying crops suitable for aggregation and value chain interventions; supporting smallholder farmers working in these crops to form clusters and farmer groups; training and supporting farmers on agricultural practices, business planning and marketing; and arranging sustainable market linkages for participant farmers, enabling them to buy inputs cheaply and sell their crop at the best possible price. Over the course of the project, 1,000 farmers will benefit from increases in productivity and market understanding, as well as an improved agribusiness environment.

Economic Development of Tibetan Settlements
The Economic Development of Tibetan Settlements (EDOTS) program is creating sustainable, replicable livelihood
...
opportunities for Tibetans in exile in India and Nepal. Through scalable models of improved organic farming, workforce development and entrepreneurship training/support, the project aims to reduce out-migration from Tibetan settlements and preserve Tibetan culture. Over two years, we are promoting organic farming commercially and for households, using innovative methods such as WADI plantations; improving organic produce supply chains and supporting micro-enterprises to participate in these supply chains; providing intensive business support and mentoring for 40 Tibetan entrepreneurs; and running employability and skills training for 570 young Tibetans, helping them to find meaningful and well-paid work.

Developing Business Skills for Producer Groups
One of the best ways for smallholder farmers to improve productivity and increase incomes is to aggregate into informal
...
or formal producer groups. In India, legally constituted Farmer Producer Companies (FPCs) combine the social objectives of cooperatives with the commercial goals of enterprises. Through FPCs, producers can invest together in agricultural inputs and post-harvest management or processing, increase their bargaining power when selling produce, and mobilize finance through formal banking. TechnoServe provides training for FPCs on business planning, operations, financial management, governance, risk management and marketing. We are currently working with HIVOS to train 20 FPCs and develop a standard training methodology and resource pack that can be used across India.

Promoting Sustainable Livestock Development Centers
BAIF Development Research Foundation has pioneered a unique doorstep delivery model of providing breeding services
...
(artificial insemination) to cattle owners, through its Cattle Development Centers (CDCs). TechnoServe carried out research and business strategy planning, assisting BAIF to scale up from 1,700 to 3,000 CDCs across Bihar, Uttar Pradesh and Maharashtra states. We also developed customized business plans for 170 specific centers, assisting them to achieve financial sustainability and ensuring that poor farmers, especially women, were able to benefit from their services. Overall, the centers are expected to reach 86,000 poor farmers over five years, increasing their incomes by Rs 8,000 ($148) per animal.

Promoting Rice Water-Use Efficiency Technologies
In partnership with IFC Advisory, TechnoServe is working to improve implementation of water-use efficiency (WUE)
...
technologies in Indian paddy cultivation. We are developing partnerships, technology delivery extension models and financial linkages, helping small-scale farmers adapt to climate change. To date, we have run a pilot project reaching 500 farmers in Haryana, using technology inputs (laser-assisted precision land leveling and direct seeding) and agronomic practices to increase their water efficiency by at least 20 percent. We also have developed and tested an Agri-Tech Service Provider (ATSP) model to share knowledge and increase technology use among smaller farmers. The next stage of the project will reach between 50,000 and 100,000 rice farmers, increasing annual farmer incomes by at least 10 percent.

Analyzing Agribusiness in South Asia
Agribusiness faces many challenges in India, from lack of consistency and quality in produce to poor market
...
infrastructure and processing. This leads to much wastage and means the sector performs far below its potential. TechnoServe is carrying out an India-wide mapping and analysis of the agribusiness sector, working with IFC Advisory to inform their South Asia Agribusiness Strategy and to identify potential investment opportunities for IFC in India.

Studying the Rice Value Chain
The Bill & Melinda Gates Foundation are focusing on rice as a key crop in their fight to improve nutrition and increase
...
smallholder farmer incomes. TechnoServe is working with the Gates Foundation to analyze the rice sector throughout India and Bangladesh, provide detailed studies of the rice value chains in selected states and identify potential regions, partners and intervention models for future interventions on a large scale across India and Bangladesh.
Assessing the Viability of a Mango Processing Hub
Despite Orissa's rich natural resources and strong horticultural sector, more than 35 percent of produce is wasted
...
due to poor infrastructure and lack of processing facilities. TechnoServe is conducting strategic research to assess the viability of a projected mango processing hub, as well as creating a detailed business and implementation plan. If taken forward, the processing unit will improve the supply chain, create employment and promote Orissa's development into one of the country's leading mango producing regions.

Supporting Organic Production through a Business Cell
Organic production has been a priority in the northern state of Uttarakhand. However, little value addition or
...
processing happens within the state. TechnoServe is establishing a Business Development Cell as part of the Uttarakhand Organic Commodities Board, supporting private enterprises throughout the organic supply chain. The Business Cell will carry out a value chain analysis of the organic sector, provide intensive business support and training to entrepreneurs in the organic sector and build an enabling business environment, strengthening relationships between stakeholders from producers and processors to banks and government officials.
Blog Posts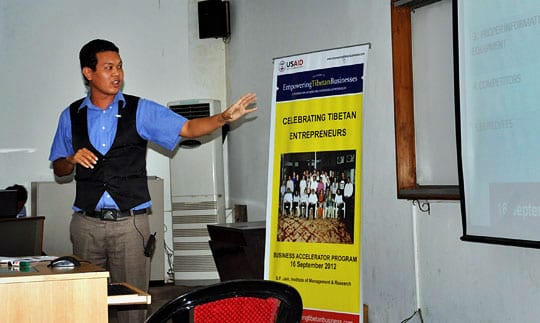 January 8, 2013
Sambuddha Bhattacharya discusses his experience working on USAID's Economic Development of Tibetan Settlements (EDOTS) program as a Volunteer Consultant for TechnoServe India.
May 12, 2011
In Rajasthan, one of India's poorest states, thousands of soy farmers are creating a better future for their families with TechnoServe's assistance. Our advisors are showing these farmers agricultural best practices, helping them as much as double their productivity. The higher incomes have given families better access to health care, education and other essentials.
Contact
TechnoServe India

Unit 6, Neeru Silk Mills,
Mathuradas Mill Compound
126, NM Joshi Marg
Lower Parel (W)
Mumbai 400013

Tel: +91 22 61283200

Punit Gupta

Country Director
infoindia@tns.org