Work at Cashew Factory Empowers West African Women
In just two years, Jemima Akusika Hansen has risen from a part-time data entry clerk to the head of human resources at a cashew factory in Ghana. Her progress demonstrates how the cashew industry can create new opportunities for thousands of women in West Africa.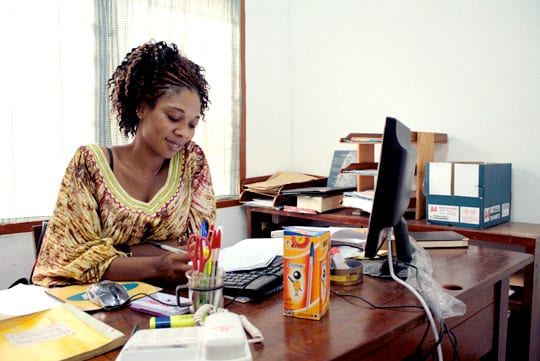 Jemima moved to the Brong Ahafo region, where Mim Cashew is located, to be close to her new husband and his family. She says the factory, to which TechnoServe has been providing technical and business assistance since 2008, is the best employment option in the area because of its working conditions and competitive salary.
When she began working at Mim in August 2008, Jemima was employed only part time. That changed quickly, however, as she excelled at her job and began to take on personnel management responsibilities.
"I did everything," she recalls. "I was the messenger and the housegirl, and I did payroll. I was the only one who could use a PC, so I wrote official letters, too."
After less than two years, Jemima became the official head of human resources. She now handles all personnel issues.
TechnoServe is working to create more jobs for women like Jemima through the African Cashew Initiative (ACi), a four-year project in Ghana, Côte d'Ivoire, Benin, Burkina Faso and Mozambique funded by the Bill & Melinda Gates Foundation and the German Federal Ministry for Economic Cooperation and Development (BMZ), along with a broad spectrum of private-sector companies. The project is implemented on the ground by the German International Cooperation (GIZ) and receives additional support from the African Cashew Alliance (ACA), TechnoServe, and the Dutch-based NGO FairMatch Support.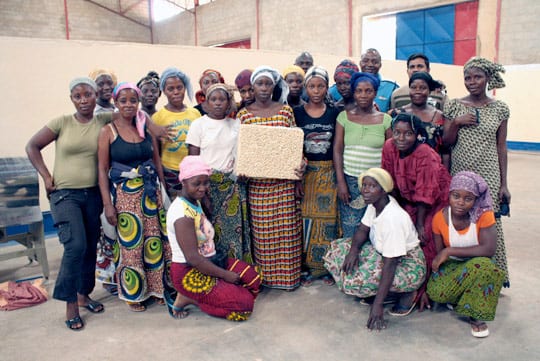 Currently, most West African farmers export their nuts for processing – a missed opportunity to generate income and local jobs. TechnoServe is working with both smallholder farmers and cashew processors across the region to improve the industry.
Our training for farmers and processors helps promote proper harvest and post-harvest handling of raw cashew nuts. ACi will provide assistance to 150,000 small farmers, who together employ 900,000 people. TechnoServe is also identifying promising entrepreneurs and working with them to devise business plans for processing factories. We currently support 13 processors that are providing reliable and well-paying jobs. These factories have created more than 1,800 new jobs to date and are expected to create nearly 3,200 by the end of the year. More than 60 percent of these jobs are held by women.
Jemima, now pregnant with her second child, is working to promote Mim Cashew in the local community and recruit more workers. She is optimistic about factory operations in 2011.
"I think this year will be a good one, and that we will hit 800 workers," she says. "My main objective is to get people working and make sure they are happy."