Digitizing Coffee Agronomy Training & Monitoring
December 15, 2017
In an interview for Dimagi, TechnoServe's Global Technology Manager, Kevin Ziegler, shares how we are using mobile data collection to monitor training sessions and improve reporting for our coffee projects.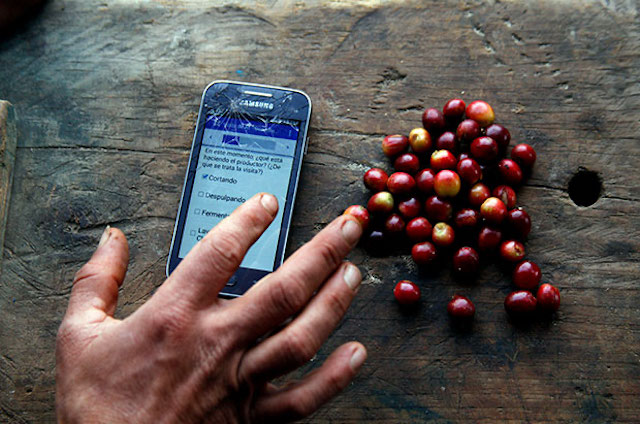 The following was originally published on Dimagi.
As one of the most-traded commodities in the world, valued at over $100 billion globally, coffee is fueling both our caffeine buzz and the livelihoods of more than 10 million farmers worldwide. While coffee is one of the most important crops globally, climate change poses a direct threat to both coffee consumers and farmers.
According to a 2016 study by The Climate Institute, "climate change is projected to cut the global area suitable for coffee production by as much as 50 percent by 2050." In order to keep up with our growing coffee demand and to protect the livelihoods of coffee producers, sustainable farming practices must be adopted.
One of Dimagi's client's, TechnoServe, is an international non-profit with nearly two decades of experience working alongside private and public sector actors to develop East Africa's coffee industry. We recently connected with Kevin Zeigler, Global Technology Manager at TechnoServe, to learn about three of TechnoServe's current coffee projects and how they are using CommCare to monitor training sessions and improve reporting. Check out the Q&A below and don't miss Kevin's tips for adopting a digital data collection system!
[DIMAGI] Thanks for taking the time to connect, Kevin! Can you tell us about a few of the projects you're working on?
[KEVIN] TechnoServe is a nonprofit organization that applies a private sector approach to reducing poverty worldwide. As part of this effort, we work to improve the productivity and sustainability of coffee production among smallholder farmers across the globe. The three projects below exemplify the variety of approaches we employ at the coffee farm, processor, and industry levels.
Nespresso AAA Ethiopia: Project started in June 2014
The Nespresso AAA Sustainable QualityTM Program is a unique green coffee sourcing approach that combines a focus on quality, sustainability and productivity. It aims to secure a stable supply of the highest quality coffees required for Nespresso consumers while simultaneously improving the livelihoods of the farmers who grow them and encouraging sustainable production practices (defined by the TASQ Core Criteria). By 2020, Nespresso aims to source 100 percent of its coffee for the permanent Grand Cru range from the AAA Program by assisting wet mills and training coffee farming households to adopt best agronomy practices.
Nespresso AAA Kenya: Project started in June 2014
The goal of the Kenya AAA Program is to provide technical assistance to improve quality and sustainability at Kenyan wet mills. The partnership will also provide agronomic advice and training to boost yields for trained Kenyan coffee farmers. This partnership will result in higher incomes for farmers and position Nespresso to achieve a target of sourcing 100 percent of its African coffees through the AAA program by 2020.
PRICE Farmer Field School in Rwanda: Project started in May 2016
TechnoServe's principal goal in this program is to equip and empower coffee farmers in Rwanda with the skills, knowledge and motivation necessary to adopt a set of sustainable and productivity-enhancing agronomic practices on their coffee farms, and thereby achieve higher coffee tree yields and adaptation to climate change. Adopting the set of agronomy best practices in turn will result in higher coffee production, improved coffee quality, as well as higher economic returns for the participating coffee farmers. This will contribute directly to the objectives of the Project for Rural Incomes through Exports (PRICE).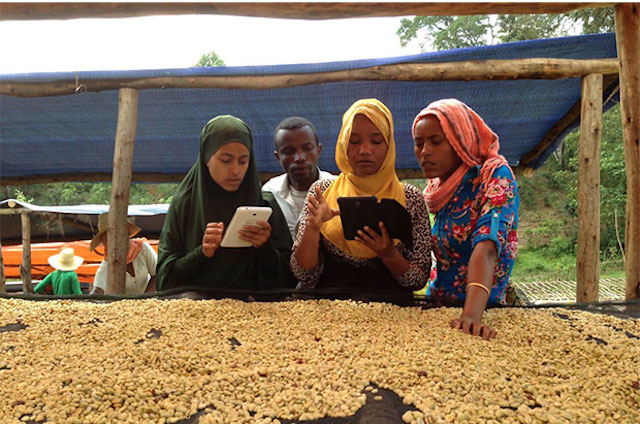 [DIMAGI] How are you using CommCare on these projects?
[KEVIN] Currently, we are using CommCare to monitor the training sessions delivered to participating farmers and wet mills. Business advisors can observe training sessions and demonstration plots and submit their observations back to our centralized Salesforce.com monitoring database. Project managers then use scheduled and adhoc reports to determine the effectiveness of the trainers who deliver the training.
We also register participants in the field using an automated ID generation system built into our CommCare survey. These participants are then immediately included in the attendance surveys, which are completed at the end of all of the training sessions to keep track of each farmer receiving training.
[DIMAGI] Can you share any results to-date?
[KEVIN] Yes, we're really proud of what we've been able to accomplish together with these organizations. Here are a few highlights:
Nespresso AAA Ethiopia:
As of June 2017, over 35,000 farmers have been trained (see note 1) in the AAA Academy of agronomy best practices, 34 percent of which are women. Of the households trained in the most recent cohort of the AAA Academy, 46 percent of households in the most recently finished cohort of AAA Academy have adopted at least half of the agronomy best practices they were taught – a massive improvement from 6 percent at baseline.
Nespresso AAA Kenya:
Over 11,000 farmers have been trained (see note 1) in the AAA Academy of agronomy best practices, 42 percent of which are women. Of the households trained in the most recent cohort of the AAA Academy, 55 percent have adopted at least half of the agronomy best practices they were taught – a massive improvement from 0 percent at baseline.
PRICE Farmer Field School in Rwanda:
Over 17,000 farmers have been trained in the first cohort of the Farmer Field School — in less than a year! A best practice adoption end-line survey is underway for this cohort currently, so we don't have adoption data yet. In addition, the second cohort has just launched and does not yet have impact data.
"Before, it would take up to three months to have paper-based attendance data from our field regions brought to our central office in the capital and encoded. Now our program managers have data instantly available in real-time during each training module."
[DIMAGI] Those are some really impressive stats! Was it helpful to use a digital data collection tool to monitor the progress on these projects?
[KEVIN] Before, it would take up to three months to have paper-based attendance data from our field regions brought to our central office in the capital and encoded. Now our program managers have data instantly available in real-time during each training module to determine effectiveness of both the module and our staff, and make immediate adjustments as necessary. This platform allows us to adopt a proactive and adaptive management approach to our programs, ensuring we achieve the highest impact as possible within our programs.
[DIMAGI] Do you have any tips for organizations who are considering adopting a mobile solution on a project for the first time, e.g. transitioning from paper to tablet? Any considerations they should keep in mind?
[KEVIN] I think a common misconception is that mobile data collection gives you better data. While this might be true in some cases from a data quality perspective, using mobile data collection doesn't mean that you can put any less effort into the design and flow of your survey, especially when collecting data across multiple geographies. Designing good survey questions and good survey flow is more of an art than a science and depends largely on the context in which you are collecting data.
When looking for a mobile data collection application, I prioritize a few things:
How complicated is the application to use on the mobile device? Too many buttons or settings is confusing for a lot of users and will lower your adoption rates.
Version control is a really underrated feature, make sure the tool you select has a robust version control feature so that you can push survey updates to your users and that they can easily download them without having to delete old versions on their mobile devices.
Being able to pre-load data into the survey is a huge bonus, either via lookup tables or cases, especially if you can manage and update that data over time.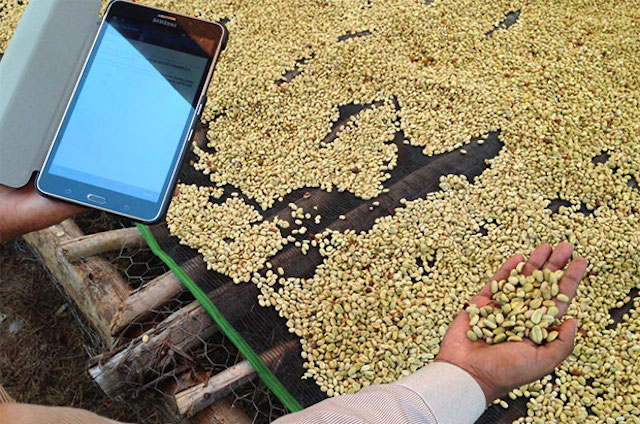 [DIMAGI] What was your experience like learning and using CommCare for the first time? And any tips you can share for organizations considering CommCare?
[KEVIN] I first came across CommCare about three and a half years ago when I first started with TechnoServe. I had always been impressed with the survey builder user interface and the amount of documentation that was available to help get users started. Coming from the private sector, I had zero experience with data collection in a rural, offline context. Learning how to build and deploy a basic survey took only an hour or so and the process was much easier than I anticipated. I really enjoyed the flexibility and learning how to adapt the available functions to meet our project teams' requirements.
With that said, here are a few of my tips for getting started in CommCare:
I always suggest working on the questions first, then logic, then validation. It's easy to confuse yourself when thinking about logic and flow and much easier to do when you can see all of your questions in front of you. Build surveys incrementally (CommCare has a great versioning system), don't build the whole thing at once or you'll usually end up missing something in the process.
Take advantage of the help documentation available on the CommCare website. It's some of the best help documentation available for mobile data collection tools, and it's rare that I can't find what I am looking for. If I need more help, I will use the Google Group and try to find the answer there. Even if it's not the exact answer I'm looking for, it usually gives me enough to work off of to figure out the solution on my own. When that doesn't work, I submit a support ticket. Having used CommCare for almost three years now, I've really noticed the effort that Dimagi has put into their support resources. The response time is great and the technical support team really knows their stuff.
Test, test, and test again. Even the most well designed surveys can have flaws. When you are testing a survey with complex logic or validation, test every possible combination of answers. If you don't find the error, your end users will and you'll end up with poor data quality and/or frustrated users.
[DIMAGI] Any other thoughts you'd like to share with us about CommCare or your project?
[KEVIN] Over the past few years, I tested a lot of the mobile data collection tools that are available. One of the things that I like most about CommCare is the constant improvements that are being made to the application. Just in the past year, they released a ton of new features that make it easier than ever to build a mobile data collection system rather than just a group of surveys.
Digitizing our monitoring toolset through CommCare, coupled with instant reporting from Salesforce, has enabled TechnoServe to take a truly adaptive management approach in our programs, helping to increase the efficiency, effectiveness and ultimately the impact of our programs.
This is part one of a two-part blog series with Kevin. The second blog post will cover how TechnoServe connected CommCare with Salesforce for reporting. Stay tuned for step-by-step instructions!
Related Blog Posts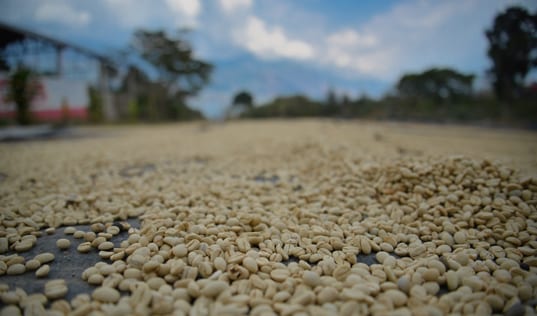 In the next part of our consumer spotlight series, we are highlighting the unique profile of Peruvian coffee. In Peru, TechnoServe works with coffee farmers in former coca-growing regions through the Coffee Alliance for Excellence (CAFE) program.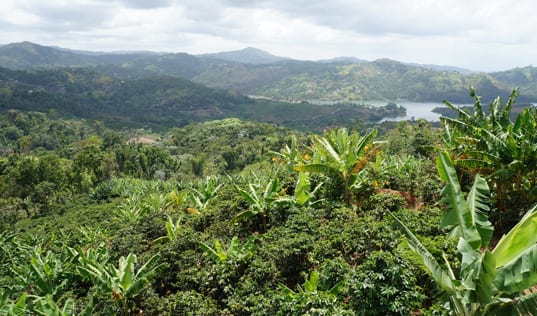 We spoke with TechnoServe's new coffee program manager for Puerto Rico about his background in coffee, his plans to revive the industry, and the biggest challenges he foresees.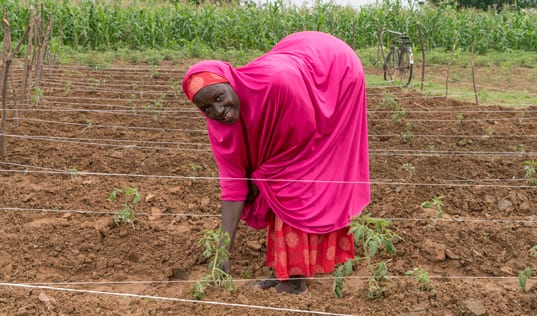 In Nigeria, TechnoServe is helping tomato farmers boost incomes and reduce post-harvest losses, while adapting to a changing climate.