Transforming Businesses and Lives in Kenya's Micro-Retail Sector
October 02, 2019
TechnoServe and Moody's Foundation have partnered to support micro-entrepreneurs in Kenya's micro-retail sector through the Smart Duka Initiative.
Christopher Bredholt from Moody's Foundation mentors Charles Waitere, a Smart Duka Initiative participant.
Small "mom and pop" retail shops – known as dukas – supply almost 80 percent of Kenya's consumer goods. These shops are often women- and family-owned, providing income for millions of micro-entrepreneurs and making everyday products accessible in low-income communities. While these businesses have the potential to transform communities, shopkeepers often struggle to make a profit due to limited business skills, poor financial management, and inventory challenges.
In 2016, TechnoServe partnered with Citi Foundation and elea Foundation for Ethics in Globalization to increase the profitability of over 1,000 dukas in Kenya. The Smart Duka Initiative combines individual consulting, group training, association formation, and innovative digital solutions to provide targeted support for shopkeepers. In 2018, Moody's Foundation announced their partnership with TechnoServe to support the Smart Duka Initiative. Established in 2002, the foundation directs Moody's corporate philanthropy and employee giving programs.
Types of Training
In addition to grant funding, the partnership with Moody's has leveraged the expertise of their employees through skills-based volunteering to deliver training to duka owners. Between July and September, Moody's employees delivered six virtual training sessions, reaching 120 duka owners. In addition, a team of volunteers from Moody's Foundation held an in person mentorship session for 60 Smart Duka participants in Juja Kiambu county. These micro-entrepreneurs formed a business group in 2019, which helped them access finance through Kuza – a financial product from 4G Capital that supports micro-retailers. Thanks to their new bargaining power, the group has also been able to acquire products from manufacturers at discounted prices, an important component of shop profitability.
"With customer relations, you have to be honest with your customers and ensure that they are comfortable to keep coming back."
– Sylvia Chahonyo, head of relationship management at Moody's Foundation
Staff from TechnoServe and Moody's Foundation led the session, which began with an introduction by Sylvia Chahonyo, the head of relationship management at Moody's Foundation. Christopher Bredholt, senior credit officer at Moody's Foundation, also facilitated the session with input from Alice Waweru, TechnoServe's entrepreneurship portfolio lead, and James Tinker, TechnoServe's corporate measurement manager.
Asking Questions
The session was an opportunity for Smart Duka participants to ask questions, voice concerns, and build relationships. Chahonyo answered questions about merchandizing practices and client relations. "With customer relations, you have to be honest with your customers and ensure that they are comfortable to keep coming back," she says. "You then use the relationships to leverage on managing goods rendered on credit."
During the session, some shopkeepers asked about the availability of financial products and insurance products tailored for micro-retailers. Waweru acknowledged that although there is currently no insurance product tailored for micro-retailers, she has been in discussions with relevant parties regarding the possibility of developing a suitable micro-insurance product.
Currently, insurance companies offer only business income protection plans designed for small- and medium-sized businesses whose owners want to guard against loss of income due to incapacitation and nature-related catastrophes (such as floods, earthquakes, etc.). To address these concerns, Bredholt from Moody's spoke on the importance of developing cash flow budgets, which help shop owners plan their finances according to peak and off-peak seasons in business.
Toward the end of the session, TechnoServe's program manager for the Strengthening African Processors of Fortified Foods (SAPFF) program, Eric Muraguri, taught the group about proper food handling techniques and the potential challenges when it comes to selling food products.
Nancy Wambui participated in the Smart Duka Initiative and increased her shop's daily revenue from $50 to $300.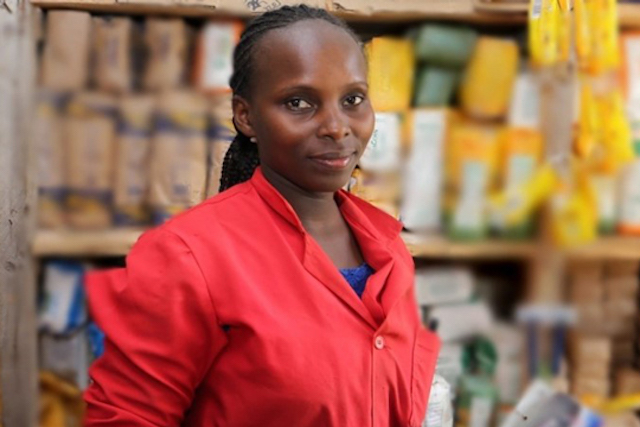 Transformative Impact
After the session, the team visited Nancy Wambui, a Smart Duka participant who transformed her shop after receiving training on merchandizing. Nancy is a 31-year-old single mother of one. She started the Lucky Genesis Shop in 2016, selling eggs, tomatoes, milk, and snacks. However, she was only making $50 per day, which was not enough to comfortably support her son and younger siblings. "After separating from my husband, I went through a very difficult moment in my life," she says. "I could not afford a place to stay, and I lived in the shop, which had little room for me and my son."
"Before Smart Duka, my products were all over the place [...] My display window was so crowded I had to peep through products to talk to customers [...] Now I have more customers and I keep records of my stock."
– Nancy Wambui, Smart Duka participant
Since participating in the Smart Duka program and learning better business management skills, Nancy has been able to use the additional profits from her business to transform her life, and the life of her family. "Before Smart Duka, my products were all over the place. I couldn't navigate well in the shop," she explains. "My display window was so crowded I had to peep through products to talk to customers, meaning they couldn't see what else they could purchase. Now I have more customers and I keep records of my stock."
The revenue from Nancy's shop is now $300 per day – enough to invest back into the business, as well as take care of her siblings and send her son to private school for a better education. Nancy attributes her success to hard work, commitment to her business, and self-discipline.
In Kenya, where nearly 90 percent of the retail sector is considered informal, the Smart Duka Initiative has been instrumental in improving the livelihoods of women and youth in particular. Since 2016, the project has reached over 1,000 shop owners, 60 percent of whom have been women. With support from Moody's Foundation, the Smart Duka Initiative will continue to reduce unemployment, boost local economies, and transform lives.
Learn more about TechnoServe's entrepreneurship work.

Related Blog Posts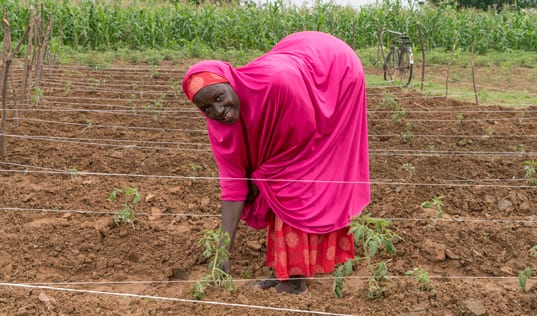 In Nigeria, TechnoServe is helping tomato farmers boost incomes and reduce post-harvest losses, while adapting to a changing climate.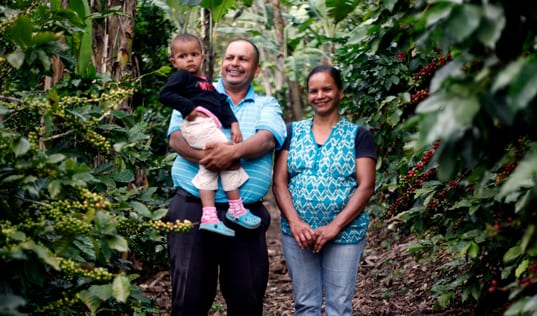 To celebrate National Coffee Day, TechnoServe shared insights and stories about the smallholder farmers who grow this transformative crop and the impact coffee has had on their daily lives.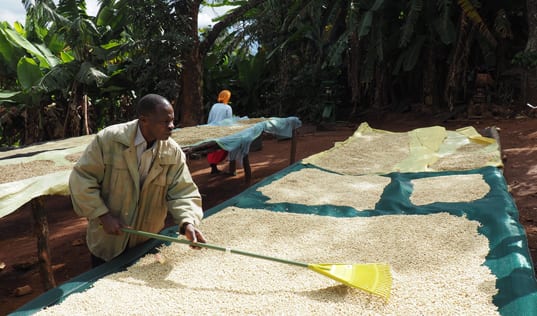 "Ask a TechnoServe Expert" is a series where our staff members, who work on a range of important global development issues, answer your questions. In this edition, Global Coffee Director Paul Stewart answers your questions.