Photo of the Week: A Young Kenyan Woman's Beautiful Future
Cecilia Natike, 25, is the proud owner of a beauty salon in the Mathare slum of Nairobi, Kenya. She opened her business in 2009 after participating in TechnoServe's Young Entrepreneurs program.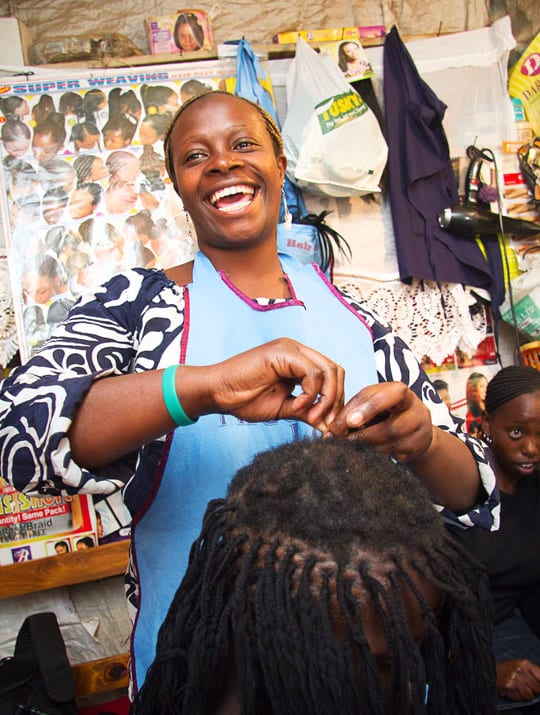 TechnoServe's Young Entrepreneurs program equips adolescent girls like Cecilia in Nairobi's slums with the entrepreneurship skills and support they need to build successful businesses and transform their lives.
Cecilia learned basic skills to help her run her business, such as marketing and record-keeping. She also learned the importance of saving money. Most importantly, she gained the confidence she needed to launch her business and earn money of her own.
"Right now, I can handle my business without anyone telling me how to do it," Cecilia said.
Before starting her business, Cecilia said, she was "just a housewife." Today, she's a mentor for other girls in the community, and she is able to pay school fees for her 9-year-old son, Brian, and 4-year-old daughter, Stacy.
"I don't depend on someone to give me money," Cecilia said. "I depend on myself."
You can help TechnoServe to reach more young women like Cecilia. The Young Entrepreneurs program is featured as part of the Girl Effect GlobalGiving Challenge. Help us win the challenge – and earn a one-year spot on the Girl Effect GlobalGiving fundraising page – by visiting our page, making a donation and sharing the challenge with your friends and family.