Hope in Haiti: Why Job Creation and Economic Development Will Drive Nation's Recovery
Learn why job creation and economic development will drive Haiti's recovery.
This post was originally published by The Coca-Cola Company, a Haiti Hope Project partner. The Haiti Hope Project is a public-private partnership comprised of The Coca-Cola Company; the Multilateral Investment Fund (MIF), a member of the Inter-American Development Bank Group (IDB); the U.S. Agency for International Development (USAID); and TechnoServe.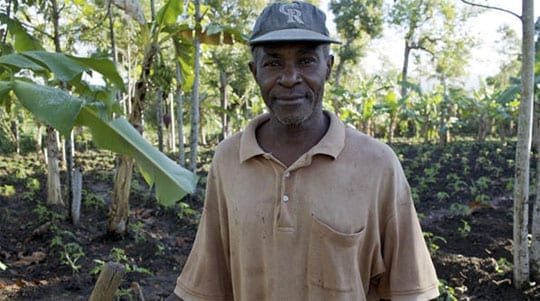 International support has flowed into Haiti since the devastating 2010 earthquake that killed thousands and caused an estimated $7.8 billion in damages. Key organizations have been working to not only support short-term relief efforts, but also to begin a new chapter for a country long-mired in poverty.
On the tragedy's third anniversary, leaders close to the situation insist that concrete results will require continued patience and perseverance, and that Haiti can only truly turn the corner by graduating from donor-dependency to self-sufficiency through a focus on education and economic growth.
"Jobs and economic opportunity provide a path to the self-determination Haitians want," said Meg Galloway Pearce, vice president of marketing and communications for the Clinton Bush Haiti Fund. "By building a strong private sector, Haiti can create an economic ripple throughout the country."
Building this brighter, more sustainable future won't be easy, but there is renewed optimism about the possibilities for the people of this embattled country.
"The international community now agrees that it is important for the local community to drive Haiti's recovery, which entails working from a strong base where there is existing capacity – not parachuting in and starting from scratch," said Henrietta Fore, former Administrator of the U.S. Agency for International Development (USAID) and Director of U.S. Foreign Assistance at the Department of State, and current Board Chair and CEO of Holsman International. "Organizations can provide valuable support through funding and training, but the Haitian people should be the ones leading the way."
Development projects focusing on Haiti's core strengths – such as tourism, handicrafts, construction and agriculture – have the most long-term potential.
Providing Momentum for the Community
The Clinton Bush Haiti Fund, established by former U.S. Presidents Bill Clinton and George W. Bush in the aftermath of the earthquake, raised $54.4 million and helped create or sustain more than 7,000 jobs and train more than 20,000 Haitians through 50 private sector projects. The organization wrapped up its work at the end of 2012, and the Multilateral Investment Fund – a member of the Inter-American Development Bank Group (IDB) – assumed responsibility of its remaining portfolio.
"Our objective from the beginning was to be a bridge to helping Haiti help itself," Pearce explained. "As a global community, we need to allow that to happen by providing tools and resources and then getting out of the way… Haiti is stronger and capable of doing far more than the world thinks it can."
Fruits of Their Labor
Like many Haitians, Monfrère Tercia earns her living as a mango farmer. After harvesting fruits from her seven trees, she sells them for a fair price to a local farmer cooperative and later receives residual payments when her mangoes are sold to exporters.
"Local agents used to buy 18 of our mangoes for 20 gourde (about 50 cents)," the 49-year-old mother of seven explains. "Now, we sell the same amount for 35 gourde – and we get to keep the kickback."

Monfrère is one of more than 19,000 rural farmers currently enrolled in the Haiti Hope project, a public-private partnership comprised of The Coca-Cola Company; the Multilateral Investment Fund, a member of the Inter-American Development Bank Group (IDB); USAID; and TechnoServe, a nonprofit that helps enterprising people in poor areas of the developing world build businesses that create income and opportunity for local communities.
The $9.5 million initiative launched in October 2010 with an ambitious goal: to double the incomes of 25,000 mango farmers and their families in five years. The idea started with a conversation between Muhtar Kent, chairman and CEO of The Coca-Cola Company, and Luis Alberto Moreno, IDB president, at the 2010 World Economic Forum, only two weeks after the earthquake. The leaders knew more needed to be done to help Haiti bounce back beyond supporting the initial relief efforts.
They agreed to focus on agriculture, a sector that employs two-thirds of Haiti's population yet accounts for less than one-third of the country's GDP. Mangoes stood out as a clear opportunity. Some 500 million pounds of the succulent fruit are produced each year in Haiti, but less than 5 percent reaches the profitable export market due to inefficient harvesting practices and transportation challenges.
Coca-Cola quickly launched Odwalla Haiti Hope Mango Lime-Aid to enable U.S. consumers to support the development of the Haitian mango industry. When the seasonal product phased out in early 2011, support transitioned to the popular Odwalla Mango Tango smoothie. Ten cents of every bottle purchased, up to $500,000 per year for the duration of the project, goes to Haiti Hope, and the project team is researching processing options to eventually use Haitian-grown mangoes in the product
Building Trust and Community
TechnoServe oversees the daily operations of Haiti Hope, employing 46 "animators" who train farmer cooperatives in their communities on basic business and administrative skills, as well as provide tips for improving the quality and quantity of their mango crops. More than 2,300 training sessions completed, to date, have covered everything from tree planting and pruning, to orchard management and picking techniques to ensure the mangoes are ripe and undamaged when they reach the market, to price negotiation.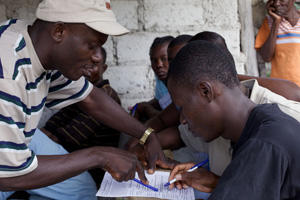 "We work directly with farmers instead of dealing with an intermediary and hoping the learning trickles down," said James Obarowski, TechnoServe's project manager for Haiti Hope. "And the fact that our animators are local is incredibly important. The farmers know these leaders understand their reality because they've lived in the community their entire lives. This creates a certain level of trust."
All $9.5 million in funding goes to capacity building. "We're training farmers so they can implement what we teach them," said Olga Reyes, public affairs director for Coca-Cola's Latin Center Business Unit. "Because providing tools to help earn a living is the only way to truly benefit people."
Obarowski adds, "Haiti has gotten used to having development organizations here for the last 30 years, and many groups have done a lot of talking with very little follow-up. We're taking the opposite approach with Haiti Hope: we don't talk a lot up front and instead focus on action."
This includes giving farmers access to credit so they can get the cash they need before and during harvest. Sogesol, a local financial institution, offers products tailored to the needs of farmers who meet specified lending requirements. Money contributed by the Clinton Bush Haiti Fund serves as collateral for the loans.
"It's nearly impossible for farmers here to save money to invest back into their operations," Obarowski explains. "When someone accumulates any amount of liquid funds, their sense of responsibility kicks in, and their first instinct is to help out a neighbor or fellow farmer. We're helping them learn to manage and use credit efficiently so they can go on to do bigger, better things."
Cultivating relationships with exporters and improving conditions throughout the supply chain is another area of focus for Haiti Hope. By bypassing intermediaries, more cash generated from the sale of mangoes can stay with the farmers and their families. Several participating co-ops have exported mangoes to Whole Foods through a Fair Trade program, which brings many advantages to farmers, including purchasing contracts and residual payments.
Empowering Women
Haiti Hope also integrates and prioritizes women's involvement throughout the mango value chain. Nearly half of all enrolled farmers are women, and participating co-ops are introduced to gender issues and form a women's committee and gender action plan.
Women carry the bulk of the family and household responsibilities in Haiti, yet rarely hold community or political leadership positions.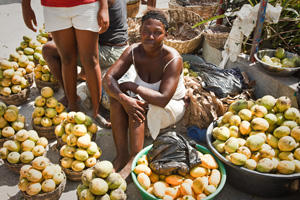 "Some families of seven now have 10 or 11 members after taking in orphaned children and elders, so when you consider that Haiti Hope will reach 25,000 farmers – the potential impact is huge," said Danielle Saint-Lot, a vocal advocate for Haitian women and member of the Haiti Hope steering committee. "These last few years have made us realize how strong Haitian women can be."
And Saint-Lot would know. Through Femmes en Démocratie, the Haiti chapter of the Vital Voices organization, the former executive director of Haiti's Chamber of Commerce and the country's former Minister of Commerce, Industry and Tourism is working to promote women leadership and human rights, entrepreneurship and political participation, collaborating with hundreds of women's groups, the Haitian government and international partners to address priority issues including access to health care and food security.
"Haitian women didn't have a voice after the earthquake… everything was being decided for us," she adds. "For the first time, women organizations are now coming together to speak with one voice and move forward with a common agenda."
No Shortcuts
The Haiti Hope project is on track, but it will be a few more years before the partners have conclusive data. Increases in income can only be measured after a farmer has been enrolled in the project for three years (the first wave of participants will cross this milestone in 2014).
"We have the community's interest and momentum," Reyes said. "The credit stream is good, women participation is ahead of plan and, most importantly, all Haiti Hope partners bring unique capabilities to the project and are fully committed to making it work. Everything is in place for success."
It's important to remember that Haiti's struggles didn't start three years ago. Unemployment was high before the earthquake, with more than half of Haitians living on less than a dollar a day. Given the political turmoil, poverty, disease and environmental degradation that have plagued the country for decades, quick-fix solutions are not in the forecast.
"There are no shortcuts," Obarowski adds. "You have to be patient, take a long view and whittle away at the challenges, which are deeply entrenched in Haiti's culture. If you rush, you will not see results."
A key lesson learned since Jan. 12, 2010 is the need for on-the-ground coordination, which avoids duplication and preserves resources.
"Sequence and timing is important," said Fore, who serves on the board of the Clinton Bush Haiti Fund. "Knowing when to provide relief aid, when to focus on political reform, and when to invest in business and trade allows individuals, families and communities to build back on their own. It is like conducting a symphony – pulling in who and what you need, when you need it. Doing this well amid chaos, and addressing both short-term and long-term issues, is incredibly challenging."
The Haitian government – which lost 30 percent of its public servants in the earthquake and saw all of its public buildings demolished – has stabilized over the last year and is now focused on a long-term reconstruction plan that includes programs and incentives to attract foreign investment.
"Only now can we say that the reconstruction process is starting," Saint-Lot said, noting that more than 350,000 Haitians are still living in tent camps.
Signs of Hope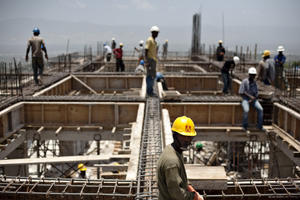 Pearce returned to Haiti last month to celebrate the opening of the Royal Oasis Hotel, a world-class property built and staffed with support from a $2 million equity investment from the Clinton Bush Haiti Fund. The fund has since sold its shares in the hotel and recycled the initial $2 million investment to rebuild the State University of Haiti's faculty of sciences, which will educate the scientists and engineers who will help rebuild the country's future.
Additionally, a nonprofit foundation established by the hotel will help raise the standards of Haiti's tourism industry by training chefs, housekeepers, bartenders and more.
The Royal Oasis – which was constructed by Haitians, employs Haitians and serves locally grown foods in its restaurants and sells locally made crafts in its shops – is a "symbol of where Haiti is going," Pearce said. She's confident the hotel and other projects will continue to flourish in the country's capable hands.
"Every time I go back, things feel better," she said. "There are still big hurdles to clear, yes. But when you look for hope, you can find it."