How Entrepreneurs in Developing Countries Can Leverage E-Learning Solutions to Build Pathways Out of Poverty
In Kenya, entrepreneurship offers a pathway out of poverty for many young people like Irene Minyao. However, without the right skills and support, running a small business for the first time can be a daunting task. TechnoServe recently piloted a new digital platform that will help entrepreneurs gain the business management skills they need to succeed in an increasingly competitive environment.
e-learning
Last year, Irene Minyao was once one of 1.7 million Kenyans who lost their jobs in the first three months of the COVID-19 pandemic. Laid off from a once-secure position in a tour company, the 32-year-old mother of two struggled to find ways to pay the bills and feed her family. But a year later, she is back in business — for herself.
Opening a New Business During COVID-19
As COVID-19 infections and lockdowns decimated service industries around the world, Irene wondered how she would ever regain a steady source of income after losing her job. Eventually, she decided to try to open her own business:  a small retail shop known as a "duka."
I had some savings set aside, and I realized it was better to use them on something that will bring in some returns instead of just spending it. That is why I decided to open this business last year. This way, I am able to have some money to help my husband pay school fees for our children and have enough money for food."
— Irene Minyao, entrepreneur, Kenya 
On a typical day, Irene wakes up at 5 a.m. to prepare her youngest child to go to school before heading to the market to buy items for her small grocery stall. 
"When I started my duka and grocery, I did not know how to run a shop since I had never done business before," she says. "I never used to keep records. I would just put all the money together and use it when I needed it. At the end of the day, I would always wonder what I was doing wrong because I never seemed to have money."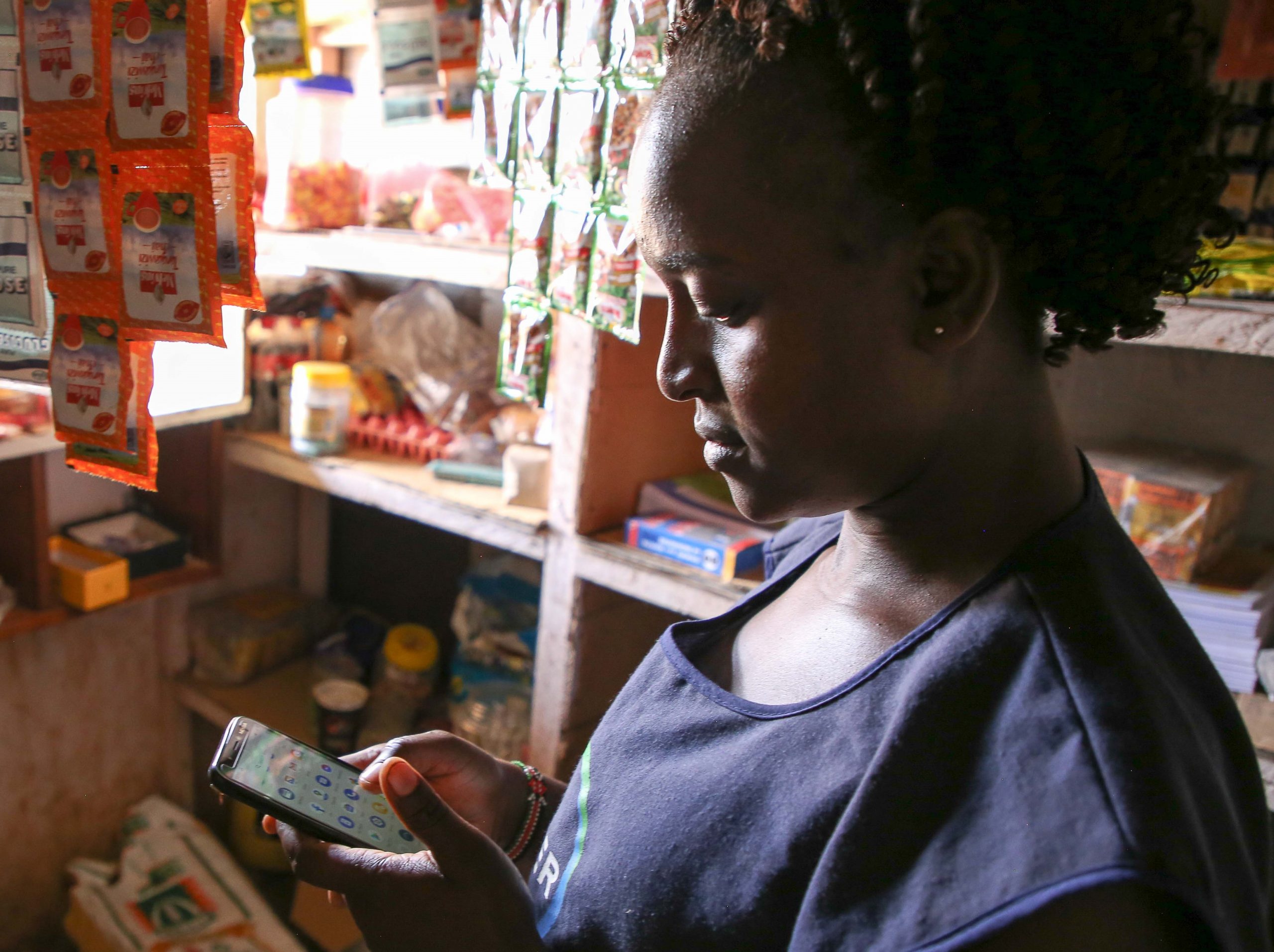 Entrepreneurship as a Pathway Out of Poverty
Entrepreneurship presents a path toward economic independence for young people in Kenya like Irene, particularly when formal employment opportunities are scarce. Small mom-and-pop retail shops play a critical role in many low-income communities by providing income for entrepreneurs, creating jobs, and increasing access to everyday products.
Since 2017, TechnoServe and Citi Foundation have partnered to scale up a proven model that helps these shops become more profitable by connecting entrepreneurs with the knowledge, training, and tools they need to become successful retailers. 
COVID-19 and the Transition to E-Learning
But when the COVID-19 crisis hit, this model had to be adapted to meet social distancing guidelines and travel restrictions. TechnoServe quickly accelerated and adapted much of its programming to a digital format, ensuring that entrepreneurs would continue to have access to essential business training, even when in-person training was not possible. 
In December 2020, TechnoServe piloted a new digital platform through the fourth phase of the Pan-African Youth Entrepreneur Development (PAYED) program. Through this app, TechnoServe can provide business support that will help young micro-retailers in Kenya, Tanzania, Nigeria, and Côte d'Ivoire build resilience and create a path to recovery from the COVID-19 crisis. 
The new mobile training platform hosts customized training content covering a range of business management skills modules. It can also analyze users' learning progress through quizzes and assignments and monitor users' course completion rates. 
E-Learning Solutions Help Entrepreneurs Succeed
Irene is one of 28 entrepreneurs who were part of the four-month training pilot in Kenya, which supported small shopkeepers entirely through e-learning. "I didn't find using the app difficult," she says. "I just downloaded it and started using it. I usually use it during mid-morning hours, when I don't have a lot of customers. Then I stop at noon when customers come to buy things for lunch." 
"At first, I thought the modules were challenging," she continues, "but as I kept going on and learning, the modules that I thought were difficult were not that hard. With the training, I learned how to properly arrange my shop, how to keep the shop clean, and how to talk to customers. Even when [customers] come with a bad attitude, I know how to ensure that they leave happy."
She also learned valuable financial skills from the digital training program, and dramatically improved her recordkeeping practices.
I'm motivated to continue with the modules because I learn something new every day. What I learned today will be different from what I will learn tomorrow or next week."
— Irene Minyao, entrepreneur, Kenya 
"Now I'm able to pay myself"
After entrepreneurs participate in the digital training, TechnoServe offers mentorship opportunities for youth who will then graduate to the aftercare phase. To build resilience, the program offers linkages to financial institutions, manufacturers and suppliers, and innovative technology. Program participants also have opportunities to network with other young entrepreneurs. 
Buoyed by the success of the pilot program, TechnoServe began using the TalentLMS app in March 2021 throughout the PAYED program and in the Smart Duka initiative, which also supports small-scale shopkeepers in Africa. Thus far, 514 entrepreneurs across Kenya, Tanzania, Nigeria, and Côte d'Ivoire have used the app. 
For Irene, e-learning through the PAYED program meant the difference between wondering why she was still short of cash after a hard day's work, and the ability to provide a reliable income for her family. "At the end of the day, I was able to start seeing what profit I was making," she says, "And now I'm able to pay myself."
Learn more ways TechnoServe is leveraging technology to fight poverty.