Coffee Consumer Spotlight: Peruvian Coffee
In the next part of our consumer spotlight series, we are highlighting the unique profile of Peruvian coffee. In Peru, TechnoServe works with coffee farmers in former coca-growing regions through the Coffee Alliance for Excellence (CAFE) program.

Where is Peruvian Coffee Grown?
Coffee is grown in 10 regions of Peru, with the major growing areas being Junin (27 percent), San Martín (22 percent), Cajamarca (21 percent), Cuzco (17 percent) and Amazonas (12 percent). These regions are characterized by rugged terrain, tall mountains, and ample tree cover –  ideal conditions for coffee production.
However, these conditions present challenges for coffee farmers. Most Peruvian coffee is grown in remote and difficult to reach locations, forcing farmers to travel long distances to sell their crop. Poor roads and other infrastructure issues also pose logistical challenges. In addition, Peru has historically lacked strong farmer organizations, meaning that farmers were forced to sell their coffee to middlemen for low prices.
In recent years, this has started to change as more farmer organizations have formed, resulting in better prices for farmers and higher quality coffee. Production is also increasing after multiple outbreaks of the coffee leaf rust disease significantly decreased coffee output beginning in 2013. Between 2018 and 2019, there was a five percent increase in overall production compared to the previous year.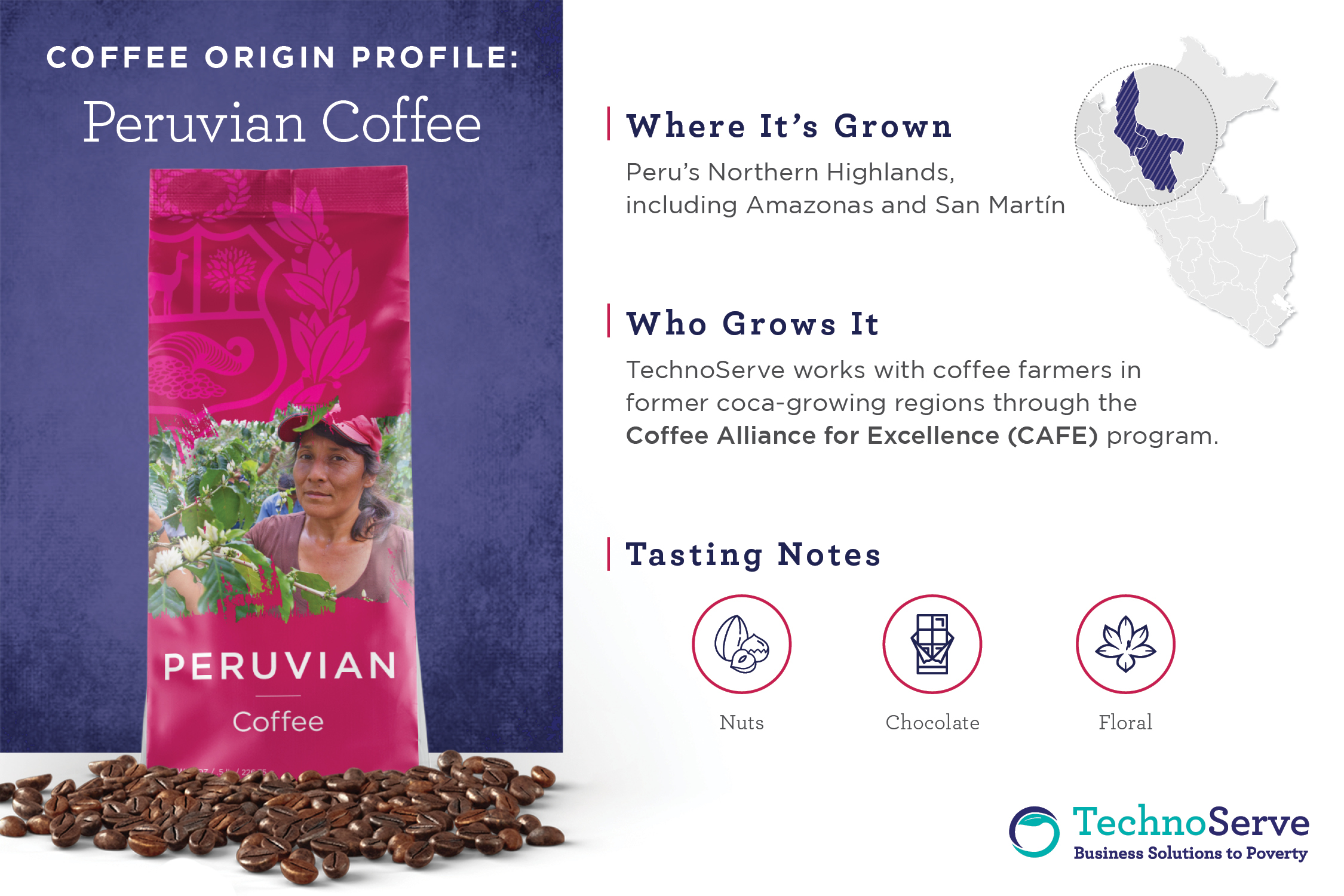 Who Grows Peruvian Coffee?
Most coffee in Peru is grown by small-scale farmers with fewer than three hectares of land. TechnoServe works with coffee farmers in the former coca-growing areas of Huánuco, Ucayali, and San Martín through the Coffee Alliance for Excellence (CAFE) program. Coca is an ingredient used in making cocaine; many farmers need support transitioning to legal crops like coffee. Launched in 2018, this public-private partnership brings together the U.S. Agency for International Development, the impact investment firm Althelia Ecosphere, the global coffee roaster JDE, and the coffee exporter Perhusa, to benefit 10,000 farming families in Peru.
Over five years, CAFE will support the coffee sector by providing farmers with training on best practices for planting, rejuvenating, harvesting, and carrying out post-harvest activities for their coffee. The program also strengthens coffee farmer organizations and other actors to help farmers access better markets and earn a higher price for their product. By improving coffee livelihoods, CAFE will help farmers to continue – and even expand – their coffee holdings rather than returning to coca production.
Tasting Notes
Peru produces predominantly high-quality arabica coffee and is the world's leading exporter of organic coffee. Tasting notes vary, but Peruvian coffee is typically characterized by nutty, chocolatey flavors, vibrant floral aromas, a medium body and crisp acidity.
Most Peruvian coffee is exported, with the United States and Germany being the top two markets. While domestic coffee consumption remains fairly low in Peru, consumption has increased in recent years, particularly among urban youth.
Learn more about TechnoServe's coffee work.