On The Ground
Projects

Empowering Women with Cashew Products
Over 60 percent of Nigeria's population lives in poverty, while women suffer the greatest effects: they consistently earn less, are less educated, and less likely to participate in the labor force. Agriculture is recognized as a significant source of employment and area for growth in Nigeria, and currently accounts for 20.2 percent of the country's GDP. Processing cashew by-products poses a unique opportunity for women's inclusive economic diversification. The Cashew Byproducts Project seeks to increase and diversify women's income by training women to process the cashew into products including honey, juice and dried snacks. The project has successfully guided over 60 women to produce cashew by-products, bring the products to market and to re-invest profits in off-season businesses. Because cashew apples have for generations been tossed aside as waste, the ability to transform them into marketable products constitutes an innovation in the cashew value chain and in the country's culture and human capital. The project began in the states of Kogi and Kwara in January 2015 and will end in September 2016.

Accessing Clean Water and Economic Opportunity for Women
TechnoServe and Unilever are working in partnership to develop a new concept for sustainable water provision. Access to clean water is a major problem in Nigeria, with 36 percent of the population lacking access to improved water sources. Women bear a disproportionate cost of this, in time spent collecting water and in dealing with the consequences of ill-health in the family. To address this problem, we are piloting the concept of Sunlight Water Centers in eight peri-urban areas near Abuja. A Sunlight Water Center combines a borehole and a retail kiosk selling clean water and household products (including Unilever products), and is managed by a female entrepreneur from the locality. The vision is to facilitate access to clean water under a sustainable business model that covers the cost of building boreholes and maintaining them in years to come. The project hopes to expand to 1,000 franchised water centers across Nigeria and the rest of Africa.

Helping Nigeria's Cashew Farmers Reach Their Potential
Through a $1 million grant from the Walmart Foundation, TechnoServe is helping raise the incomes of 6,000 Nigerian cashew farmers through training on good agronomic practices, farming as a business, and improved methods for harvest and post-harvest handling. Farmers also learn how to consolidate their stocks and engage in other business practices to enable them to sell directly to processors and maximize their incomes. The program aims to boost participating farmers' yields by up to 20 percent by 2015. One of the program's greatest successes has been the unprecedented level of women's participation. Though female cashew farmers make up less than 15 percent of Nigeria's cashew farming population, 47 percent of farmers currently enrolled in TechnoServe's training program are women.

Raising Rural Incomes
TechnoServe is an implementing partner in PrOpCom Mai-Karfi, a new six-year program working to increase the incomes of 500,000 northern Nigerians by 50 percent. Since the program kicked off in 2012, TechnoServe has led the evaluation of existing and potential PrOpCom markets, identifying soy and grain storage as promising opportunities for new interventions. TechnoServe consultants helped two leading fertilizer companies develop smaller product sizes and creative distribution and pricing strategies to reach smallholder farmers. TechnoServe is also taking the lead on implementing the Tractor Support Program, engaging financial institutions to provide loans to purchase tractors, strengthening the Tractor Owners and Operators Association of Nigeria and working with tractor manufacturers and suppliers to meet farmers' needs for equipment and maintenance.

Improving Cocoa Productivity and Food Security
In parallel to the Cocoa Livelihoods Program (CLP), TechnoServe was a key implementer in the African Cocoa Initiative (ACI), which sought to institutionalize effective public and private sector models for sustainable productivity growth and improve food security on cocoa farms in West and Central Africa. Under ACI, TechnoServe leveraged learnings from the CLP input credit scheme to demonstrate a commercially viable credit model for cocoa smallholders linked to spray service providers to assure the safety and effectiveness of agricultural input application. Over the course of the program, TechnoServe formed 19 private sector partnerships including four financial institutions, and facilitated nearly $180,000 worth of input credit to 914 unique farmers who maintained repayment rates of 99 percent. In Cote d'Ivoire, 531 farmers received nearly $110,000 worth of input credit and maintained repayment rates of 100 percent. In Nigeria, 383 farmers received nearly $70,000 worth of credit and maintained a repayment rate of 98 percent. The project was particularly successful in mobilizing partnership with the private sector; farmer uptake and credit application success – which was higher than anticipated; encouraging early repayment and high overall repayment rates, introduction of a functional cash repayment model in Nigeria, and the creation of a network of Community Based Agents.
Blog Posts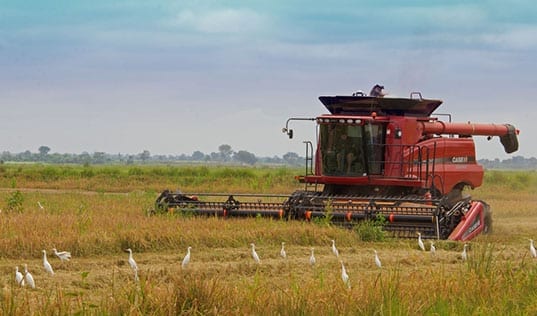 April 20, 2016
The Propcom Mai-Karfi program in Nigeria is helping to increase access to tractors, which will aid farmers in increasing their yields.
Contact
TechnoServe Nigeria

6/Plot 1413 Ogbagi Street, 2nd Floor
Off Oro-Ago Crescent, Off Mohammadu Buhari Way, Cadastral Zone II
Garki, Abuja, Nigeria
Tel: +234 9 291 0631

Larry Umunna

Country Director
lumunna@tns.org