Coffee is more than just one of the world's most popular beverages. It is a daily ritual, a shared passion, a source of inspiration. And for farmers struggling to survive at subsistence levels, coffee represents food, clean water, medicine, children's school fees or a better home.
What We Do
TechnoServe is helping to build a sustainable global coffee industry that can lift millions of farming families out of poverty. Over more than four decades, we have developed a set of market-based solutions to meet this challenge and applied them in communities across Africa and Latin America.
Our Impact
Our work helps build sustainable rural businesses that generate income and jobs in their communities. Farmers benefit from a stable market for their coffee and improved growing practices that boost their yields. Additionally, our work creates indirect impacts as benefits spill over to neighboring farmers and cooperatives, and progress becomes self-sustaining.

Better Coffee
Since 2000, we have assisted farmers to build 266 new wet mills and advised an additional 177 existing wet mills, benefiting more than 250,000 farmers through improved quality.


Better Farming
Since 2009, we have trained more than 156,700 farmers in sustainable agronomic practices, creating employment for more than 400 youth farmer trainers.


Better Business
More than 380 businesses have adopted sustainability standards and participated in an online transparency monitoring tool, coffeetransparency.com.


Better Environment
Since 2010, we have helped 45 wet mills in East Africa upgrade their wastewater management systems to benefit downstream communities and comply with regulations.
Thanks to TechnoServe, we have a business vision. We have international buyers. We are working to improve the quality of our coffee and have better incomes.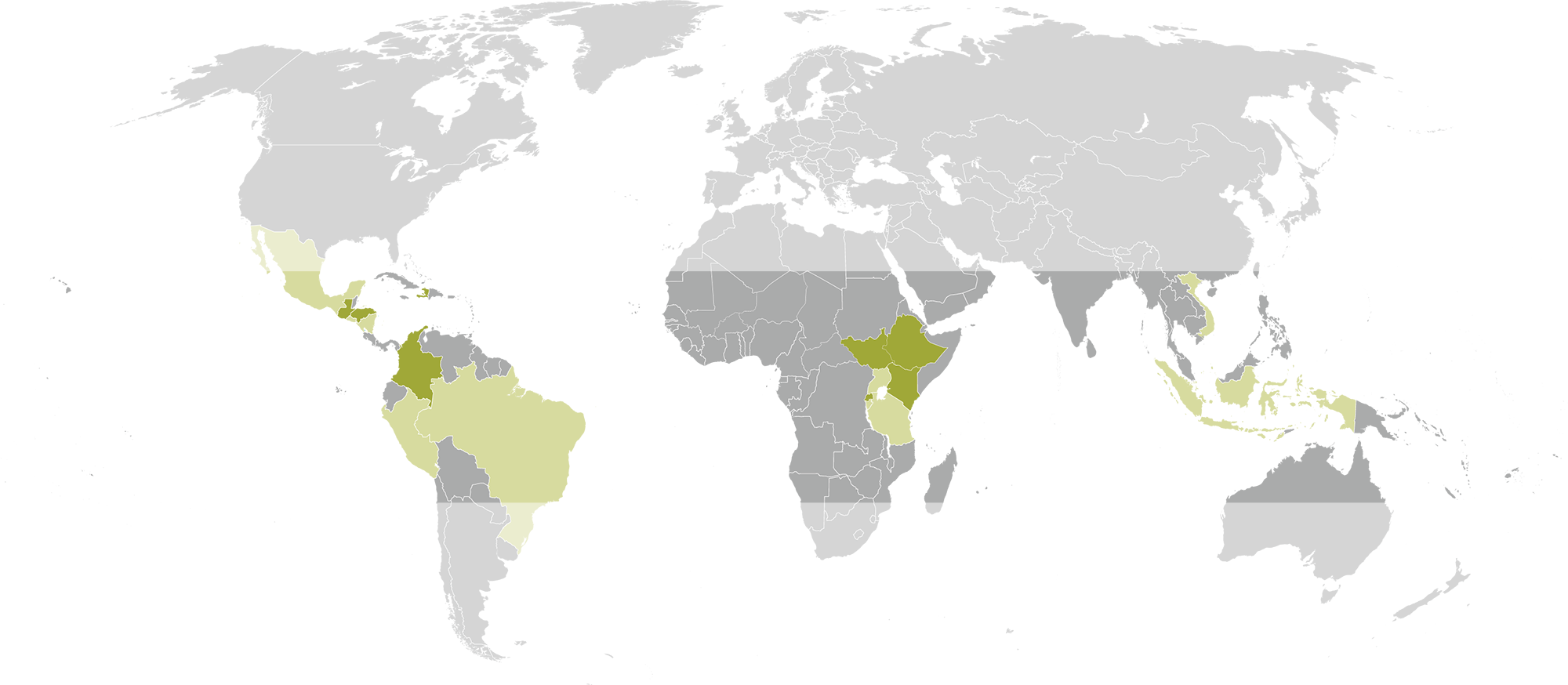 Where We Work
Coffee grows best in a warm, humid climate with relatively stable year-round temperatures. As a result, coffee is grown primarily in Latin America, Southeast Asia and Africa – a region known as the coffee belt.
Americas

Brazil
Colombia
Guatemala
El Salvador
Haiti
Honduras
Nicaragua
Mexico (Past)
Peru (Past)



East Africa

Ethiopia
Kenya
Rwanda
South Sudan
Tanzania (Past)
Uganda (Past)
Burundi (Past)

Asia

Indonesia (Past)
Vietnam (Past)
Africa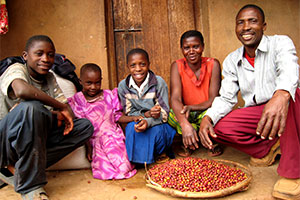 The need and opportunity are greatest in Africa, where more than half of the world's coffee smallholders live. As the predominant income source for most of these farmers, coffee is critical to social welfare and food security. Low productivity is one of the clearest obstacles: Collectively, African smallholders contribute only 10 percent of the world's total coffee supply but manage more than 25 percent of the world's planted acreage.
Many African producers also have an opportunity to produce premium Arabica coffee. "Specialty" coffee requires a unique set of growing conditions relating to altitude, soil and climate, and then good processing and quality control from farm to port. East Africa has these natural conditions in abundance, but many farmers lack the processing infrastructure and technical knowledge to meet specialty coffee demands. Consistency, reliability and efficiency are additional constraints.
Latin America and Asia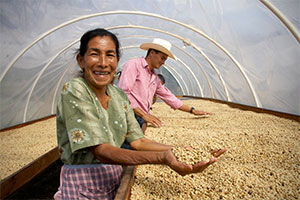 In Latin America and Asia, economies are rapidly transitioning from an agricultural base to a more diverse mix of services and industry. This transformation has brought prosperity to millions of people, but not without consequences such as a growing divide between rich and poor, rapid urbanization and high youth unemployment. A generation ago, coffee was associated with great affluence. Now, many of the poorest households in Asia and Latin America are rural coffee farmers who risk being left behind in their countries' development. Coffee companies, which source most of their coffee from these regions, are becoming increasingly concerned about these risks and their implications for future supply. Their long-term outlook aligns with farmers' interests and creates opportunities for coffee companies and farmers to co-invest in new supply chain partnerships.
In The Media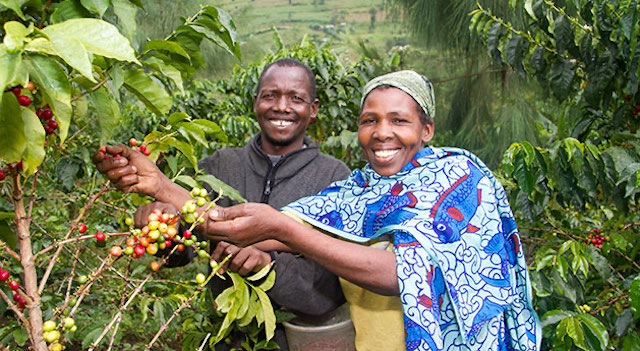 The famous magazine discusses the positive impact of TechnoServe's work with farmers in Kenya.
Read More
Recognition
Our impact in the coffee sector has been widely recognized and held up as a leading practice by various institutions.

Partner
with Us
There is still much work to be done. The number of farmers we have reached remains a small percentage of the world's coffee producers in need.
For improvements to take hold at scale, investments are needed to develop a systematized way to train more farmers and wet mills to produce high-quality coffee. When enough farmers have developed these skills, the private sector and local institutions can step in to provide support services and ensure that progress continues. Most low-income coffee-growing communities remain far from that point. And consequently, millions of farmers are missing out on potential gains.
Contact us at coffee@technoserve.org to learn more about partnering with TechnoServe to build a sustainable global coffee industry.
---
Resources
The Coffee Initiative Phase One Final Report documents grant-related activities, accomplishments and challenges from the first four-year phase of the project, funded by the Bill & Melinda Gates Foundation.
TechnoServe learned important lessons during the first phase of the Coffee Initiative, a project funded by the Bill & Melinda Gates Foundation. These insights have much to offer for the private, public and nonprofit sectors.
A technical brief from the International Center for Research on Women highlights the gender approach in TechnoServe's Coffee Initiative in Tanzania.