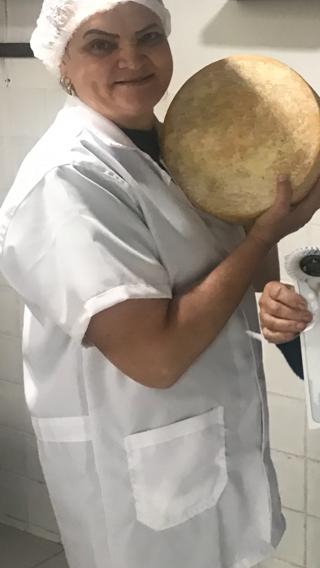 Estela Mares Simões makes her way through her family's farm in Minas Gerais State in Southeastern Brazil. She knows the grounds well – it's the old farm still owned by her parents, where she was born. Estela, her husband, a full-time employee, and temporary workers take care of all the animals on the farm and maintain the farm itself. This morning she will be milking one of the family's cows. 
The milk from their cows is extremely important to Estela and her family, as it not only supports their livelihood, but helped their family's cheese gain wide renown.
Estela's family produces and markets Queijo Minas Artesana ("Minas Artesanal Cheese" in English). Minas Artisanal Cheese does not undergo any mechanical/industrial process and is made from raw cow's milk, natural yeast (known as pingo), rennet, and salt. According to its rich tradition, the cheese doesn't receive heat treatment. Instead, it is pressed manually and is made on small rural properties using family recipes, which have been passed down from generation to generation. "I have two residences on the farm where Queijo Minas Artesanal is produced," says Estela. "I also divide my time in my apartment in the capital of the state of Minas Gerais – Belo Horizonte, which serves as my logistical support to make sales and deliveries of cheese to the state of Minas Gerais and all over the country."
A Cheese Producer Wins at the World Cup in Brazil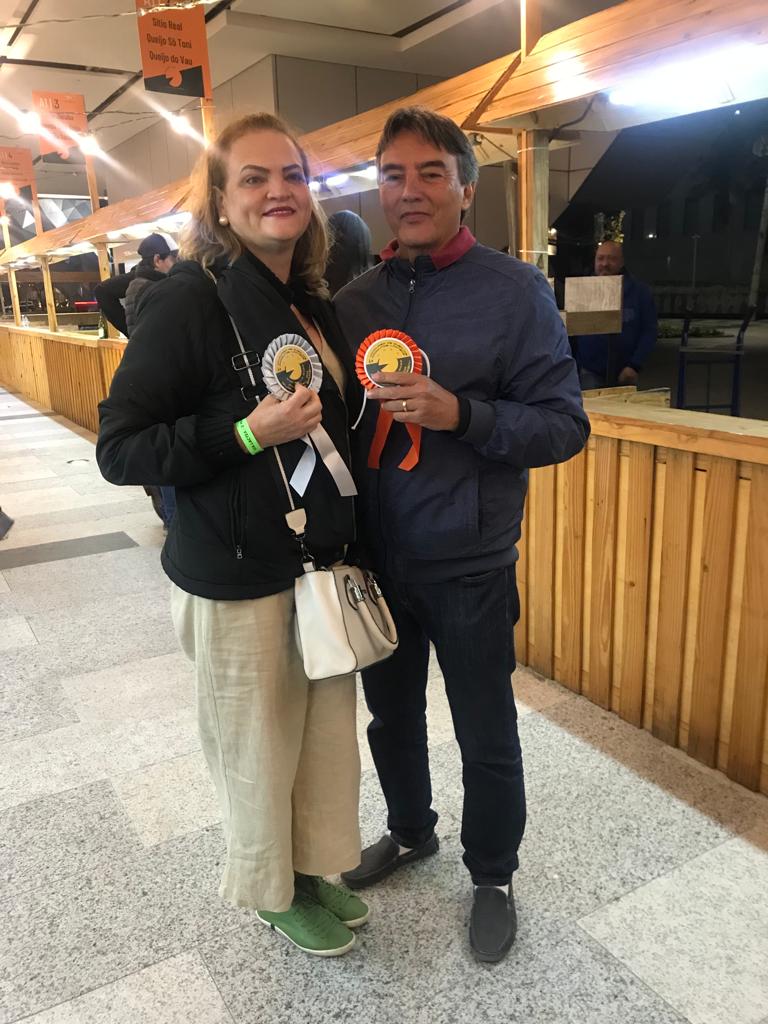 Last year, Estela's family's cheese won a silver medal in Brazil's second annual "Cheese World Cup." They were among four producers of Minas artisanal cheese from the Serro region of Minas Gerais who have worked with TechnoServe to improve their small businesses and their incomes and won five awards at the 2nd Cheese World Cup in Brazil. Estela won the silver medal in the 100 days of maturation category and bronze in the 60 days maturation category. She is a part of a community surrounding Anglo American's mining operations in Brazil, in the municipality of Conceição do Mato Dentro, the state of Minas Gerais.
How a Cheese Producer Tripled Her Family's Income
Estela's family lives in a community surrounding Anglo American's mining operations in Brazil. Mining companies play a critical role in helping drive economic growth, employment, and exports in a number of emerging markets. However, while these operations bring investment and jobs, these benefits are not always shared by all members of the community. Employment opportunities may not extend to all households, for instance. Local businesses may lack the skills, knowledge, and market access to take advantage of the opportunities provided by economic growth around the mining operation. And the subset of businesses that could potentially become direct suppliers to the mining operation often lack the training and support they need to integrate into formal supply chains.
The Beyond Extraction Program: Strengthening Mining Communities
Building on a successful partnership strengthening communities' economic development across five countries, Anglo American and TechnoServe worked with the Multilateral Investment Fund (MIF) – a member of the Inter-American Development Bank (IDB) Group – to bolster broad economic growth of mining communities through the Beyond Extraction program. Beyond Extraction used a market systems approach tailored to each country's context, supporting local economic development by increasing the capacity of rural businesses, youth, and institutions to build more diversified, competitive, productive, and prosperous economies.
In Brazil, the Anglo American-TechnoServe collaboration funded by the Inter-American Development Bank, the Crescer program, worked to diversify local economies in the area surrounding the Minas-Rio mine in Minas Gerais State. In these communities, lack of economic opportunity beyond the mining sector has driven youth to seek employment in urban areas, further diminishing prospects for rural economic growth. 
"I took over the management of the farm owned by my mother when I joined the program," says Estela. "As soon as I retired from Petrobras I went to TechnoServe and the Technical Assistance and Rural Extension Company of the State of Minas Gerais for guidance on how to manage the property and produce a quality cheese, seeking sanitary certification of the product." 
Mining Companies and Economic Growth in Emerging Markets
In order to help these communities reduce their dependence on mining activity, the program strengthened four local industries with growth potential – tourism, beekeeping, dairy, and horticulture. Beyond direct technical assistance for businesses within these industries, TechnoServe also improved the capacity of local institutions to support these sectors in the future, ensuring the scalability and sustainability of their growth after the projects' end. 
Working with the TechnoServe team, Estela learned about property management and commercialization channels of cheese. She also learned how to receive sanitary certification for her cheese, improve its quality, and participate in cheese contests and awards like the Brazil's Cheese World Cup.
Increasing the Food Supply for Farm Animals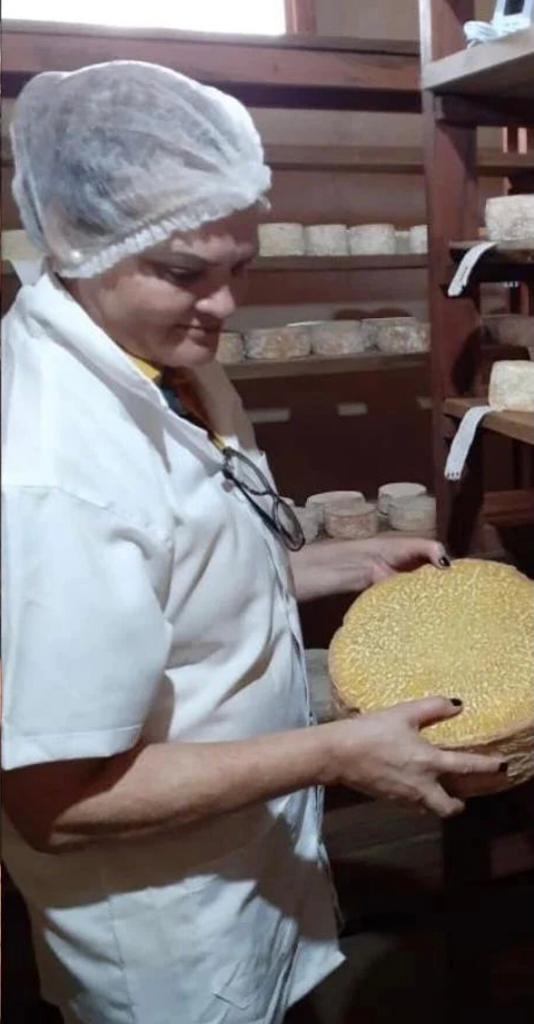 Applying what she learned in the program, Estela managed to increase the food supply for the animals on her family's farm through training on implementation of pasture improvement, sugarcane production, production of corn for silage, protein supplementation, division of animals into lots, and feeding by animal meritocracy. She has also received national and international awards, and has improved the profit margin from the sales of her cheese. In fact, over the last four years with the support of TechnoServe, Estela has tripled the income of her family's farm and even hired a full-time employee. 
"We were able to build our new cheese dairy, purchase mechanical milking equipment for the animals, an air-conditioning system in the cheese maturing room, and a vacuum packing machine, among other improvements," says Estela. "Today I can say that we are getting a return on the investments we made in structuring the farm."
Worries in the Past and Hopes for the Future
With old worries left in the past, new hopes are ever present in Estela's life. "[I hope] to continue winning national and international awards, improving each day the management and income generation of my farm, and to take the name of the Serro Region cheese to Brazil and the world," she says. Estela and her husband divide their time between the apartment in Belo Horizonte and her family's farm in Conceição do Mato Dentro where their future is that much brighter.
---
The success of Estela's family's cheese is a testament to the power of collaboration and market-based solutions to drive economic growth that benefits all members of a community. The Beyond Extraction program has helped build more diversified, competitive, productive, and prosperous economies in mining communities in Brazil and beyond, and Estela's story shows the potential for small rural businesses to succeed and thrive with the right support and access to markets.
Join us to help entrepreneurs like Estela so they not only survive, but thrive. 
RELATED BLOG POSTS: