Coffee Initiative
The Coffee Initiative worked with local farmers in East Africa to improve agronomy and business practices, establish new coffee cooperatives and strengthen existing ones, and help cooperatives create business plans and access financing for wet mills.

Context
In East Africa, more than 3 million women and men grow coffee, and 75 percent of them live in poverty. Most of these farmers cultivate food crops for household consumption but rely on coffee as a major source of income. Every day, these smallholder farmers face low and unpredictable production from their coffee trees and earn low prices due to the poor quality of their coffee. Such challenges make it difficult for them to escape poverty, despite the work they put into their coffee harvests.
Opportunity
Nevertheless, the growing conditions in much of East Africa are well suited for the production of high-quality coffee that receives a premium over the global commodity price. If farmers in the region have access to the right training, processing facilities and services, they can grow coffee for the specialty market and significantly boost their incomes. With higher coffee earnings, farmers can invest in greater food production, diversify their income sources, expand their coffee production, and pay for improved housing, healthcare and education for their families.
Strategy
Explore lessons learned, impact and stories in the Coffee Initiative Final Report.
In 2008, TechnoServe and the Bill and Melinda Gates Foundation launched the Coffee Initiative, a project to improve the livelihoods of smallholder coffee farmers in Ethiopia, Kenya, Rwanda and Tanzania. The initiative worked with local farmers to establish new coffee cooperatives and strengthen existing ones, and then worked with the cooperatives to create business plans and access financing for wet mills. These wet mills process coffee cherries into high-quality coffee beans, which can be profitably sold to specialty coffee markets.
TechnoServe also provided agronomy and business training, helping farmers to grow more coffee and maize, keep better records of their revenues and expenses and better understand the nutritional needs of their families. The Coffee Initiative has worked with other actors in the coffee industry, such as banks and exporters, helping them to provide credit and essential services to cooperatives and farmers. And the project has helped to link cooperatives with buyers who seek high-quality coffee beans.
The strong business connections forged between farmers, cooperatives, service providers and buyers helped to ensure that the changes to the regional coffee sector last long after the completion of the project, bringing continued benefits to smallholder farmers.
Results
The Coffee Initiative supported 340 cooperative wet mills, which in turn supported 259,274 smallholding coffee farmers that supplied them. Because of the improved quality of their coffee and access to the specialty markets facilitated by the project, the wet mills received an average price increase of $1.54 on every kilogram of coffee exported, and farmers received an average price increase of $0.43 for every kilogram that they sold.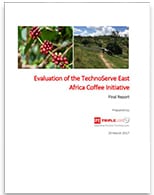 Explore the Coffee Initiative's continued impact five years after the project's close in IPE Triple Line's Evaluation of the TechnoServe East Africa Coffee Initiative.
139,609 farmers throughout the region received coffee agronomy training and saw their yields increase by an average of 38 percent as a result of their improved farming techniques. Because of the new links forged between the cooperatives and banks, exporters and service providers, $18.7 million of annual working capital was dispersed to the cooperatives, as was $3.2 million of financing for wet mill construction and expansion.
In western Ethiopia, 59,877 farmers received training to improve their techniques for growing maize, and their yields increased by an average of 24 percent after one year.
In order to measure the project's effectiveness in creating long-lasting change for farmers, TechnoServe commissioned a post-project evaluation thanks to a grant from the Horace W. Goldsmith Foundation. We asked IPE Triple Line, an indepenedent external research firm, to assess whether the benefits from this project endured after the end of our intervention. Researchers returned to communities where the project had been completed in 2011 in order to determine whether the the gains to farmer productivity and coffee price premiums were maintained five years later, and the results of this evaluation were strongly positive.
Before the project, just 45 percent of farmers surveyed in Rwanda were found to be using at least half of the recommended agricultural practices. This number rose to 97 percent immediately after the farmers completed training in 2011. Five years later, IPE Triple Line found that 78 percent of farmers were still using at least half of the techniques, reflecting lasting changes to farmer implementation of best practices.
The evaluation also analyzed the project's lasting impact on the price premium that wet mills paid farmers above the local price of traditionally-processed coffee. In Rwanda, at the conclusion of the project, the premium averaged 34 percent. For the latest harvest analyzed by the study, wet mills still paid farmers a premium, now at 25 percent. In Ethiopia, at the close of the project, the premium was 25 percent, and it rose to 45 percent in the ex-post analysis.
Because farmers continue to use yield-enhancing best practices and receive a price premium from wet mills, the evaluation was confident that the farmers continue to enjoy improved incomes five years after the conclusion of the project.
Partners
Guided by the belief that every life has equal value, the Bill & Melinda Gates Foundation works to help all people lead healthy, productive lives. In developing countries, it focuses on improving people's health and giving them the chance to lift themselves out of hunger and extreme poverty.