World Bank President Visits TechnoServe Program in Côte d'Ivoire
In his first overseas trip as World Bank Group president, Jim Yong Kim visited Côte d'Ivoire and South Africa last week.
During his time in Côte d'Ivoire, Kim visited a youth training center, where he met a group of young entrepreneurs who are receiving training through a TechnoServe business plan competition.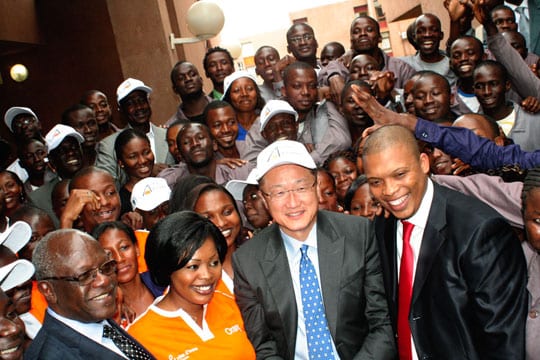 Côte d'Ivoire has suffered from years of political instability, increasing poverty and high youth unemployment. With funding from the World Bank's State and Peace-Building Fund, TechnoServe is running business plan competitions in the Abidjan and Bouaké regions. These programs aim to help entrepreneurs launch businesses that will create new opportunities for young people.
During the visit with the entrepreneurs, a group that included a number of former soldiers, Kim discussed his own history as the son of immigrants from postwar South Korea, who moved to the United States when he was five. Kim stressed the importance of education and building skills in order to address the challenge of high unemployment.
"I'm here today because at the World Bank we're very focused on jobs," Kim said after the visit. "The World Development Report this year will be on jobs, and one of the areas where we need to pay special attention is jobs for young people. These are model programs. I was very inspired in listening to the stories of some of the young people, some of them ex-combatants who've now chosen a different path. They've chosen the path of education and of hope."
Read Kim's reflections from his visit to Côte d'Ivoire on the World Bank blog.