Strengthening Communities Through Gender-Balanced Training
Over 2,900 coffee farmers are benefiting from a gender-balanced TechnoServe training team in Nicaragua.
Daniella De Franco is the Regional Gender Advisor for Latin America and the Caribbean. Hazel Barahona Guido is the Gender Advisor for Technoserve Nicaragua.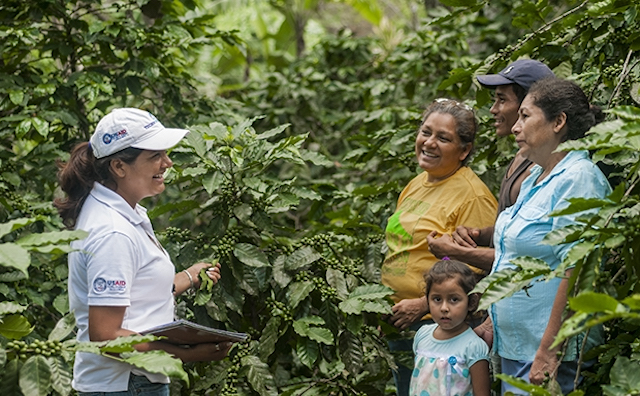 Cosechemos Mas Café Community Trainer Profile: Diana Peralta
Research shows that complex decision-making and innovation are better when teams are more diverse, and that mixed-sex teams outperform teams made up of only men or only women. The benefits are paying off for the Cosechemos Más Café (Let's Harvest More Coffee) team in Nicaragua, where a gender-balanced team of community trainers is training over 2,900 female and male farmers on good coffee agronomy practices.
A day with Diana, Cosechemos Mas Café community trainer
As a community trainer, Diana Peralta's day starts at 4 am, when she wakes up to make breakfast and get her three sons ready for school. Then it's a morning and afternoon full of farmer trainings in far-flung communities, traveling up and down mountain roads on foot and on her new motorcycle. Like the three other female community trainers on the team, Diana took out a loan to purchase a motorcycle to mobilize safely and to cover the long distances between farms more easily. "I didn't know how to drive… I had never said: 'I'm going to jump on a motorcycle and go for a ride,'" says Diana.
Diana's biggest challenge is proving to male farmers that she knows her stuff. "To be honest," said Diana, "at first I was scared because most of the participants were men and when I showed up they would say: 'What's this girl going to teach me if I know more than her?'" She has gained confidence over the past few months by drawing from TechnoServe training and her own experience farming coffee alongside her mother. "I'm not afraid when farmers ask me how to prune their coffee, because I know how my mom managed it on her farm," she said. In the 1980s, Diana's parents fled to neighboring Honduras to escape Nicaragua's civil war, leaving behind the family coffee farm. Today, Diana and her mother have brought life back to the farm, and Diana has her own small plot of coffee.
Before joining the Cosechemos Más Café team, Diana worked as a banderillista, waving a flag to guide traffic through highway roadwork sites. "Things are better now because I have time with my kids. Sometimes I lead two trainings a day but I know that in the evening I'll chat with them for a while and put them to sleep," says Diana.
Community trainer recruitment and selection process
Diana and her fellow community trainer went through a recruitment and selection process based on the model pioneered by the Coffee Initiative in East Africa: one's background matters less than how effectively he or she is able to teach others. Candidates are invited to participate in an immersive three-day long workshop during which they learn how to run an agronomy training  – from icebreakers to a hands-on demonstration of how to fertilize coffee properly. At the end of the workshop, the candidates show what they learned by running a mock farmer training, which serves as a proxy for on-the-job performance. Since hiring decisions are based on candidates' skills and performance, the selection process is more inclusive than a traditional interview process, which can favor candidates who are more accustomed to, and polished at, selling themselves..
As the Cosechemos Mas Café project tests out new approaches, like mobile data collection using a Salesforce-based platform, the network of community trainers supports each other. "The group makes me feel strong; they motivate me," says Diana. "When I have a question I call the guys… And they call us. We're a good team and we all help each other."