Pledge to Fortify Nigeria's Future
Business and government leaders gathered in Lagos, Nigeria, to pledge their commitment to improve the country's nutrition, health, and economic development through food fortification.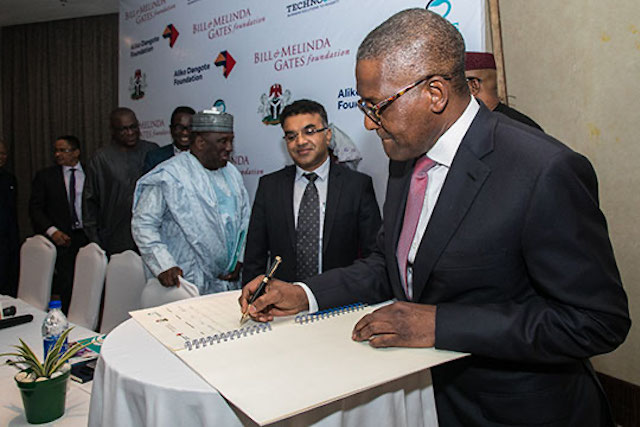 Last week, Nigeria's leading food processors took an important step toward curbing malnutrition. Gathering at the Nigerian Food Processing and Nutrition Leadership Forum in Lagos, CEOs from companies representing 70 percent of the market share of fortified staple foods in Nigeria joined government representatives and development partners to sign commitments toward achieving critical food fortification goals by 2020.
The event was organized by TechnoServe, the Bill & Melinda Gates Foundation, and the Aliko Dangote Foundation, as part of the Strengthening African Processors of Fortified Foods (SAPPF) project. Funded by the Gates Foundation and implemented by TechnoServe and Partners in Food Solutions (PFS), SAPFF is working with food processing companies in Nigeria, Kenya, and Tanzania to strengthen their ability to produce and sell fortified foods for local markets.
Fortifying oil, flour, salt, and sugar with micronutrients – including iron, folate, iodine, zinc, and Vitamin A – has been proven to be one of the most scalable, sustainable, and cost-effective tools to combat malnutrition. Known as "hidden hunger," malnutrition is a serious problem in Nigeria, particularly affecting women's and children's health and development. A recent government survey indicates that the crisis is worsening, with one in three children suffering from chronic malnutrition.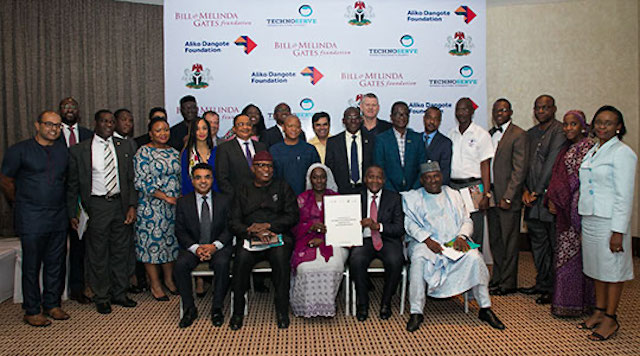 TechnoServe has prioritized mobilizing the private sector around this issue because of the key role that food processors play in ensuring that widely-available staple foods are adequately fortified with basic nutrients and vitamins. Aliko Dangote – president and CEO of one of Africa's largest business conglomerates, the Dangote Group (which includes food processing businesses), and chairman of the Aliko Dangote Foundation – called on food processing executives at the forum to lead the effort to combat poor nutrition in Nigeria through fortification. "The initiative to tackle malnutrition is a welcome development," said Dangote. "As corporate leaders, we can change this trend and prepare for our future – using tools already at our fingertips."
Bill Gates, speaking via video conference, emphasized the importance of investing in fortification. "In the nearly 20 years since Melinda and I started our foundation, I've become more convinced than ever that the best investment a country can make is in the health and well-being of its people," he told the forum. "And often, the best investments are in simple, scalable advancements. Food fortification is one of those advancements."
In addition to providing technical assistance to processors, SAPFF is also strengthening the enabling environment and supporting the government and regulatory agencies to improve the competitiveness of the industry. Government representatives attending the event added their signatures to the communiqué, committing to specific measures to facilitate private sector-led food fortification, incentivize compliance with fortification standards, and establish a regulatory framework.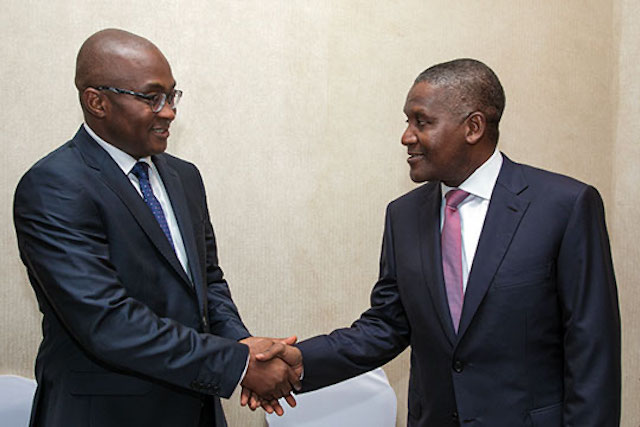 This public sector engagement is part of a two-pronged strategy to improve fortification, said Larry Umunna, TechnoServe's country director for Nigeria. "Much of our work involves providing technical expertise to the food industry, helping strengthen their businesses through the production of more nutritious food for the people of Nigeria. But we are also working with the government to more effectively monitor and enforce fortification, helping to provide the right enabling environment for these proactive businesses."
Aisha Abubakar, Nigeria's minister of state for the Federal Ministry of Industry, Trade, and Investment, said the government would review the potential impediments to greater fortification, especially the cost of nutrients, and increase enforcement and incentive mechanisms for fortification.
For their part, companies committed to strengthening internal systems to achieve 100 percent compliance with the food fortification standards on flour, oil, salt, and sugar by 2020. Progress will be verified by independent, third-party monitoring on an annual basis.
By committing to high-quality fortification, the industry is taking critical steps to address hidden hunger and improve health and prosperity in Nigeria.