Inter-Continental Approach to Water Conservation
The India-Africa Agriculture Innovation Bridge supports transfer of technology and South-South cooperation.
Alisia Pajevic is part of TechnoServe's Volunteer Consultant Program (now the TechnoServe Fellows Program) in India working on the USAID India-Africa Innovation Bridge Program. Prior to joining TechnoServe, she worked as a contract negotiator for the U.S. Government in Washington, D.C.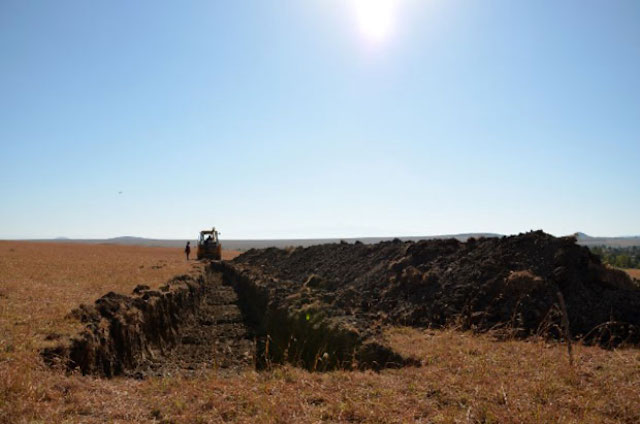 From lack of productivity to low crop yields, water scarcity affects farmers across the world. In Kenya, many areas are characterized by low access to water and according to government estimates, water coverage is below 51 percent in rural areas. Thus, people are forced to travel frequently, and in most cases daily, to collect water. In periods of drought, these conditions become exacerbated.
To alleviate these constraints, conservation is key. For centuries, farmers in the Indian state of Rajasthan have found innovative ways to make arid wasteland productive. One particularly successful water-conservation system still utilized is the khadin. This traditional structure is an earthen embankment built across a slope intended to capture the maximum possible rainwater runoff to be stored below ground.
Under the India-Africa Agriculture Innovation Bridge Program (IAAIB) – an initiative of the U.S. Agency for International Development (USAID) – TechnoServe is making strides toward a program goal of meeting water conservation needs in target Feed the Future zones of Malawi and Kenya. TechnoServe teams have been hard at work understanding the needs and identifying demand among African agricultural stakeholders.
The Kenya Market Assistance Program is a TechnoServe program that seeks to transform Kenya's dairy sector and was selected as a high-potential partner. Through this program, TechnoServe has helped two cooperatives form a producer-owned fodder production company known as Hay N Forage LLP. The company sells fodder, and expressed the need for increased access to water to improve fodder yield and cattle productivity. After a field visit and a topography assessment, TechnoServe advisors in India proposed a khadin structure as the natural resource management solution best suited for the conditions.
After discussions with TechnoServe, cooperative members agreed the khadin could be a useful innovation to counteract inadequate rainfall in the surrounding area. To maximize success, it was important to complete the structure before the impending long rains began. An optimal location was identified on Hay N Forage's farm and construction commenced.
Next, TechnoServe's team worked with the company management to devise a framework for measuring the impact of the khadin. By harvesting rainwater below ground, hay production should increase significantly. Depending on early indicators, the team will begin to disseminate information about the khadin across other Kenyan projects. Meanwhile, this innovation improves the local ecology by preventing soil erosion and recharging the groundwater.