In Puerto Rico, Coffee is Making a Comeback
We spoke with TechnoServe's new coffee program manager for Puerto Rico about his background in coffee, his plans to revive the industry, and the biggest challenges he foresees.
When Hurricane Maria tore through Puerto Rico in 2017, it destroyed over 80 percent of the island's coffee trees – and along with them, the livelihoods and future plans of thousands of small farmers. In October 2018, TechnoServe launched a program with several partners to rebuild this critical sector. The program trains farmers on improved agronomic techniques while helping them access better farming supplies, financing, and markets.
Leading this initiative is Alejandro Marchand, TechnoServe's new coffee program manager for Puerto Rico. Alejandro spent the last 15 years working at Starbucks, starting as a store manager and ultimately becoming a district manager. During that time, he developed a passion for teaching others about high-quality coffee. Alejandro is a certified Q grader for arabica coffee – the highest possible certification in the coffee sector – and has lived in Puerto Rico his whole life. He is the father of four boys and enjoys spending his free time with his wife and kids.
What is your background in Puerto Rican coffee?
I fell in love with coffee as a child. I grew up close to San Juan, which is the capital of Puerto Rico and the island's largest city. My mom worked in education, and I remember very vividly going to stay with my grandma during school breaks. She would always make me really strong cups of coffee, even as a young child. She would take the coffee grounds, carefully pour them into a pot of boiling water, and mix everything together. Then she would use a cloth filter to remove the grounds. The whole process was very meticulous, and I brought this love of coffee with me, even in college. I have always enjoyed coffee from a consumer standpoint, but it wasn't until I started working at Starbucks 15 years ago that I became interested in other parts of the coffee value chain.
After seeing the devastation from Hurricane Maria, I knew I wanted to do something to support the [coffee] farmers on my island."
How did you get involved in TechnoServe's work to revive the island's coffee sector?
As a manager at Starbucks, I learned more about the actual process of growing coffee. I found the whole value chain, from bean to cup, to be fascinating. During this time, I became particularly interested in the harvesting and processing components. It wasn't until after Hurricane Maria that I really started getting involved at the farm level. After the hurricane, we traveled around the island helping farmers replant their coffee crops. Through this process, I realized that I was interested in getting more involved at the farm and cooperative level. When I heard about this opportunity with TechnoServe, it seemed like the perfect fit.
For me, it is very important that I work for an organization where I believe in its mission and values. I firmly believe that work is better when it moves you, and I always wanted to work for a nonprofit because I think the work tends to be more mission-driven.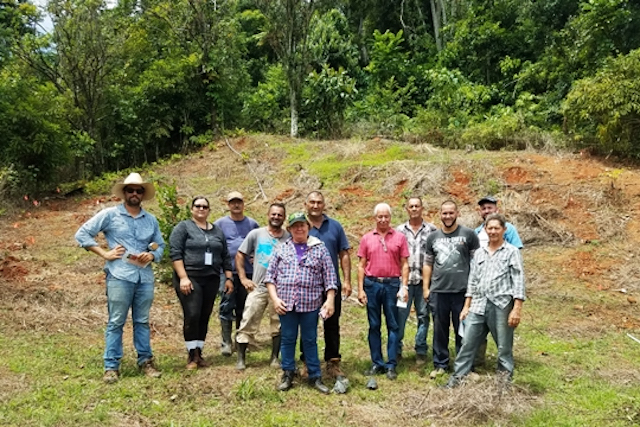 What motivates you to do this work?
After seeing the devastation from Hurricane Maria, I knew I wanted to do something to support the farmers on my island. I was very lucky because my house was not significantly damaged during the storm, but I know people who couldn't get out of their house for weeks, and once they did, the roads were still completely impassable. It took months to repair a lot of the infrastructure, particularly in the hard-hit rural areas.
In the months after the hurricane, I had the opportunity to talk to a lot of coffee farmers. I was surprised that most of them said they would return to coffee, even after their crops were completely destroyed. Seeing their resilience and determination was really inspiring.
When I think about what TechnoServe does, I love that the work impacts individuals, communities, and entire sectors. The ability to see how coffee farmers were living before and then after participating in a program, and knowing that their livelihoods have improved dramatically, is a huge motivation for me. Knowing that the work you're doing matters is so important.
What do you think your biggest challenges will be in this role?
Farmers in Puerto Rico are very proud. Many of them have been growing coffee the same way for over 30 years, so convincing them that there are other, possibly better ways to grow coffee can be difficult. The first cohort began in August, so the farmers have been implementing best practices for a few months now. We are getting to the point where they can actually see how the changes are improving their coffee production, which has been really helpful.
I think another challenge is that right now, not a lot of people know about TechnoServe's work in Puerto Rico. It is important for us to earn the trust of the farmers and help them figure out what we do and who we are. We have a great team with really amazing local leaders from each municipality. The farmer leaders are known to the community and trusted, so the farmers actually listen to them. Each municipality is different, so it is important to have local leadership. We also need to know what the farmers need – as soon as we provide them with value, they will get on board and be more open to joining the program.
The ability to see how coffee farmers were living before and then after participating in a program, and knowing that their livelihoods have improved dramatically, is a huge motivation for me."
What are you excited about in the coming year?
I'm excited to get into coffee processing. This program is great because there is a farm component and a processing component. A lot of people don't realize how important the processing is to the overall quality of the coffee. The program has a lot of other interesting components that I'm excited to work on, including digital/tech. There is a new wave of coffee farmers that come from the coffee shop side, but they want to get into farming. Those people are younger and use video tutorials to learn so many things, even coffee farming.
The program also includes soil and leaf analysis, which is really important, but most farmers don't even know that something like this exists. When they understand the depth of information they can get from this kind of analysis, including using the right inputs, that can have a huge positive impact. Overall, I think it is a well-designed program that is nicely split into segments so there isn't too much information at once. Our challenge will be to communicate with the farmers about how complete the program is.