In this series, we look at how three elements of coffee production in East Africa bring coffee from crop to your cup:
Coffee farming: Across the region, decisions that coffee farmers make play an integral role in the quality of the coffee we consume
Processing: Different processing methods lead to different coffee flavors and profiles
Cupping: What happens in the quality control process determines which coffees make it onto the shelves of your store
Coffee Production in East Africa: A Recap
Roughly 80% of all coffee is produced by smallholder farmers.
In East Africa, smallholder farmers dominate the coffee industry and help the region lead in coffee production versus the rest of Africa. As of 2020, coffee production in East Africa accounted for 82% of Africa's coffee production – and nearly 10% of all global production.
Coffee is an important cash crop in the region, enabling farmers to pay school fees for children and to purchase food and other household necessities.
But of the 12.5 million smallholder coffee farming households around the world, more than 80% still live below the poverty line.
Improving the value of coffee is crucial to helping smallholder farmers – both in East Africa and around the world – and bettering the industry for all involved.
But coffee goes beyond the farmers. Supporting coffee processors is critical, too.
Read more about coffee's journey through Rwanda.
The Role of Processing in the Coffee Journey
Coffee processing plays an important role in the flavor of the coffee that drips down into millions of coffee pots every morning. It can also improve the quality and value of coffee, ensuring a higher price for the farmers who grow it.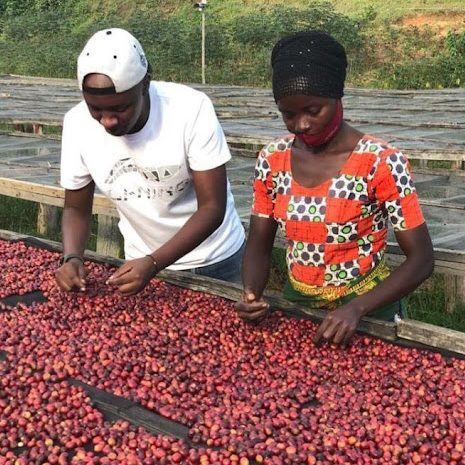 Processing coffee means removing the layers of skin and pulp from the outside of a coffee bean, in order to sell the beans on to the next buyer.
Shortly after coffee is picked, it begins fermenting, which results in the breakdown of natural sugars by bacteria – and changes the flavor and fruitfulness of the eventual cup of coffee.
Processing can vary by geography, climate, and personal preferences, but three main types dominate the industry:
Natural: Little is done to the cherries as they ferment and dry whole
Honey: Some of the pulp is left on the coffee cherry to ferment
Washed: Machinery is used to remove the skin and pulp from the cherry before fermentation in a tank
Because of the small farm sizes in East Africa – including Rwanda – much of this processing is done centrally in factories called wet mills or coffee washing stations, often operated by farmer cooperatives, where coffee producers deliver their coffee to avoid the tedious work of processing the small volumes they harvest each day.
Read a Q&A with a TechnoServe coffee expert.
How Rwanda Fits Into the East African Coffee Landscape
Agriculture is the cornerstone of Rwanda's economy. Coffee covers 2.3% of total cultivated arable land and is grown mainly by smallholder farmers.
The majority of the country's coffee is grown by some 400,000 small-scale farmers and their families, most of whom own less than quarter a hectare of land each. Almost all of Rwanda's coffee is Arabica, and 95% is one of several long-established Bourbon varieties.
In Rwanda, like most of East Africa, many cooperatives produce washed varieties of coffee. Here's how the process works:
TechnoServe works with the staff running the wet mills to help them deliver the best possible quality of coffee to international specialty coffee buyers. This helps secure greater price premiums for the coffee and higher payments for farmers.
In western Rwanda, coffee processing training is part of the way TechnoServe is helping 50,000 smallholder coffee farmers to improve the quality, yields, and value of their coffee.

The Rwanda INC project works to unlock the potential of Rwanda's coffee value chain by introducing innovative strategies and technologies to improve the capabilities of key market actors – especially coffee washing stations. Partnering with government agencies, exporters, lenders, and other allies in the value chain, TechnoServe is woking to:
Equip coffee washing stations with digital tools and platforms to enable better farm extension monitoring, business management insights, and deeper linkages with lenders, buyers, and government agencies. Examples include:
Digital extension monitoring, which allows agronomists to measure and manage the adoption of best practices
Business and financial management dashboards to identify operational challenges and opportunities
Expand access to critical inputs such as fertilizer, lime, seedlings, and credit through new distribution schemes. Examples include:
Piloting new input distribution channels and incentive schemes
Supporting an updated national strategy
Create market research, quality standards, and policy recommendations to strengthen Rwanda's competitiveness. Examples include:
Developing industry plans for differentiated coffee opportunities: certified, roasted, and niche markets
Co-creating minimum quality and sustainability standards for Rwanda
Enhancing risk management abilities of exporters and lenders
As a result of these activities, participating farmers are expected to increase their coffee yields by 10% and their net income by 15%.
Cyubahiro is the coffee quality manager at Gasharu Coffee, a company that has two wet mills in Nyamasheke District, Rwanda. In May 2021, he participated in the coffee processing level two training delivered by Rwanda INC's partner Coffee Quality Institute (CQI).
Over a week of training, Cyubahiro participated in classes, cuppings (a tasting technique to check coffee quality), and practical sessions. The training covered topics like:
Raw material selection
Coffee anatomy
Pulping
Fermentation
Washing and drying
Milling and processing
"After all of those modules, I have the ability to produce a clean cup of coffee using good processing practices and a quality control system to avoid defects and off tastes," Cyubahiro says.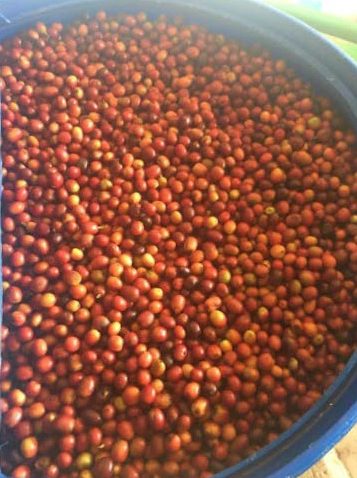 From the training, processors like Cyubahiro improved the way they produced coffee using the washed, honey, and natural processing techniques. "After this experience, the coffee has a good cupping score and has a good taste," Cyubahiro says.
A good cupping score means the coffee was well-balanced in aspects including cleanness, sweetness, acidity, mouthfeel, and aftertaste.
"At Gasharu Coffee, currently we are processing anaerobic, natural, honey, and fully washed coffees – all with higher scores compared to the seasons before being trained," Cyubahiro adds.
As coffee goes through the processing journey, decisions made by Cyubahiro will significantly impact the coffee's taste – and the price received from the seller.
Look out for the third and final installment of Crop to Cup, which highlights the cupping process that helps get Cyubahiro's coffee onto shelves around the world. The first part of the series is here.