Growing Prosperity in a Greenhouse
May 11, 2018
As more young people in rural East Africa turn to agriculture for their livelihood, visionaries like Samson Mwaikenda are modernizing their farming operations for a more prosperous future.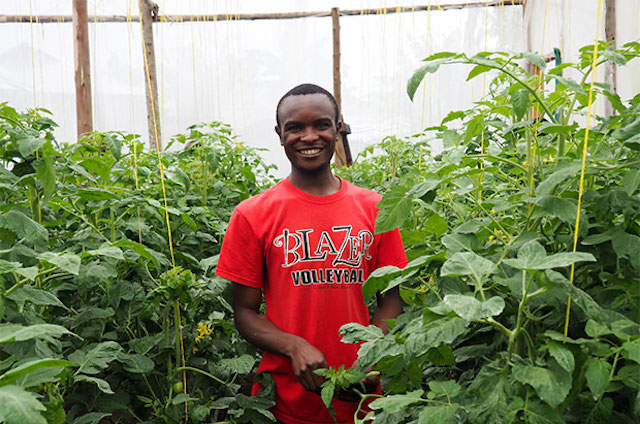 As he surveys the orderly lushness of his greenhouse, Samson Mwaikenda beams. All around him some 300 tomato plants in neat rows climb up evenly spaced twine trellises suspended from the ceiling, thriving in the optimal growth environment 24-year-old Samson has created.
Growing up in Iloka village in the fertile Mbeya region of Tanzania – one of five siblings raised by their grandparents – Samson sensed that agriculture could be a way out of the poverty that surrounded them.
"I like to eat tomato, and I saw an opportunity," Samson says. In 2016, he started growing tomatoes on a small outdoor plot, but his business didn't take off using conventional farming methods. Despite decent yields, Samson was earning less than $40 per month from his harvest. He had previously launched other unprofitable small businesses, such as bean trading, but this new venture in agriculture was only putting slightly more money in his pockets than these past failed attempts.
"I didn't have enough knowledge on tomatoes, and I didn't know how to interact with other people," Samson says, recognizing that the poor quality of his tomatoes and a lack of market linkages had held him back.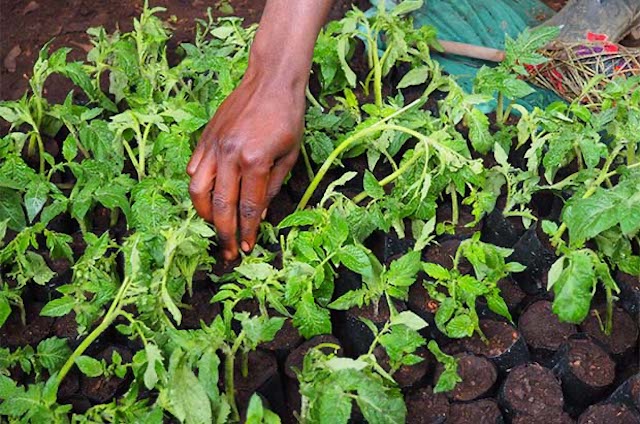 In June 2017, Samson joined STRYDE, TechnoServe's rural youth entrepreneurship program in East Africa, and started training to learn the self awareness and skills he needed to overcome those barriers. Already predisposed to an entrepreneurial mindset, Samson greatly benefited from the curriculum's foundational module on personal effectiveness. Here he charted his strengths and weaknesses, learned to set goals, and practiced communication skills that became critical to his success in and outside of his business.
"STRYDE built my ability to speak with other people," he reflects. "Before I was so quiet. But now I can talk."
The confidence to approach people and build relationships led him to his 32-year-old business partner, Ikwisa Wakatobe, who he introduces as "my brother." Thanks to STRYDE and training from agricultural extension workers, Samson knew he had the business and agronomy skills he needed to take his tomato business to the next level. What he lacked was capital.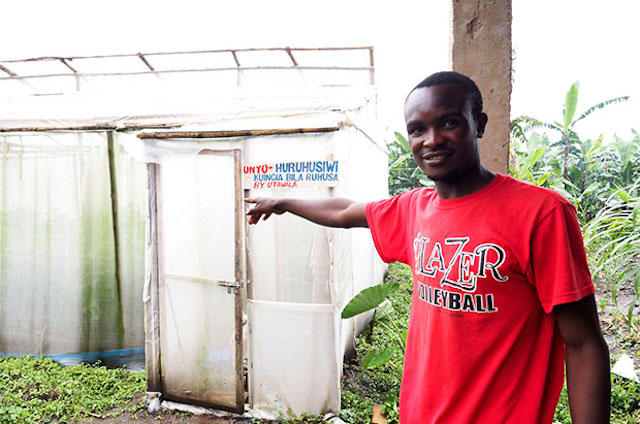 Lacking credit history or collateral, youth in East Africa are unlikely to get approved for a loan, so they turn to informal avenues of finance. Samson experimented with a youth savings group but found the distrustful group dynamics difficult to navigate. Instead, he approached Ikwisa, whom he met at a youth center where both were mentoring teenagers, and told him about a business plan that had ripened over the course of his STRYDE training.
Samson had seen a greenhouse in Mbeya the previous year, and the idea of controlled growing conditions took root in his mind. Once Ikwisa heard Samson's passion and his know-how, the older entrepreneur signed on, contributing his own land and capital, and applying for a loan.
In November of last year, Samson was finally able to order the plastic he needed to complete his greenhouse and incubate his dreams. The partners also invested in a productive hybrid seed, drip irrigation, and the right mix of fertilizers to help their crop thrive.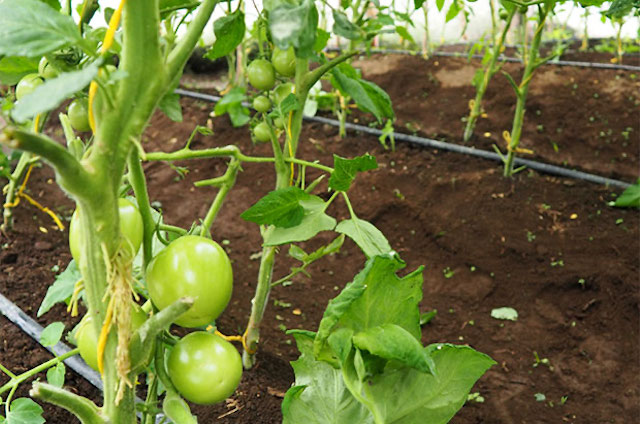 A greenhouse requires intensive attention, but Samson is up to the task, and the payoff is clear. He can control the moisture and nutrient composition of the soil, and doesn't need to rely on as many chemical inputs. "These plants are much healthier," Samson says proudly. Looking at the tomatoes ripening on the vine all around him, he thinks back to the pest tuta absoluta that had devastated his crop in the past.
Through a rigorous pest management regimen that incorporates manure and other organic ingredients, Samson now keeps the moth at bay. Even where the pest struck a single plant early in the season, Samson applied innovative agronomic practices, and grafted on stock from a healthy plant to give it a second life.
Surveying his tomato production in April and using the financial projection skills he learned during STRYDE, Samson predicts that his upcoming harvest will multiply his previous year's revenue eightfold, earning roughly $300 a month for the next five months. Even though his greenhouse's area of production is smaller than his former outdoor operation, the quality and quantity of his yield has increased exponentially.
"When I started in agriculture, I believed I could do it for a living," he says. "After STRYDE, I found a big opportunity to do what I believe I can do."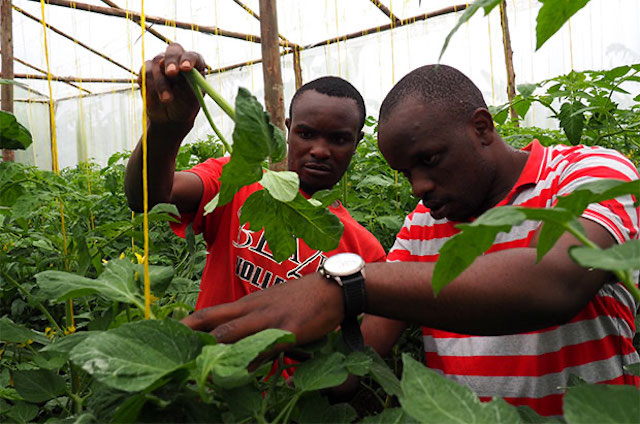 Yet for many of Samson's peers, that potential still remains untapped. For at least the next 30 years, more than half of youth in Africa will live in rural areas where agriculture plays a central role in their economies. When paired with entrepreneurship, business planning, interpersonal skills, and simple farming technology, agriculture offers opportunities for economic independence and fulfillment.
Samson's newfound confidence and voice has allowed him to identify neighborhood household buyers for his tomatoes, as well as local restaurants and hotels. "For people around here, this is new tech for them, so they want these tomatoes," says Samson. It's easy for his customers to see that the product is "safer, prettier, better quality, and tastes better."
Samson is also eager to share his budding agronomy and entrepreneurship knowledge, especially to empower other youth. He has started a nursery business by using cuttings from his high-quality plants – a lucrative enterprise in its own right – and is generous in doling out advice with the sale of each seedling.
Viewing himself as a change agent in his community, it's hard to believe that Samson felt suffocated by his shyness only one year ago. "Now people know if they need something about tomatoes, you go ask Samson," he says.
Related Blog Posts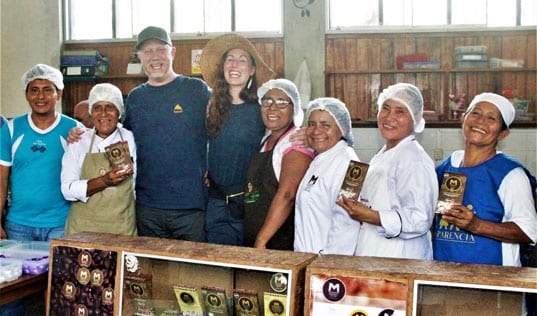 Kyle and Katina Connaughton, owners/operators of SingleThread Farms, recently traveled to Peru through the Chefs for Change initiative – a program that connects the world's best chefs to smallholder farmers in developing countries.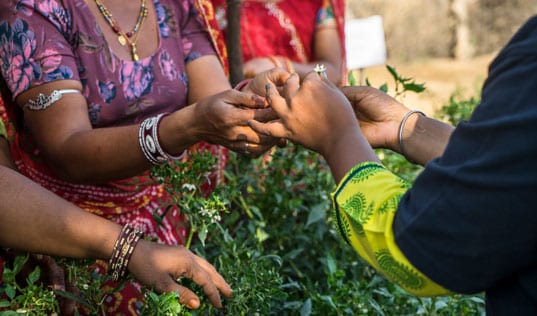 In this series, we check back with TechnoServe program participants who were previously featured on our blog, documenting how their lives have changed and progressed.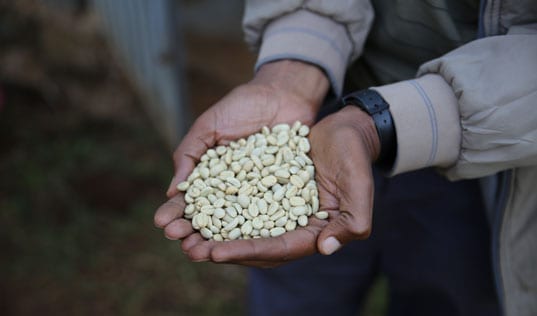 Over 15 million Ethiopians rely on coffee for their livelihoods. This is one of their stories.