Food Processors Help Fight Food Insecurity in the Developing World. How Has COVID-19 Impacted Them This Year?
TechnoServe's COVID-19 Impact Report examines how the pandemic disrupted key sectors of emerging economies and the livelihoods of those who work in them. Our second feature in our blog series on the report highlights the challenges food processors faced last year and the promising solutions that could help them maintain their key role in the value chain.
Read the full COVID-19 Impact Report
Food Insecurity in the Developing World and COVID-19
The COVID-19 pandemic has led to increased food insecurity for millions of people in the developing world. In 2020, the number of people facing life-threatening hunger was expected to nearly double to 265 million. A combination of reduced incomes for consumers, increased food prices, and widespread supply chain disruptions forced many already vulnerable people to change their eating habits or go hungry. 
Food processing companies in the developing world are a critical link between consumers and millions of smallholder farmers and other agricultural businesses. TechnoServe works to improve these businesses' operations and safety practices so they can purchase more crops from farmers, create more jobs, and provide high-quality, nutritious food for consumers.
But since the beginning of the COVID-19 crisis, food processors have faced challenges on multiple fronts.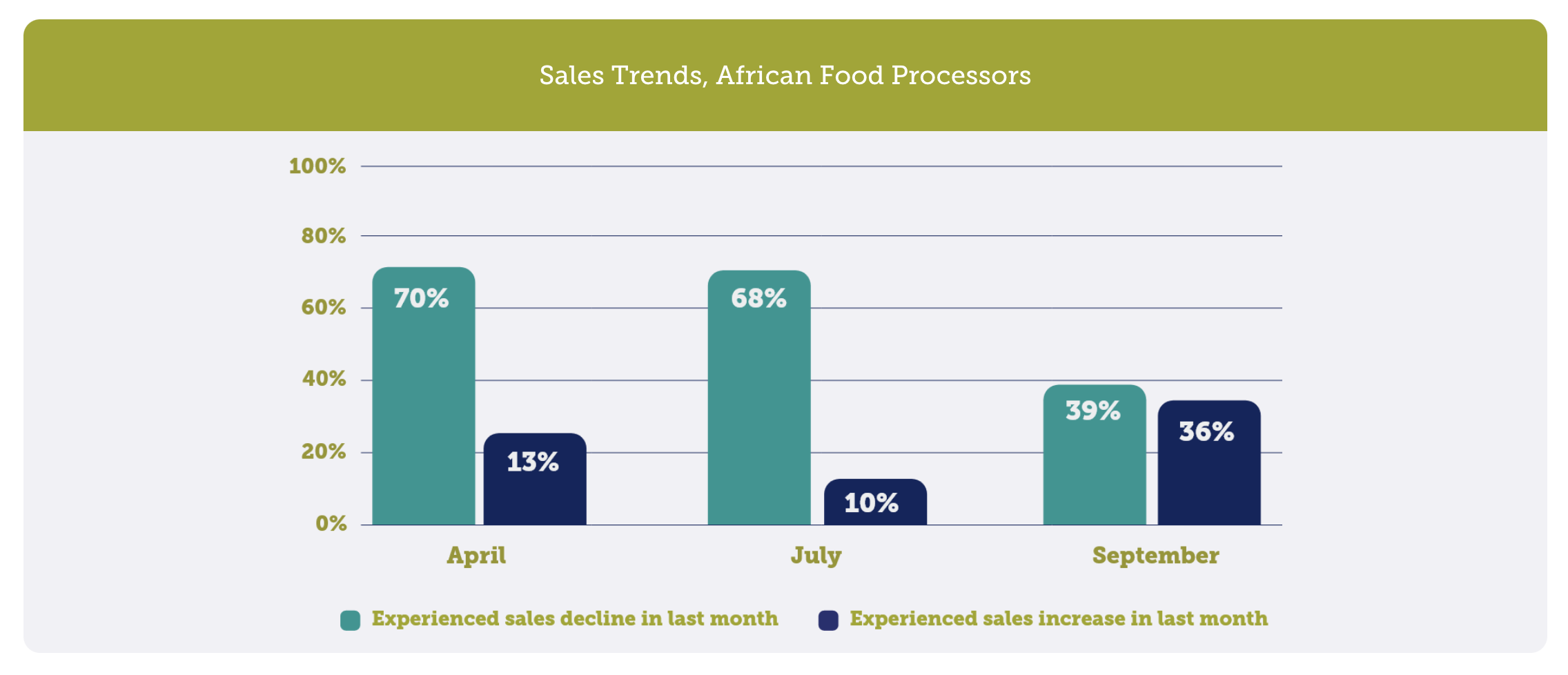 COVID-19 Creates New Challenges for Food Processors
At the beginning of the pandemic, food processors faced a pileup of market challenges. Early last year, many governments across sub-Saharan Africa issued shutdowns that immediately disrupted the companies' sales and distribution of their food products. 
In an April 2020 TechnoServe survey, 60% of processors surveyed reported that their market distribution activities dropped by at least 30%, with over one in 10 processors reporting that their market distribution had stopped entirely. 
Due to restrictions and requirements put in place by the government, our products could not reach all the end users on time. All the big markets were closed to observe social distancing and restrictions on gatherings, and again, this affected our sales greatly. Some of our customers are schools and learning institutions who were also forced to close."
— Food processor in Kenya
While processors scrambled to meet these challenges in creative ways, nearly half also reported that they were scaling back operations in response. Given processors' position in the supply chain, these actions generated ripple effects across the market. 
Because companies were buying and selling less than usual, the smallholder farmers supplying them suffered decreased incomes, and consumers experienced more limited access to diverse and nutritious selections of food in stores.
The same shutdowns that crippled sales for many food processors in April 2020 also hurt their supply chains. Seventy percent of firms surveyed that month said that they were experiencing major disruptions to their supply of raw materials, such as grain with which to make flour — a slightly higher share than had reported having significant market distribution challenges.
We had an inability to access raw material due to the lockdown, and [we] have run out of stock to sell to customers due to the inability to get raw material to produce."
— Edible oil processor in Nigeria
The most acute supply chain challenges eased toward the end of 2020 — and even with the lingering threat of resurgent outbreaks and lockdowns, many processors have now made adaptations and contingency plans that may improve their resilience to future disruptions.
Fighting Food Insecurity in the Developing World
To meet the challenges of a rapidly shifting market, TechnoServe helped processors analyze the current business situation and identify new opportunities. Roughly half of the processors responded to changes in their current markets by seeking new ones — exploring new product lines or new customer segments to offset lost income elsewhere.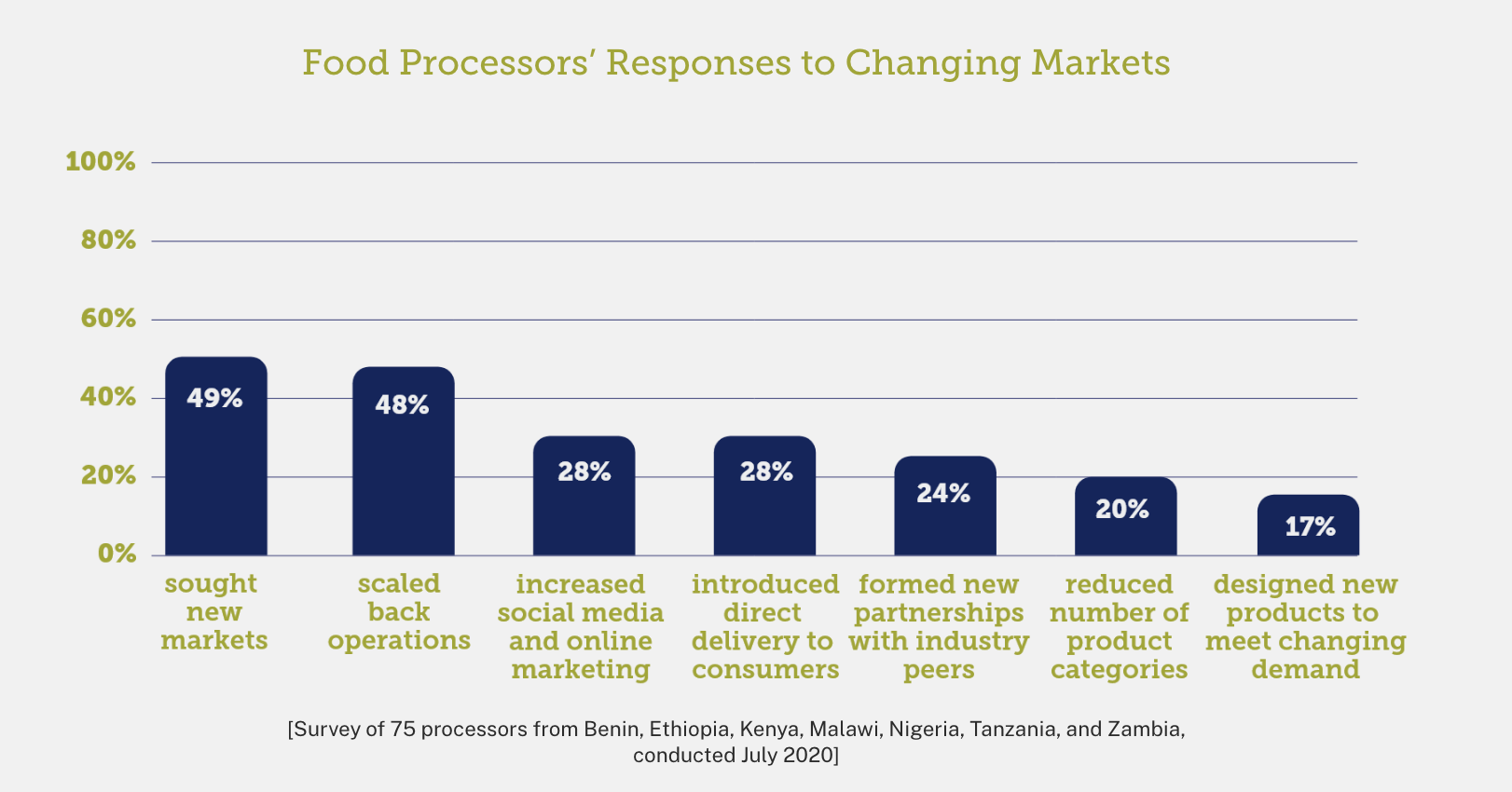 Processors also began to go digital, ramping up or initiating online sales and turning to increased social media and online marketing. TechnoServe worked to connect many processors to apps and online platforms to facilitate or even grow the firms' sales in the future.
Many market adaptations — particularly increased use of digital solutions, direct delivery, and new partnerships — will likely outlast the pandemic and continue to grow in importance. Yet given the sustained economic downturn many countries are facing, food processors will continue to need support in developing new marketing strategies and accessing capital.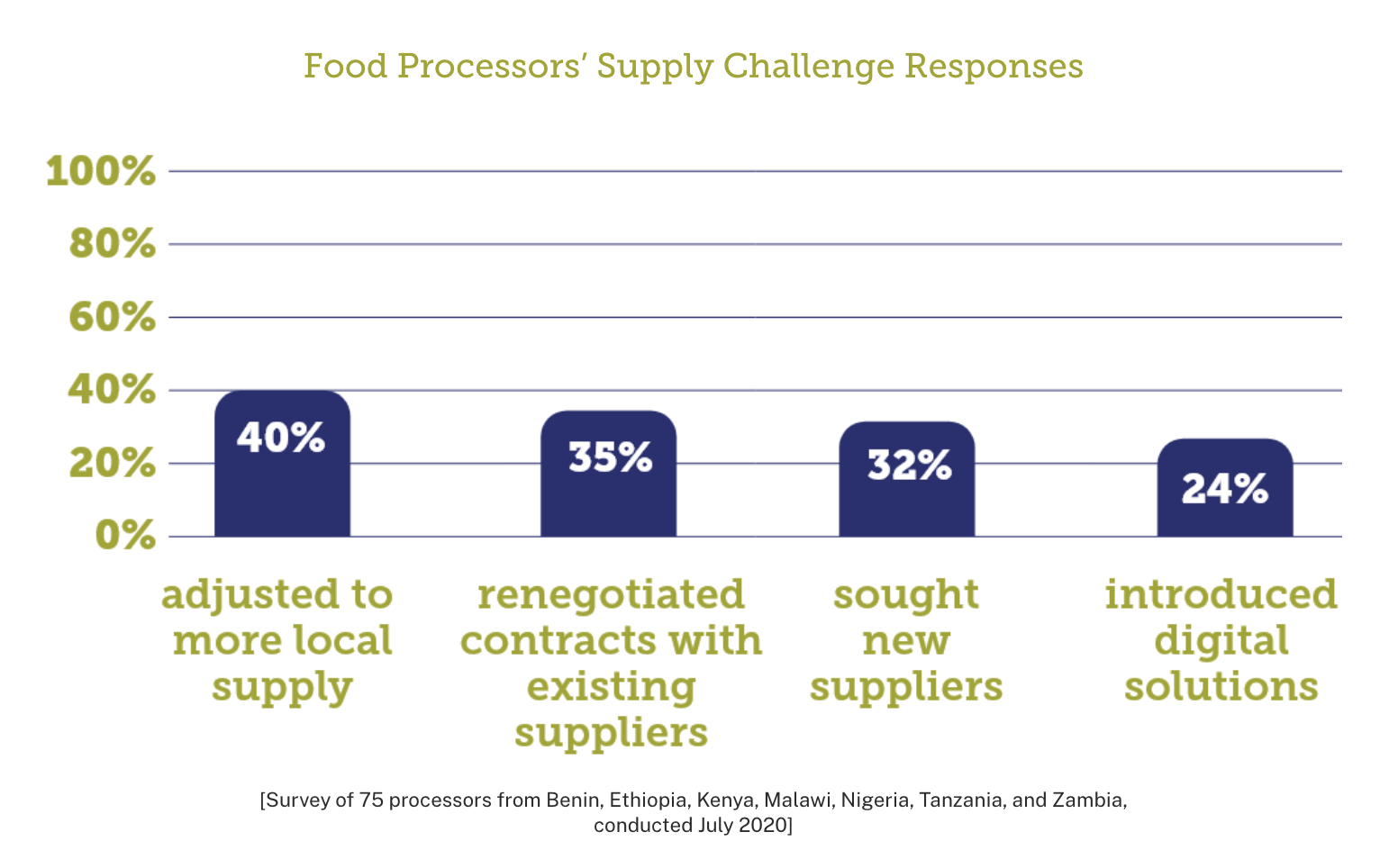 To improve connections with farmers, TechnoServe worked across East Africa to help processors determine their sourcing requirements and identify promising suppliers.
In Tanzania, for instance, this support helped four processing companies connect with more than 160 smallholder farmers and aggregators, resulting in the sale of over 1,000 metric tons of goods per month from farmers to processors, benefiting both parties at a critical time.
The work of food processing companies is more important than ever, and with the right support, these businesses will be able to continue their essential role within the food system.