Cultivating the Next Generation of Coffee Farmers
August 22, 2019
Nestled in the heart of Zimbabwe's Honde Valley, a small coffee nursery holds the key to prosperity for a group of young coffee farmers.
Coffee farmers in Zimbabwe's Honde Valley. From left to right: Samuel Nyakuchena, Ruben Muranda, Tafadzwa Nyakuchena, Elizabeth Nyamadzwo, and Fanuel Munyuku.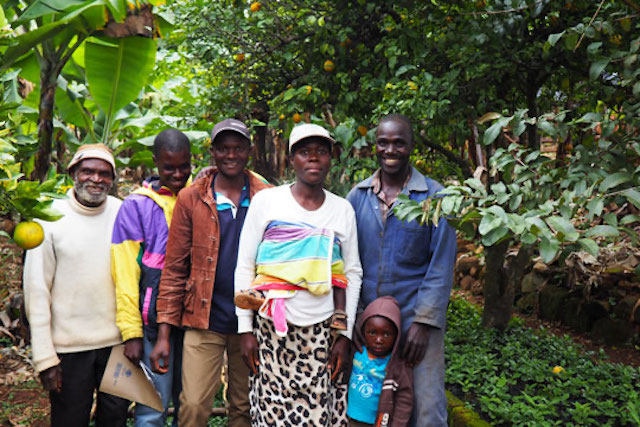 In Zimbabwe's Honde Valley, the hopes of 20 young people are sprouting in neat rows on a green hillside shaded by lemon trees.
This coffee seedling nursery sprang from a renaissance that reached the youths' community last year: an effort from Nespresso and TechnoServe to revive Zimbabwe's once-renowned coffee sector by training hundreds of small farmers to improve the quality and quantity of their crop.
"We saw our parents come for the trainings and thought that this project is good, and that we should take over from our parents," says Fanuel Munuku, 28. "But our motivation went to another level when we saw our parents get U.S. dollars [for their coffee]. We look forward to getting our own U.S. dollars."
Fanuel is visiting the nursery with his wife, Elizabeth Nyamadzwo, 24, and their two young children. Elizabeth leans forward with a toddler strapped to her back, carefully examining the tender shoots that reach a few inches high. "I'm looking forward to planting these on our own plot," she says.
Samuel Nyakuchena tends to the coffee saplings in the nursery.
Fanuel and Elizabeth are part of a youth group that founded the nursery after the training program began in 2018. Seeing the premium prices that Nespresso paid for high-quality coffee, the area's young farmers pooled their money to invest in new coffee trees that would expand their incomes down the road. The nursery now has about 5,000 seedlings, which will be divided among the members for planting on their own farms, though the trees won't produce coffee cherries until about two years after that.
"This project will make more money than bananas and other crops, and it will create jobs for youth and women – picking, harvesting, and processing."
But for the promise of better incomes, they are willing to wait.
The leader of the youth group is Tafadzwa Nyakuchena, soft-spoken and young-looking for 28. Coffee farming is in his blood; his parents have grown the crop for decades, even in the lean years following Zimbabwe's economic collapse about 20 years ago, which took the coffee industry down with it.
Tafadzwa can remember helping his parents pick and sort coffee from a young age, and as an adult, he would make meticulous records of the family's coffee sales, an unusual practice in the area. He imparted these practices on the youth group, training the members in budgeting and agronomy.
"This project will make more money than bananas and other crops," Tafadzwa points out, referencing other common sources of local income. "And it will create jobs for youth and women – picking, harvesting, and processing."
Although producing high-quality coffee is careful, patient work – especially growing trees from seeds – the young farmers are drawn forward by long-term visions of better lives for themselves and their families.
The coffee nursery is located in Zimbabwe's Honde Valley – an area that has recently experienced a coffee renaissance.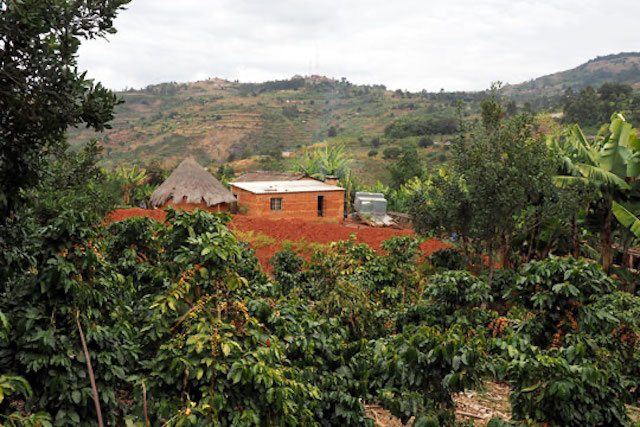 "I would like to expand our fields and send our kids to a better school," says Fanuel, flanked by his wide-eyed four-year-old son.
"I would like to improve our homestead so it is a decent place to live," adds Elizabeth. She pauses, and offers a shy grin. "I want to send our kids to school to become pilots, so they can travel all over the world."
Tafadzwa is not yet married, but knows what kind of life he wants for his family. "I wish I could build my own house and pay school fees for my future children, so they can go to better schools than I did," he says. Despite his sharp analytical skills, Tafadzwa was never able to complete high school.
"We saw our parents come for the trainings and thought that this project is good, and that we should take over [the coffee nursery] for our parents."
As the young people speak, Samuel Nyakuchena watches quietly under a banana tree, clad in a knit cap and sweater to ward off the early winter chill. He is 92 years old, and Tafadzwa is the last of his six children. For the first half century of Samuel's life, Zimbabwe was ruled by an oppressive white government, gaining independence only after a brutal civil war that terrorized the countryside. His children were born in a new Zimbabwe, but most of their lives have still been dominated by political and economic turmoil.
Now, his youngest child speaks with hope about the crop that Samuel taught him to grow. And today, Samuel shares this optimism for the next generation.
"We hope if we work hard, we can get more money in the local economy – in the whole area, we will have more money," he says. "We are very happy that people out there are drinking our coffee."
Learn how you can transform the lives of young coffee farmers like Tafadzwa, Elizabeth, and Fanuel.
Related Blog Posts
In the second part of our consumer spotlight series, we are highlighting coffee from Zimbabwe. Coffee is making a comeback here after a decades-long decline. Since 2017, TechnoServe has worked with Nespresso to restore Zimbabwe's coffee-growing regions.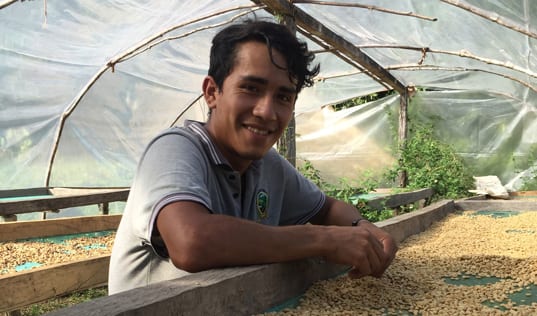 In San Martín, Peru, coca used to dominate the landscape. Now, through the Coffee Alliance for Excellence (CAFE) program, farmers in former coca-growing regions are learning how to improve their livelihoods through coffee.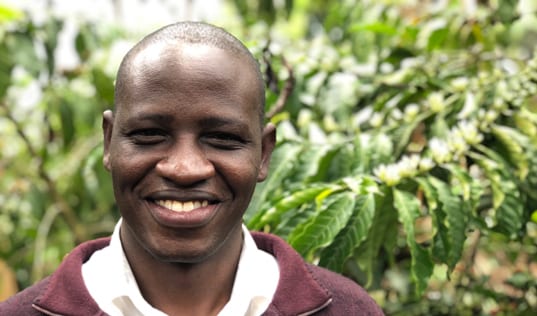 We spoke with TechnoServe's Africa regional agronomy advisor to learn more about his background in coffee and how he became a certified Q grader – the highest possible certification in the coffee sector.