Creating Lasting Change in Ghana: Q&A with Julia Podevin
Julia Podevin is a former TechnoServe Fellow who worked in Ghana in 2011. During her time with TechnoServe, she looked for ways to link financial institutions, such as rural banks, with the agricultural sector. In this Q&A, Julia shares why she became a Fellow, what her experience was like on the ground, and why she continues to support TechnoServe.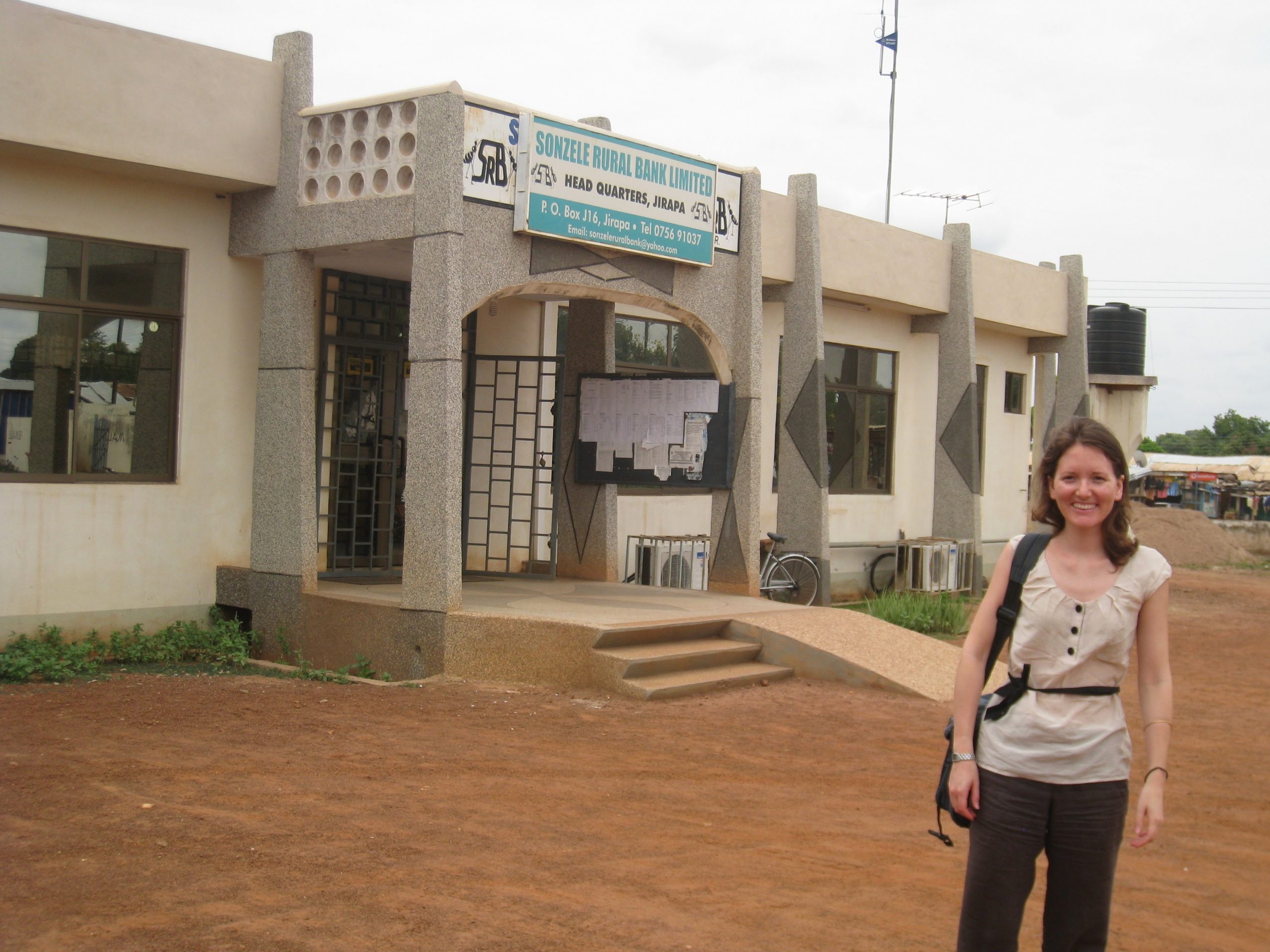 The TechnoServe Fellows Program is a highly competitive fellowship where business professionals contribute their skills to help change the lives of those living in poverty. Since 1996, TechnoServe has engaged over 1,000 Fellows on three- to twelve-month projects throughout Africa, India, and Latin America and the Caribbean.
Julia Podevin is a freelance consultant working on international development projects with a variety of multilateral organizations, NGOs, government entities, and businesses. Her work includes program coordination, strategy and research, and monitoring and evaluation. Julia's previous experience includes time at JPMorgan and the World Bank. She earned an MBA from INSEAD in 2014 and a bachelor's degree from Macalester College in 2004. 
Q: What inspired you to become a Fellow?
A: I have always been interested in international development. I started my career in this sector by working at the World Bank for two years. I then decided to get experience in the private sector and joined JPMorgan's investment bank, with the view of eventually returning to development work. 
When I applied to TechnoServe, I had transitioned from JPMorgan to New York City's Department of Education, where I worked in finance. I wanted to return to development work and get experience in the field. TechnoServe's approach to development, which focuses on business solutions and values private sector experience, seemed to be a perfect fit. Becoming a Fellow represented an ideal opportunity to return to the development sector and contribute to a field project.
Q: Can you describe your experience in three words?
A: Impactful, professional, and fun.
Q: What project(s) did you work on?
A: I worked on the Agricultural Development and Value Chain Enhancement (ADVANCE) project, part of the U.S. Agency for International Development (USAID)'s Feed the Future program. Specifically, I looked for ways to link financial institutions, such as rural banks, with the agricultural sector to increase agricultural lending capacity.
Q: What was your experience like on the ground in Ghana?
A: When I arrived in Ghana, I first had a chance to visit the different areas in the southern part of the country where the ADVANCE project was being implemented to get an overall view of the project and its goals. Shortly after my arrival, the project shifted its focus to concentrate on the northern part of the country. I settled in Tamale, the capital city of Ghana's Northern Region, where the ADVANCE project had an office, and spent a lot of time on the road, meeting with rural banks in Ghana's Northern, Upper East and Upper West regions. 
Ghana's three northernmost regions were at the time the poorest in the country. Though most of the population in these regions (>70%) practiced some sort of agriculture, credit to the agricultural sector was hard to obtain. The bulk of my assignment was spent designing and carrying out a needs assessment of rural banks in these regions to understand the challenges and opportunities they face and develop recommendations for how ADVANCE could engage with these banks in order to increase credit to the agricultural sector. 
Working with two colleagues, we developed a detailed questionnaire, which we used to conduct interviews at rural banks to get a holistic view of these banks' operations. We then conducted interviews at these banks and analyzed the data and information collected.
Based on the findings of our analysis, we developed a set of actionable recommendations for the ADVANCE project to facilitate linkages between rural banks and the agricultural sector. The recommendations were designed to help banks increase outreach to the agricultural sector through the mitigation of agricultural risk via targeted capacity building. Specifically, we recommended setting up examples of value chain financing and agricultural microfinance, with each bank willing and able to work with ADVANCE, in order to increase credit to the agricultural sector.
ADVANCE had successfully arranged value chain financing schemes in other parts of the country and the potential impact could be quite substantial. In addition most banks already had a microfinance portfolio. Expanding and adapting the microfinance model to include agricultural sector clients had the potential to leverage the banks' experiences and add a new business line to their portfolio while using best practices from microfinance to mitigate risk.
My assignment ended shortly after presenting the recommended action plan, but the program team used the recommendations to guide follow-on activities and also used the needs assessment we had developed to analyze additional financial partners.
Q: Can you share a story from your time in the field? Is there a story that stands out to you?
A: My work focused on financial institutions. My colleagues and I analyzed rural banks in northern Ghana to assess their needs and how the ADVANCE project might be able to work with them to support the agricultural sector. One story that stood out to me is that many of these banks had made loans to farmers in the past via a government program designed to support agriculture.  
According to the banks, once the farmers found out the program was government-funded, they did not repay, due to a common perception that government money is a grant. As a result, the banks got "burned" and were reluctant to risk lending to farmers again. In addition, many of the bankers we spoke with did not understand the agricultural cycle and thus would review loan applications from farmers, but not understand the importance of timing for these loans to impact the farmers' business.  
These stories really highlighted the importance of communication and need for capacity building: both for farmers to understand the banks' needs and for bankers to understand the farmers' needs. As part of our recommendations to facilitate linkages between farmers and rural banks, we thus strongly advocated for training both farmers and bankers.
Q: What life lessons did you learn from your experience as a Fellow?
A: My time as a Fellow was my first time living on the African continent. I have since had the opportunity to live in West Africa again, but I cherish the memory of this first experience. I arrived in Ghana with just one suitcase and did not know what to expect. Adapting to local conditions and living more simply showed how resilient and adaptable one could be. 
It has also made me much more appreciative of things I once took for granted, such as electricity and warm water. While living in Tamale, I shared a sparsely furnished house with two other Fellows. To this day, having enough light to read after sunset and taking a warm shower feel like luxuries. Yet, I loved the experience of living more simply and remember it as a very special and happy time in my life.
Q: Why does TechnoServe's work matter to you? What continues to inspire you?
A: TechnoServe's work matters to me because I continue to be passionate about international development. By focusing on business solutions and empowering individuals, TechnoServe works to find practical and sustainable solutions to poverty.  
I also support and recommend TechnoServe's Fellows program, which is a great opportunity for people interested in international development to try it out in a meaningful way by contributing their skills to ongoing projects in the field on a short- to medium-term basis.
Q: How has seeing TechnoServe's work firsthand impacted your views on international development?
A: Seeing TechnoServe's work firsthand has reinforced my interest in international development and desire to work in this sector. It was very inspiring to meet individuals who benefited from the program and were able to impact their community positively. For example, I met one farmer who, with support from ADVANCE, moved from subsistence farming to becoming an aggregator and gathered crops from neighboring farmers. 
By combining their resources, these farmers could increase their yields and get better returns for their crops. The farmer in question was often cited as a model success story for the project, and he benefited considerably from that. However, it was nice to see the positive impact spread to farmers around him, too.  
My experience in the field has also opened my eyes to some of the pitfalls of development work.  For example, I saw some well-meaning initiatives that had no impact or a negative impact. I also met some individuals and organizations who had become dependent on aid money and expected any international visitor to grant financial or material aid. 
These experiences can make one question the usefulness of aid work. This has made me think more critically about impact and reinforced the importance of projects that integrate, empower, and enable local leadership for sustainable results, which is a key trait of TechnoServe's approach.
Q: Where are you now, and what are you doing?
A: I continue to work as a freelance consultant and recently moved to Moscow, Russia, where my family will live for 2 years for my spouse's career (also a former TechnoServe Fellow). I hope to find opportunities to continue consulting — even if remotely — until we move to a country with a more active development sector. 
Q: What advice would you give to Fellows just returning from their experience?
A: Share your experience with friends, colleagues, your school, and other networks. Many people are likely interested in participating in similar programs and would love to hear about your experience and be interested in applying to the TechnoServe Fellows program. 
Stay in touch with TechnoServe and connect with other Fellows. There is a growing community of alumni looking to stay connected and to support TechnoServe's work. Whereas Fellows used to come almost exclusively from management consulting, alumni increasingly come from more diverse professional backgrounds and do all kinds of different things. What ties us together is this intense and unique life-changing experience we had working on the front lines of international development. We can, and should, be a supportive resource for each other.  
Learn more about the TechnoServe Fellows Program and how you can apply today.