Promoting Food Security with Corporate Expertise
TechnoServe and Partners in Food Solutions are helping African food processors create a sustainable, food-secure future.
Originally published in Global Economic Empowerment: Private Sector Solutions at Each Stage of Development, a special report released this month by the U.S. Chamber of Commerce Foundation Corporate Citizenship Center.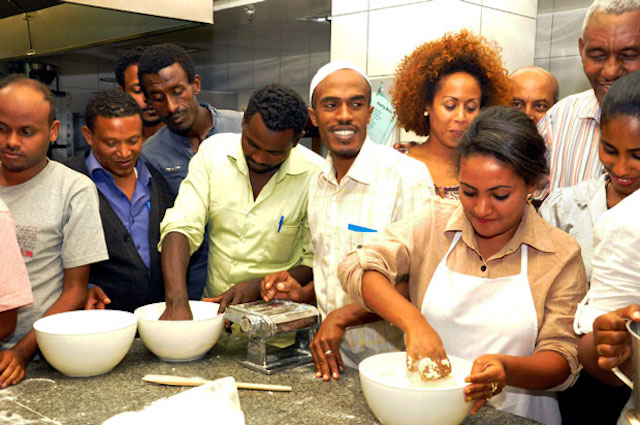 In sub-Saharan Africa, one out of four people is undernourished. And yet Africa has enormous potential in agriculture, with roughly 65 percent of the population working in this sector.
An innovative public-private partnership is working to turn this challenge into a business opportunity. Partners in Food Solutions (PFS) is a nonprofit organization that links the technical and business expertise of volunteer employees from General Mills, Cargill, Royal DSM, and Bühler to small and growing food processors and millers in the developing world. TechnoServe works as PFS's on-the-ground implementing partner, with funding from the U.S. Agency for International Development (USAID).
Our work focuses mainly on food processors because of their critical place in the value chain. More than two-thirds of Africans earn their livelihood from agriculture; the vast majority of them are smallholder farmers. But these producers struggle to find a constant, stable market for their crops, which prevents them from expanding their businesses and increasing their incomes. Enhancing the capacities of local food processors allows them to buy larger quantities of farmers' products as well as to produce better, more nutritious food for the population at large – creating a multiplier effect throughout the food value chain.
To do this, TechnoServe and PFS developed a technology and knowledge transfer model that matches the needs of local food processors with the knowledge, technology, and stateof-the-art resources that PFS experts provide. TechnoServe identifies local processors to work with, collaborates with them on a needs assessment and develops a scope of work for PFS corporate volunteers. These experts then develop tailored solutions aligned with each company's core business expertise. For instance, Cargill employees may take the lead on projects involving vegetable oils; General Mills, blended flours; Royal DSM, fortification of staple foods; and Bühler, process engineering. Using TechnoServe to "translate" advice and help implement it on the ground, these corporate volunteers do 95 percent of their work remotely, eliminating travel and logistics costs and opening the door for even greater scale.
Enhancing the capacities of local food processors allows them to buy larger quantities of farmers' products as well as to produce better, more nutritious food for the population at large – creating a multiplier effect throughout the food value chain.
In the five countries where the partnership works – Kenya, Zambia, Tanzania, Malawi and Ethiopia – the results have been impressive. Between 2010 and 2012, processors that we assisted increased the annual volume of nutritious food products they sold to aid markets by 18.6 percent. In 2013, annual sales of improved nutritious products grew 35 percent over the previous year.
Assisted companies have produced a range of new or improved products that will help improve nutrition for vulnerable populations. In Zambia, for instance, we provided the technical assistance to enable local processor Community Markets for Conservation (COMACO) to produce and distribute 96 metric tons of corn-soy blends, a high-energy protein supplement. This has allowed 374 malnourished individuals, so far, to receive therapeutic or supplementary food.
In total, the TechnoServe/PFS partnership has provided training to more than 500 food companies and has provided direct customized capacity building to 74, which in turn support approximately 550,000 smallholder farmers and their estimated 3.3 million family members. With program assistance, local processors have sold more than 15,000 metric tons of products to food aid buyers for vulnerable populations, helping address a critical nutritional need. All told, more than 700 PFS corporate employees have volunteered more than 60,000 hours of their time, on more than 280 individual projects. But there is much more to do. In the next five years, the partnership aims to directly assist more than 300 food processors and train at least 2,000 food specialists, providing sustainable markets for more than one million African farmers.
These efforts are critical in light of the world's rapidly growing population, which is projected to surpass 9 billion by the year 2050. The African agricultural sector will be essential to feeding such a massive population – but it will have to greatly scale up its capacity, efficiency and productivity in order to do so. We believe that private sector solutions like the one pioneered by TechnoServe and PFS – which deliver increased income and greater productivity up and down the value chain – hold the key to unlocking this incredible potential.