Combining Commercial Opportunity With Environmental Sustainability
March 05, 2012
As pressure grows to produce more food, unsustainable practices threaten ecosystems and contribute to climate change.
| | |
| --- | --- |
| | Bruce McNamer, TechnoServe's President and CEO, discusses our strategy for coupling improvements in food security with environmentally sustainable agricultural practices. He recently spoke on a panel called "Feed the world, protect the planet" at the International Fund for Agricultural Development (IFAD) - a specialized agency of the United Nations. |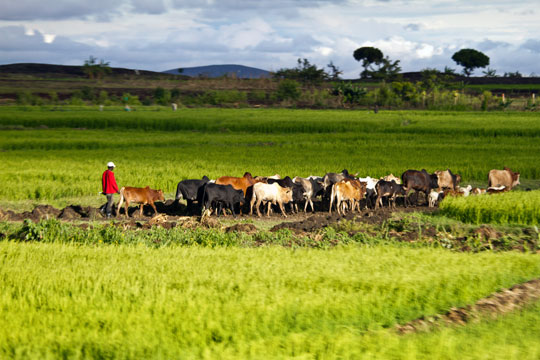 Smallholder farmers can set an example of environmental sustainability while helping to feed the world.
The 2 billion people who live and work on small farms in developing countries are victims of paradox. They grow vital food and cash crops, yet most remain in poverty because they lack access to information and markets. They produce most of their nations' food but often go to bed hungry. And as they struggle to provide enough food for their families, the world looks to them to help feed a growing population.
We need to produce an estimated 70 percent more food by 2050. The greatest potential for productivity gains lies in the millions of small-scale farms in Africa, Latin America and Asia. But as the pressure grows to produce more food, unsustainable practices like slash-and-burn agriculture and excessive tilling of cropland threaten ecosystems and contribute to climate change.
At TechnoServe, we believe that with the right skills and knowledge, smallholder farmers can better feed themselves and the world while setting an example of environmental sustainability. But we must keep in mind a core truth: farms are businesses, and smallholder farmers should be viewed as businesspeople. Lasting change will happen only when farmers are implementing sustainable approaches because they can make money doing so.
This means that promoting environmentally sustainable practices should go hand-in-hand with efforts to bring smallholder farmers into commercial markets. Civil society, governments, the private sector and donors must work together to find the intersection of environmental protection and commercial opportunity. If done right, this approach can help protect the planet, feed a growing population and raise living standards for farming families.
TechnoServe works in agricultural industries to address the constraints that prevent smallholder farmers from creating the most value from their products. Many of these constraints also keep farmers from adopting more sustainable practices. For example, access to information is a major gap in much of the developing world. Information about soil, weather and proper farming practices can be the element that takes a farming family from subsistence to long-term sustainability. With the right knowledge, farmers can learn to be better stewards of the environment while also producing a higher-quality product.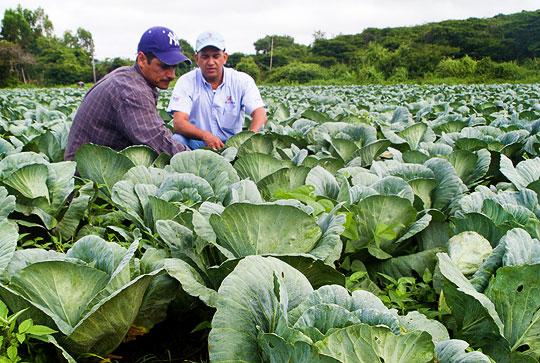 Good stewardship of the land is good business for smallholder farmers in the developing world.
Similarly, with better access to finance, smallholders can make improvements to their farms that will have long-term benefits. With access to markets and confidence in their stability and transparency, they can have the cash flow to buy proper seeds, fertilizers and equipment. And with confidence in their land tenure, farmers will have the motivation to plan for the future. Any initiative to promote environmentally sustainable practices must address all of these elements.
That's why it's critical to involve multiple stakeholders in these efforts. Governments can play a key role by examining policies through the dual lens of commercial viability and environmental sustainability. This approach can help create smart policies in areas such as investment in input markets, enforcement of environmental standards, land reform and payments for ecosystem services. The private sector and donors also can do their part by examining business models side by side with environmental sustainability.
TechnoServe's experience has shown that this approach can work. We are integrating conservation into our trainings and emphasizing low-cost practices that can help maintain soil fertility, manage pests and make efficient use of water supplies. TechnoServe is working to incorporate technologies such as satellite imaging, GPS and mobile communications in order to help farmers determine how to use their land efficiently, productively and sustainably. These improvements can lead to short-term gains, but they also position farmers to succeed in the long-term by helping them adapt to a rapidly changing planet. Good stewardship is good business.
There is also huge potential for financial and environmental benefits by implementing improvements after the harvest. In several East African countries, TechnoServe has helped introduce coffee processing equipment that cuts water usage by 95 percent. In addition to the obvious environmental benefits, this equipment reduces the capital needed for a smallholder-owned mill by a third. Improvements in other areas such as crop storage and transport can help cut down on post-harvest losses and reduce the need to clear more land for agriculture.
In all of these efforts, it's critical to think systemically in order to create lasting change. The smallholder farmer represents just one piece of a larger system. Without the right incentives and support, farmers will have little motivation or ability to adopt more sustainable practices. But with a system that supports commercial and environmental sustainability, smallholders can play a major role in feeding – and protecting – the world.
Related Blog Posts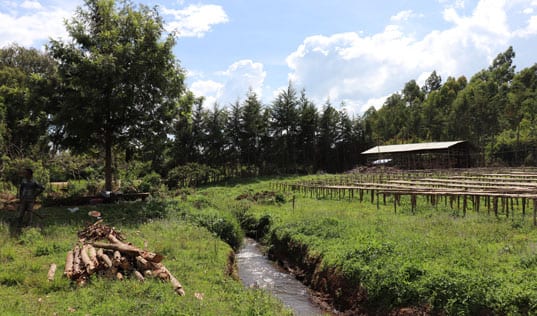 In Ethiopia, wild coffee thrives under dense forest canopies. Since 2018, TechnoServe has been working with Partnerships for Forests to support the farmers who grow this coffee, and the diverse habitats they rely on for their livelihoods.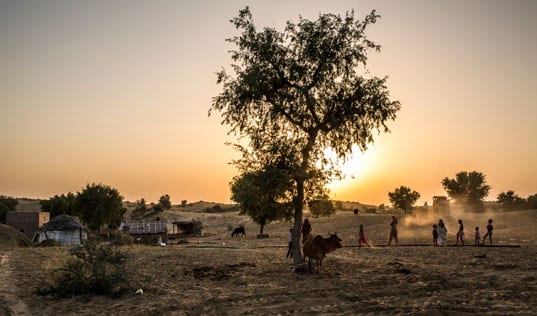 In this series, we check back with TechnoServe program participants who were previously featured on our blog, documenting how their lives have changed and progressed.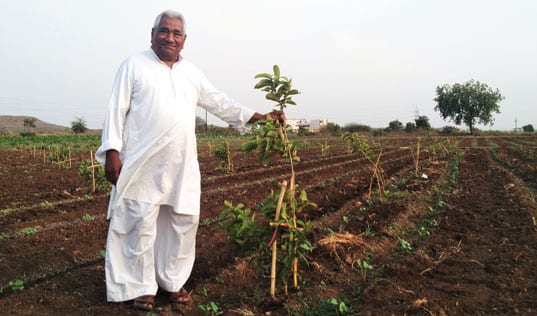 TechnoServe and the Kellogg Company are helping aging farmers in Madhya Pradesh, India, establish sustainable and environmentally friendly sources of income.