Youth Use Tech to Farm Uganda's Future
In Uganda, TechnoServe and the Mastercard Foundation partnered to scale youth innovations in the agri-food sector, increasing food security and farmer earnings.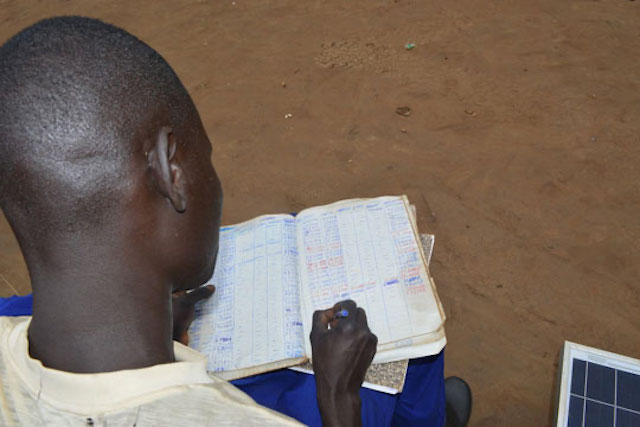 Editor's Note: This article was originally published by the Mastercard Foundation. 
Last year, a Ugandan farmer more than tripled his farm income with the help of an agricultural extension agent and an app.
EzyAgric provides Ugandan farmers with up-to-date information about best practices in agriculture through their mobile phones. The extension agent, Isaac, used the app to help Simon determine the amount of sorghum seed needed for his five-acre plot of land. With this insight, and seeds procured from an input dealer in Lira town, Simon harvested 2,200kg of sorghum. After selling his crop to Isaac and other buyers, his seasonal income increased from $165 to $586.
In the past, farmers would sell their crops when the prices were low because they did not have up-to-date pricing information. Agents like Isaac use EzyAgric to 'see' what is grown and sold, creating a bridge between farmers and buyers, and allowing farmers to concentrate on production and worry less about marketing and selling their goods.
EzyAgric has created jobs for youth like me who had little or no income stream at all."
– Isaac Ojok, extension agent and STRYDE graduate
Behind the app is Zilla Mary Arach, co-founder and Chief Technology Officer of Akorion Technologies. Youth-led organizations like Akorion contribute to food security and prosperity across Uganda by helping farmers take produce to market. The Mastercard Foundation's partnership with Technoserve, through the Strengthening Rural Youth Development through Enterprise (STRYDE) program, worked with Akorion to train and connect 43 STRYDE graduates to employment opportunities as agricultural extension agents. These agents use the app to support farmers in the Gulu, Amuru, Lira, and Arua districts in northern Uganda.
Isaac is one of these agents. "EzyAgric has created jobs for youth like me who had little or no income stream at all," he says.
Today, Isaac is a facilitator and communicator, helping farmers with their decision-making processes and agronomic techniques. In one year, he collected five tons of white sorghum from farmers in the region and sold them to an offtaker, earning a commission of about US$100. "I worked hard looking for sorghum all over the region, and it paid off for me and the farmers as well. Reaching all these sorghum farmers could have been impossible without EzyAgric," he says.
"When I started working with [an EzyAgric agent], my life became easier," says Stella Akello, a STRYDE graduate and maize farmer in Lira District. "I didn't have to worry about the market for my produce because they will take care of it. I believe they will give me good returns. I have since recruited my friends to join as well."
Agricultural solutions from youth-led organizations, like Akorion Technologies, will increase Uganda's crop yields significantly and improve food security, nutrition, and income for smallholder farmers, while minimizing the impact of climate change on agriculture and ensuring a more sustainable agricultural production to respond to increasing high demand for food.
2017-2018 Youth Think Tank Report: Building Inclusive Agricultural Technologies for Young People
The promise of youth-led agricultural technology is supported by youth-led research from the 2017 — 2018 Mastercard Foundation Youth Think Tank. The research demonstrates that young people are designing innovative agricultural technologies and solutions to solve complex challenges across the agri-food system and calls for partnerships to coordinate a comprehensive system of education, training, and financial support for youth-led innovations.
About the Authors
Awino Nyamolo, communications officer at Technoserve
Dina Randrianasolo, program manager at the Mastercard Foundation