Stories From The Field: Moritz Steinle, TechnoServe Fellow, In Uganda
Moritz Steinle, TechnoServe Fellow, supports farmers' cooperatives in Uganda.
How can I help these farmers without any previous experience in agriculture? Will I really have an impact? How long will it take me to adjust to the local culture? How will it be to travel across the country in the field? Will I make any friends there?
These were just a few of the questions that rushed through my mind a few months ago when I sat on the plane from Germany to Uganda, which would be my new home for the next six months. A few months earlier I had decided that it was time for a change. I had been working at McKinsey for two and a half years, and I was ready to experience something new. Even though I had been to Uganda and other East African countries before, I felt some anxiety mixed in with my excitement. I was about to start a new journey that would very different than the world I had lived in up to that point.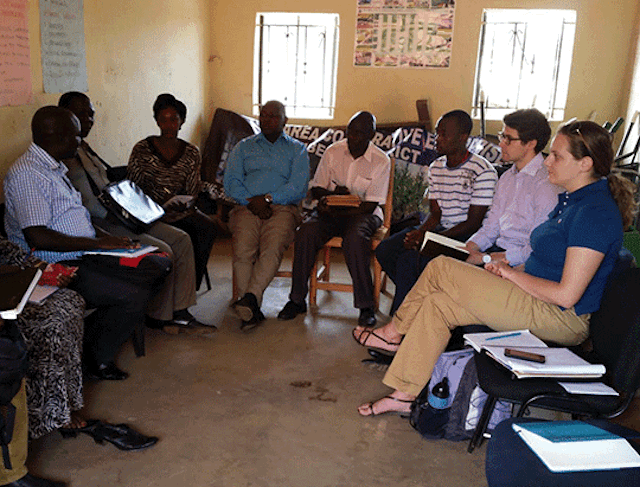 I adjusted easily and quickly, however, thanks in part to two factors: first, I was very lucky to join a great team of friendly, welcoming, smart and motivated people; second, I was given a great deal of freedom and responsibility right from the start and was therefore able to drive many processes and topics myself. For example, only a week and a half after my arrival I was already on my way to my first field trip conducting interviews with farmers' cooperatives.
I got the chance to join a project called the Producer Organizations Activity, part of USAID Uganda's Feed the Future Value Chain Development Project that aims to strengthen Uganda's maize, bean, and coffee sectors. TechnoServe was selected to work with a number of producer organizations, particularly with cooperatives, in these value chains to equip them with the skills they needed to operate as viable businesses and serve the needs of their members. My role was to help these producer organizations build relationships with local providers of Business Development Services. This meant developing a methodology to help these groups identify local service providers equipped to help them get internal and external financing, and linking them with reliable input providers for their seeds. In contrast with many other NGOs and development partners, TechnoServe applies a market systems approach to their projects. This meant that we did not always directly provide training, coaching and other services to the producer organizations. Instead, we linked them with local actors and looped them into selection processes. As this approach involved local partners able to support the farmer organizations after the project's completion, I felt confident that the results would be more sustainable and lasting than traditional approaches.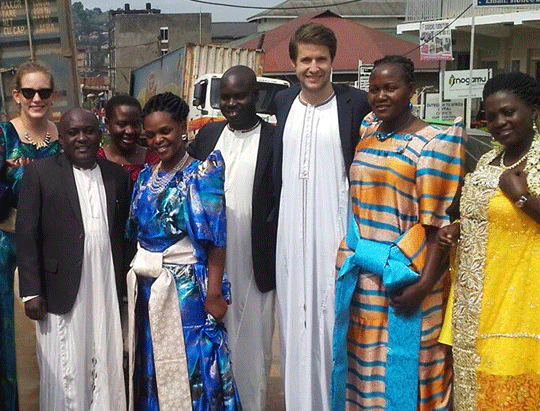 In addition to having a great deal of independence in my work, it was also so diverse that I can't say I ever had a "typical work day." Some days I was at the office in Kampala planning approaches with producer organizations or structuring and documenting my work, but I also spent a lot of time in the field, visiting the cooperatives in person so as to directly discuss the challenges they were facing. These trips to the cooperatives, which were often located in very remote and rural areas, were extremely helpful in achieving a better understanding of the farmers' challenging livelihoods, and it was one of my favorite aspects of the work.
Overall my time as a TechnoServe Fellow was a fantastic and unique experience that I will never forget. There are numerous memories I will keep from my time in Uganda, for instance the crazy Boda Boda (motorcycle taxi) rides with my friends in Kampala on the weekends; the trips to coffee farms in remote villages in the mountains in Eastern Uganda; attending a colleague's traditional wedding; or our daily local lunches with new friends.
I would like to share three particular highlights and lessons with past and prospective TechnoServe Fellows:
Impact
Despite my initial concerns regarding my ability to create impact, I am convinced that I have made my own small, but positive contribution to the lives of these farmers. Even though I did not have any previous experience in agriculture – and am convinced that in many ways I was the real beneficiary of the experience – I realized that I was, in fact, bringing helpful, new ideas to the project team. This definitely had a humble impact on the lives of many people, from my colleagues at TechnoServe to, more importantly, the farmers I had the opportunity to work with. For example, as a result of our work, some cooperatives were able to access financing to further develop their businesses, while others established relationships with input providers that provided them with quality seeds and fertilizers, helping their farmer members to increase their incomes and improve their livelihoods.
Dedication
Of course, not every moment was a positive one throughout my assignment. I was sometimes frustrated by how long it took to complete a task, as processes in Uganda often took longer than I was accustomed to. In other moments I was frustrated to see that not all farmers were willing to adopt our approach. However, it impressed me every day to see how dedicated and positive my TechnoServe colleagues remained in such situations, and how they never lost their drive and motivation. I truly admire this attitude. They are the ones who really make a difference in the lives of those who need it most, and I learned a great deal from their dedication, passion, and motivation.
Happiness
Meeting these farmers in the field and helping them to improve their businesses is something that I will never forget. I was always impressed by how happy, welcoming, and thankful the people I met were, especially considering the many challenges they faced. They were often grateful to simply have someone listen to them and give them advice on the spot. I hope that I will keep this in mind throughout the rest of my life. I have no doubt that the people I met and their positive attitudes will be what I remember most from this experience.