Promoting Entrepreneurship in Post-Conflict Areas
In fragile environments like northern Uganda, opportunities for youth are a vital pillar of lasting economic development.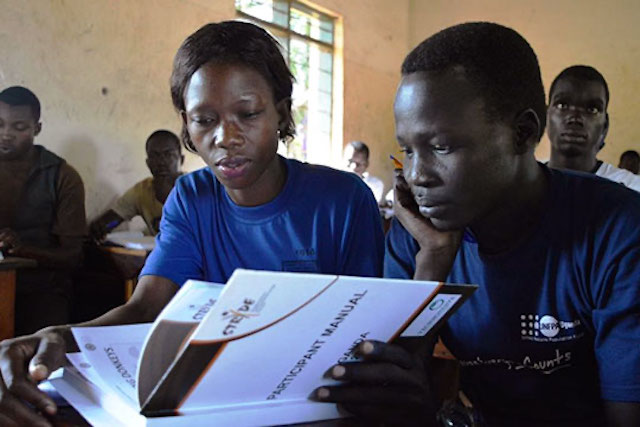 This month, to celebrate new graduates, we are sharing stories of young people who have graduated from TechnoServe's programs around the world. In Uganda, young people face high levels of unemployment. TechnoServe has partnered with the Mastercard Foundation to help rural youth in East Africa transition to economic independence. Recognizing that youth entrepreneurship is critical to economic growth, violence prevention, and political stability, STRYDE identifies avenues to integrate youth into agricultural value chains and entrepreneurship opportunities.
Youth unemployment is well recognized as a threat to lasting peace. A nation's youth can be a likely source of instability or a key contributor to peace, harmony and stability. In many post-conflict areas, unemployed or un-engaged youth have the potential to drive conflict.
Northern Uganda had suffered from civil unrest since the early 1980s. Thousands of people were killed when the Lord's Resistance Army, a rebel group led by Joseph Kony, terrorized communities throughout the region. Gulu district bore the brunt of the violence because of its central and strategic location in the Northern Region. When the guns fell silent, nothing was left of Gulu except for tears and despair.
But that was over a decade ago, and today Gulu town is buzzing with activity. Businesses are booming – hotels, retail and hardware stores dot every corner of the busy town. The modern market houses more than 1,200 small-scale businesses, and trucks can be seen offloading merchandise all day long. Opportunities are ripe both on and off the farm.
I was only a child when the war broke out, and nothing prepares you for such an experience. I stared death in the face multiple times."
– Polly Achola, STRYDE Alumna
Most STRYDE participants in northern Uganda witnessed the decades-long guerilla war first hand as children or teenagers and know all too well the pain of loss. The majority of those around Gulu had been forced to flee to camps for internally displaced people (IDPs), and some had even been kidnapped by the guerrillas. Behind their cheerful laughter lies wounds, bitterness, and suffering. However, each day is a new opportunity to overcome the tragedies that they have faced and make the best out of their lives.
"STRYDE recognizes the critical role of youth in creating lasting stability and offering protection from future conflicts. Thus at the onset of our implementation in this area, all the trainers underwent an intense psychosocial training to help them identify, counsel and/or refer victims of the conflict," says Anthony Kerwegi, STRYDE's Country Partnership Manager for Uganda.
STRYDE's training modules on personal finance, youth savings, and business plan development have helped participants increase their incomes by 133 percent since the program's inception. During three months of intensive training, youth acquire knowledge on how to identify and develop a viable agribusiness idea, how to market their products, and how to maintain accurate records. Training is followed by six months of aftercare to track participants' progress and offer customized business support.
Overcoming Grief and Poverty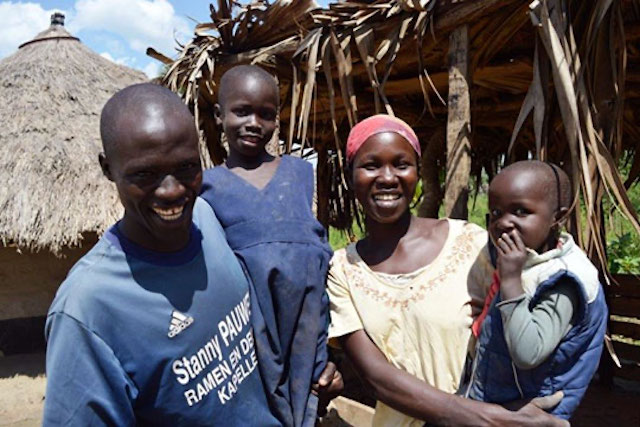 "I was only a child when the war broke out, and nothing prepares you for such an experience," says 25-year-old Polly Achola. "I stared death in the face multiple times. We used bodies of people we knew – our friends – as shields against the guerilla's bullets." Today, Polly is happily married to Jimmy Odeny with whom she has two children.
Polly and Jimmy attended STRYDE training as a couple, and are now reaping the benefits. "STRYDE taught me that I can start small, and so I started cultivating a small patch of land that used to lie fallow in the swamp. Now I have rented all the neighboring farms for my rice farming," says Jimmy.
The two also grow maize and vegetables and keep pigs. With sales from their farm, Polly and Jimmy now live a comfortable life and are able to save some money for the future. "Before STRYDE, I was a typical housewife with no engagement. I spent my days sitting under the tree. Thoughts of my rough childhood were always lingering in my mind. Now I have so much to do on the farm that the only thought in my mind is how to make the most out of the training that I received and make more money," says an enthusiastic Polly.
Fellow STRYDE alumnus Bonny Ocen, 26, was not directly affected by the conflict, but most of his relatives were. "There were more than 20 of us crumpled in our tiny grass-thatched hut," Bonny recalls. "Most of my relatives had run away from the conflict and had nowhere else to seek refuge so resources like food and school fees became very scarce."
Bonny heard about STRYDE while in church and wasted no time signing up for the training together with a few of his friends. Today, thanks to the skills earned from STRYDE training, Bonny is a successful tomato farmer. Last season he sold his harvest for $77 and bought a bull that he uses to plough his farm. "The entire village has noticed that I no longer spend all my time at the shopping centre chatting and playing cards like before," he says. "Now if you want to find me then come to my farm."
While the fruits of youth entrepreneurship can be enjoyed by every community, post-conflict areas with high levels of unemployment, like northern Uganda and Rwanda, especially stand to benefit. Opportunities for youth also promote social cohesion and peace. TechnoServe works to support rural youth like Jimmy, Polly, and Bonny to build a path out of poverty and play a key role in sustainable economic development.