Mozambican Youth Create Visions for Successful Careers and Lives
The Catalisa Youth program is creating new opportunities for farmers and young people in Cabo Delgado, Mozambique through inclusive private-sector led economic development.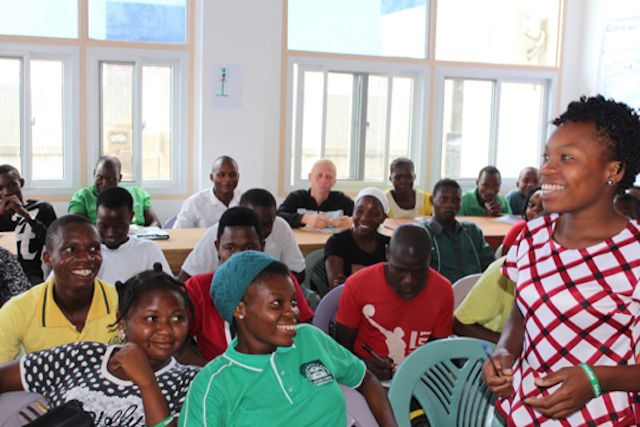 "Previously, my dream was to have a job and help my family," Teresa Abujati says. "Today, my biggest dream is to get a degree. Somehow Catalisa helped me have this vision, to set goals for my life."
Teresa Abujati, a 20-year-old resident of Palma, Cabo Delgado province in Mozambique, learned about the Catalisa Youth program one year ago when she was taking her 12th grade exams. "At the time, my biggest expectation was to learn English and IT," she explains. "I ended up learning a lot of other subjects."
Teresa was unsure about what she would do when she finished school. She wanted to work, but the typical role for a young woman in Palma is to care for her husband and children. Because she had never worked a formal job before, Teresa did not know where to begin.
Clara Jaime, a 26-year-old resident of Palma, heard about the Catalisa program through a radio advertisement. Despite having three young boys to look after, she was interested in joining because she had recently found herself out of work. Previously a school teacher in Palma, Clara lost her job when local conflict forced the school to close. Suddenly, she needed to find an alternate source of income to support her family. With limited professional skills and employment history, Clara was unsure of her future.
The Catalisa Youth program, a partnership between TechnoServe, Azul Consultoria, and Total Mozambique LNG, operates in the rural town of Palma in northern Mozambique. For decades, Palma District has been one of the poorest and least developed areas of the country. With limited access to modern infrastructure such as roads and electricity, there are few industries or opportunities to generate income outside of rudimentary fishing and farming.
Today, my biggest dream is to get a degree. Somehow Catalisa helped me have this vision, to set goals for my life."
– Teresa Abujati 
However, Palma has recently seen an influx of new people and businesses because of major investments from the oil and gas industry. The integration of the local population into this upcoming market represents one of the key challenges for successful development in the region. While there will be more opportunities for local employment and businesses, the recruitment of a local and skilled workforce has been a major issue for the private sector because most residents of Palma have never worked in formal jobs and have only a very basic education.
The Catalisa Youth program engages with local youth in order to train the next workforce ahead of these new investments, using an innovative model for youth skills training and mentoring. Working with youth in a holistic way, it supports them to build not only professional skills, but also personal skills such as confidence, self-awareness, determination, and independence. The team works based on an interactive, participatory, and innovative learning approach.
The program's curriculum has been specially designed for the Palma context, and is delivered through modules on life skills, entrepreneurship, employability, English, and IT – with cross-cutting themes such as communication and gender. The three-month, in-person course, which meets every day for four hours, is followed by an aftercare program for any interested graduates, in which program staff give one-on-one support and organize interesting field trips for students who continue to come to the center for career advice. A core element of the Catalisa Youth approach is that the program prepares youth for the labor market, but also prepares them for their lives in general.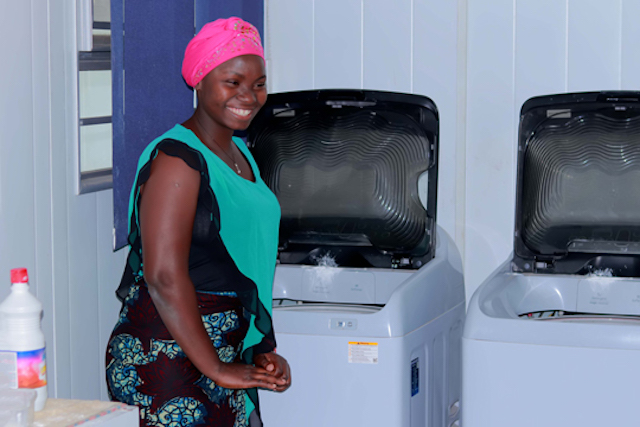 "I liked [the courses on] life skills and job preparation the most," Teresa comments. "That's where I learned a lot of the skills I'm using here today, namely how to deal with people, respect the rules of coexistence, how to behave in the workplace, and professional ethics."
Throughout the program, the Catalisa team works with youth interested in entering into the formal job market, helping them find internships, full time employment, or opportunities for further training. The program builds constructive partnerships with the surrounding communities, private sector companies, other vocational and technical training providers, and governmental institutions. In particular, it promotes the interaction between the private sector and youth through field visits, mentorship by representatives of the companies, and organization of career fairs – bringing the real work experience into the course.
"When the trainer called to inform me about my internship here in Palma, I was in Pemba visiting my mother," Teresa recalls. "You cannot imagine my emotions. I have no words to describe what I felt at that moment. I was very happy."
For many of the Catalisa youth, these internships and jobs are the first time they have made a living through the formal sector. The program has a particularly important impact on young women, who traditionally are not empowered to contribute economically to the household.
"With this internship, my life is taking another turn," Teresa says proudly. "With the little I earn, I can help my husband with household expenses, such as buying energy and caring for my daughter."  Most importantly, she has learned to dream even bigger than she previously imagined possible – she hopes that someday she can continue her education and pursue a degree.
For youth more interested in self-employment, the program also teaches entrepreneurship skills and helps them set up and manage their own businesses. After graduating from the course, Clara participated in and won the first ever Catalisa Youth business plan competition, where she applied her new entrepreneurial knowledge to develop a business plan for a vegetable resale business. Clara won because she showed not only business acumen in her detailed activity plan, but also her dedication to grow her new business. When she moved to Palma from Nampula province in the south, she noticed the absence of fresh vegetables. Most farmers in the area focus on growing staple foods such as corn and cassava, not tomatoes, carrots, cabbage or other vegetables common in the Mozambican diet. Recognizing an opportunity, this became the basis of her new business idea.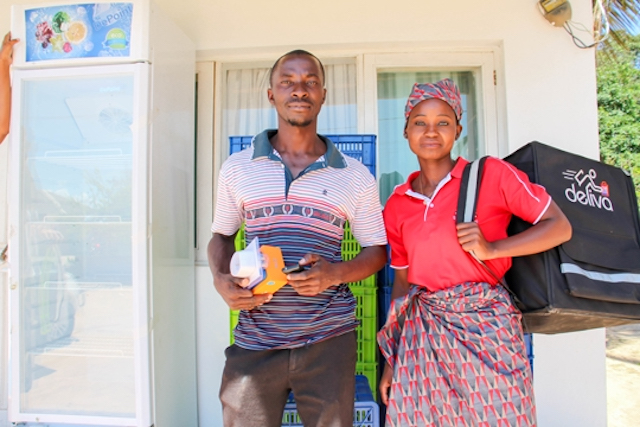 Clara Jaimie participated in and won the first ever Catalisa Youth business plan competition. As the winner of the competition, Clara received start-up funding and hands on technical support from Catalisa program staff on areas such as branding and marketing. With some of the funds, she purchased new equipment for her business, including crates to protect the produce during transport, a fridge for cold storage, a thermo- backpack to make deliveries, and a smartphone from which she can use whatsapp to form groups in order to better communicate with her customers.
Clara's main goal is to supply vegetables to hotels, restaurants, companies, and the general public. She is working hard to create her own brand so she can supply vegetables to big clients. She will also expand her sourcing beyond just Nampula and will test new vegetables such as peppers. Though Clara has high hopes for her business – she plans to someday buy her own vehicle for transport – she is realistic about the time frame.  "You can't just run into it with emotions," she comments. "You must build the business little by little."
To date, Catalisa Youth has worked with over 200 youth in Palma, with the goal of reaching 1,000 by the end of the project, so they can become valuable economic actors, engaged citizens, informed change makers, and responsible leaders in their communities and in their own lives.
To learn more about the Catalisa program, check out our website.