Lasting Impact Spotlight: Bhawarlal Sharma
In this series, we check back with TechnoServe program participants who were previously featured on our blog, documenting how their lives have changed and progressed.
In India's arid and semi-arid regions, rainfall is unpredictable. During the monsoon season, which runs from June-September, heavy rains bring the potential for flash floods, but too little rain can lead to drought. For farmers who rely on rain-fed agriculture, even a short period of drought can devastate crops and leave them without a reliable source of income.
To develop profitable markets for drought-resistant crops, TechnoServe partnered with Solvay, L'Oreal, and Henkel on the Sustainable Guar Initiative (SGI) – a program that worked to increase the income of guar farmers like Bhawarlal Sharma.
Guar is a versatile and hardy crop that thrives in areas with low rainfall. In 2015, after struggling to find crops that would grow in his village of Bamanwali in Rajasthan state, Bhawarlal joined SGI and agreed to dedicate one acre of his land to set up a demonstration plot for sustainable guar farming. Although Bhawarlal cultivated some guar prior to joining SGI, he was not convinced of the crop's benefits until he attended the training.
"The demo farm allowed me to learn scientifically improved agricultural practices to enhance the yields of guar," he reflects in our original blog post from August 2016. In the first season, Bhawarlal harvested 107 kg of guar from his demonstration plot, whereas the average production on regular farms was 44 kg per acre. After seeing these results, Bhawarlal decided to increase the amount of land dedicated to guar cultivation to 10 acres.
We checked back with Bhawarlal several years later to get an update.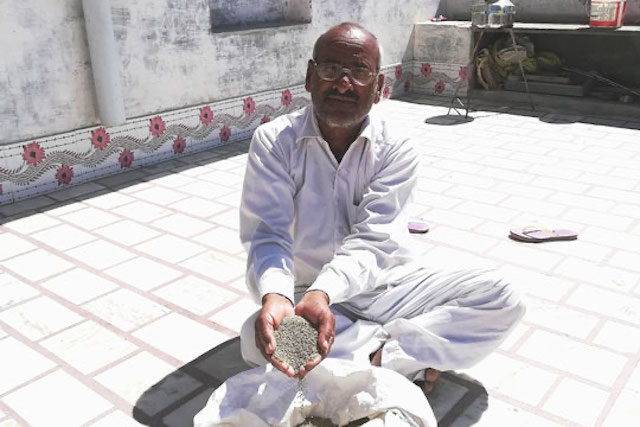 How is your farm doing now?
"In 2016, I adopted the improved agricultural practices taught by TechnoServe on 10 acres of farmland. I harvested an average yield of 115 kg of guar per acre. Each successive year, I kept increasing the area where I adopted these improved agricultural practices. In 2019, I had adopted a majority of the practices taught by the TechnoServe trainers on my 15 acres of land. Despite experiencing drought conditions in 2018, I was able to harvest 70 kg of guar per acre, whereas the average yield of the village was 53 kg per acre. It was important to have a drought-resistant crop when we did not have rain for such a long time."
Adoption of climate-smart agriculture has ensured that we will take something back, even if it rains only once in a season."
— Bhawarlal Sharma
What has changed for you in the last few years?
"I have grown to become a respected leader in my community. Currently, I am the spokesperson for the Indian National Congress from Lunkaransar district. I also became a grandfather and have been blessed with an amazing granddaughter. I'm glad to be able to support my family with the income from my farm."
How are you using your money from your business?
"I have been able to save more money each month because I am producing more guar. I want to purchase a tractor with the money I have saved. Renting a tractor in my village can be very expensive, which increases the cost of cultivation. If I can purchase my own, my costs will go down and I can also help other farmers in my community by lending them my tractor at a discounted rate."
Many farmers from my village frequently reach out to me to learn more about the best cultivation practices, guar rates, pricing trends, and pricing forecast."
— Bhawarlal Sharma
How are you continuing to apply what you learned from TechnoServe?
"In 2018, I adopted the multi-cropping practices taught by TechnoServe to help replenish the fertility of the soil. I grew wheat in the rabi (spring) season and bajra (pearl millet) in the kharif (autumn) season on a two-acre plot of land. Currently, I also help other farmers adopt the practices I learned from the training."
How has your success affected other people?
"I am now very well connected to the local markets. Many farmers from my village frequently reach out to me to learn more about the best cultivation practices, guar rates, pricing trends, and pricing forecast. This has helped other farmers get better rates for their produce."
How has your business and your training from TechnoServe helped you become more resilient to problems?
"The climate in Rajasthan state is very harsh. At times, when there was a flood or no rainfall, we took home nothing from the field. The adoption of climate-smart agriculture has ensured that we will take something back, even if it rains only once in a season. I have also subscribed to TechnoServe's weekly messaging services and receive regular updates on guar prices. This has helped me stay updated on market trends and reap maximum benefits from my crops."