Innovative Partnership Bears Fruit for Farmers
For a mother and farmer in central Kenya, passion fruit vines are yielding a better future for her children.
Purity Njoki sits perched on the cement brick ledge of a wall enclosing the front entrance to her home. Her eyes survey her lush green farm which slopes down the hill towards the Rupingazi River. Her mobile phone rings and her demeanor changes as she answers the call, gesturing confidently in the air. It is market day for green beans, Purity shares when she hangs up, and she has work to do.
Born and raised in Mugamba-Ciuru, a rural village in central Kenya, Purity strives to create a better life for her children than she had when she was young. "When I was a child, I went to a primary school that was far away. It was about three kilometers and I used to walk." Three years ago, Purity grew solely tomatoes, beans and maize, crops that she knew would grow in her area and that would keep food on the table. "There was enough for me to feed my family and to meet the consumption of the household but there wasn't enough to provide an education for the children," she said.
In 2014, Purity joined Project Nurture, a partnership between TechnoServe, the Bill & Melinda Gates Foundation and The Coca-Cola Company, which aimed to improve livelihoods for fruit farmers in East Africa through a market-based solution. The project helped nearly 54,000 farmers – one-third of whom were women – increase their incomes by an average of 142 percent.
Purity had never grown passion fruit before but after attending Project Nurture agronomy trainings, she recognized the opportunity and launched into action. She started by planting 40 vines of passion fruit and after witnessing the increase in her income, decided to plant an additional 200 more vines. "I found that growing fruits compared to growing other commodities is good farming because fruits have a good market and I can also eat them," she said.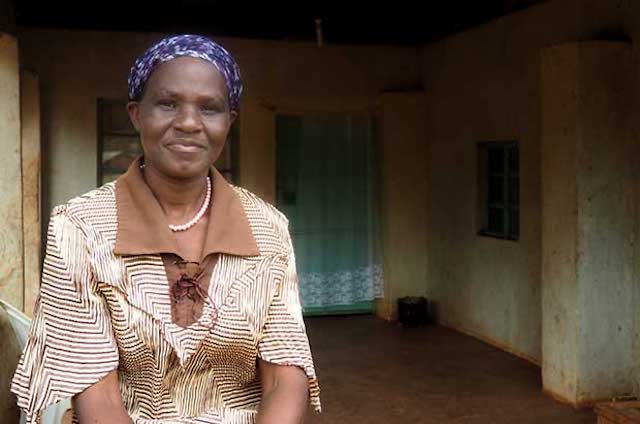 Purity's phone rings again and it's clear that she is intent on getting back to her work. She heads down the hill to join a group of three other women picking green beans in a field overlooking a valley. Earlier in the day she had explained that "Project Nurture helped me very much because of how they trained me on planting of fruits and I can also plant other commodities using the same methods." While Project Nurture focused on training farmers on best practices for fruit growing, Purity has taken the knowledge she acquired in agronomy trainings and applied it green beans and the other crops on her farm.
"When I sold the fruit, I took the money and went and cleared the school fees for that term which made me very happy," Purity explained. With the increased income she is receiving, Purity has extended the kitchen in her home and has even connected her house to electricity. Her children do not have to walk the 3 kilometers to school that she did as a child and are now instead attending boarding school. Purity shared, "The one thing that Project Nurture has really helped me with has been enabling me to provide an education for my children so they will become upstanding people in the community and in the country."
***
Project Nurture was named a top-five finalist for the P3 Impact Award, awarded by the U.S. Department of State, the University of Virginia Darden School of Business, and Concordia to honor cross-sector partnerships providing innovative and impactful work around the world. The winner of the P3 Impact Award will be announced in a ceremony on September 20 at the 2016 Concordia Summit.