In Nicaragua, Helping Farmers Build Resilience to Climate Threats
Over the years, Rosa Gonzales has seen firsthand how climate change has impacted her small farm. After joining a TechnoServe program, she learned techniques to improve her resilience to climate threats and is now transforming her old banana trees into new opportunities for her farm and family.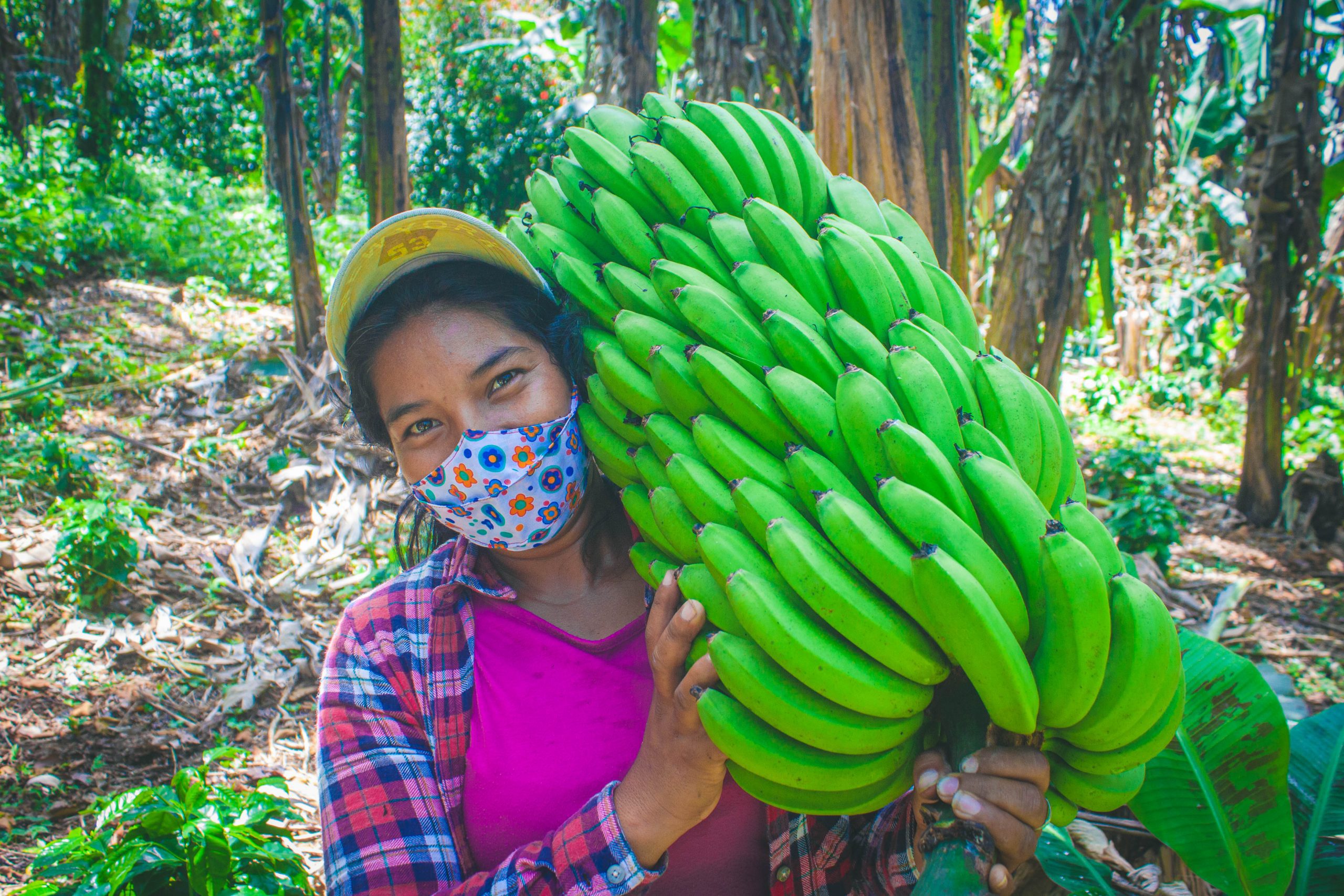 On 30-year-old Rosa Gonzales' small farm in Matapalo, Nicaragua, coffee grows under the shade of towering banana trees. Rosa didn't foresee a career in banana farming. She was raised in a coffee-producing family in Madriz, Nicaragua, and eventually inherited 1.5 hectares of land from her father. 
"With much effort, I converted the land into my coffee plot," Rosa recalls. "The variety of coffee that I had did not demand shade, so I did not diversify my crops." But as temperatures increased over the years, her coffee began to wither, and eventually, she was forced to plant a canopy of banana trees to provide shade. 
Challenges on the Farm
Rosa is not the only farmer who is feeling the effects of climate change. In recent years, farmers throughout Central America have experienced shifting weather patterns that have challenged their traditional farming practices. Temperatures have increased, and rainfall has become more scarce, with increased drought punctuated by extreme weather events. 
In November, Nicaragua was struck by back-to-back hurricanes — part of a historic hurricane season in Central America. These factors combine to make it more difficult for smallholder farmers to earn a living and support their families. 
As a single parent, Rosa struggled to support her 9-year-old son and nephew solely with income from the farm. Eventually, she decided she could earn additional money by picking up a job as a seamstress in town, adding long commutes to her already full days. 
"My income serves to guarantee the food and care of the family," Rosa shares. "I don't have my own house. We live in my mother's adobe house without a floor, without basic services, and with only the necessary things to live." 
New Opportunities Through Banana Cultivation
When Rosa heard about TechnoServe's Smallholder Market Access Program, funded by the Walmart Foundation, she was intrigued. The program aims to increase smallholder farmers' incomes by at least 20% by improving their production and helping them integrate into more inclusive and profitable market systems. 
At the time, Rosa would occasionally sell her bananas by the branch when informal intermediaries passed through her community. Still, she did not see her banana production as a business opportunity: "[Before], I worried that I didn't have a market, and the prices were low. [I also worried about] the theft of bananas because I didn't check in on the crop." 
Across Central America, smallholder farmers in fresh produce supply chains encounter multiple production- and market-related challenges that prevent them from achieving sustainable livelihoods through their farms. Suboptimal agronomic practices and unpredictable weather patterns limit yields on the farm, while high production costs, price volatility, and indirect or informal market connections degrade farmers' profit margins.
Since joining the program, Rosa has learned how to implement good agricultural practices on her farm. "We are receiving training to increase productivity through proper management," she explains. "I have learned how to select and disinfect the seed and the correct way to plant in the field. Previously, I had planted bananas in a messy way, but this year I started planting in an orderly way."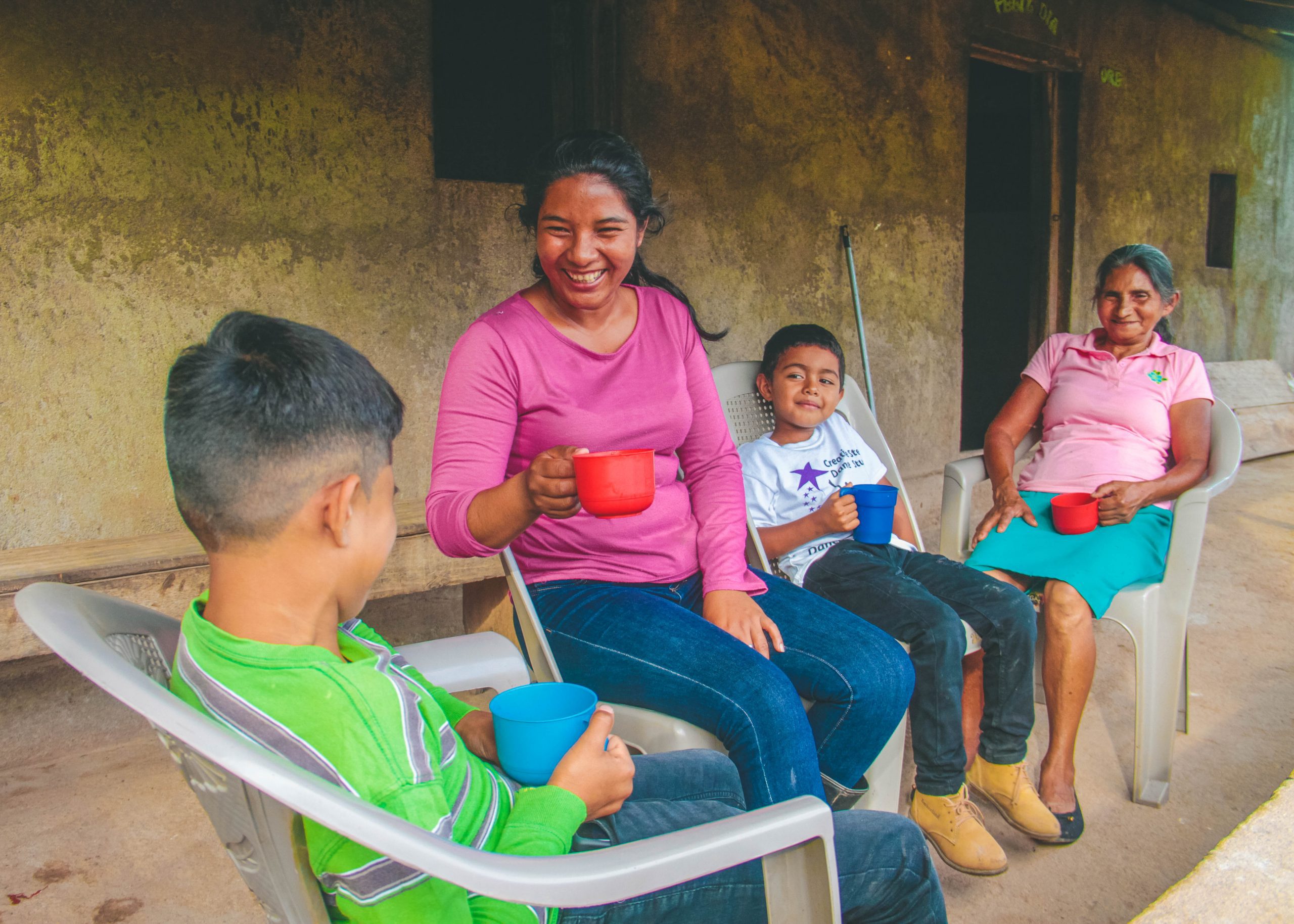 Helping Farmers Adapt to a Changing Climate
The program also teaches producers how to implement climate-smart practices on their farms, reducing the impacts of a changing climate while still increasing the quality and quantity of their harvests.
Climate-smart agricultural training varies by crop and region, but farmers like Rosa often learn the following techniques: 
Integrated management practices to prevent, monitor, and combat pests;

Soil and water management techniques, such as cover-cropping and crop rotation, to retain moisture and mitigate erosion and disease; and

Post-harvest practices to maintain high-quality levels for export markets. 
By implementing these practices and connecting with markets that provide greater stability and returns, producers will not only weather the ups and downs of these volatile conditions, but will also improve outcomes for their farms and their families.
"TechnoServe awakened our interest in bananas," Rosa explains. "It's a good option to provide shade for my coffee, and through the program, we've realized it's also a commercial product with a lot of market potential. It can help us to increase our incomes throughout the year since it can be harvested year-round."
A Brighter Future, Despite Challenges
With the onset of the COVID-19 pandemic, Rosa has lost clients as a seamstress, but she is motivated to focus on her farm. She plans to switch out her aging, unorganized banana plantings for the Gros Michel variety, which is sweeter and has more commercial demand. 
"TechnoServe has helped us to visualize a new market for bananas. Before, we sold it by the branch to an intermediary. Now we sell it by the kilogram through a cooperative and reach a better price."
— Rosa Gonzales, banana and coffee farmer, Madriz, Nicaragua
Always looking forward, Rosa aims to increase her yields and access credit through the program. She plans to invest further in her farming business and, with time, to acquire more land and pay for her son's education. 
"I'm proud to be a working woman and head of my family," she says. "It's a challenge to raise my son alone, but I know that even though it's difficult, I'm capable of achieving good results and moving my family forward."