How to Help Coffee Farmers Manage Climate Change Threats
April 22, 2019
Since 2006, TechnoServe and Nespresso have worked together to develop sustainable coffee supply chains around the world. This Earth Day, TechnoServe CEO Will Warshauer and Nespresso CEO Jean-Marc Duvoisin discuss how this partnership is helping smallholder coffee farmers build resilience to the growing threats of climate change.
Will Warshauer (right), Jean-Marc Duvoisin (left), and coffee farmer Isaya Lokolong Latiyo (center) in South Sudan.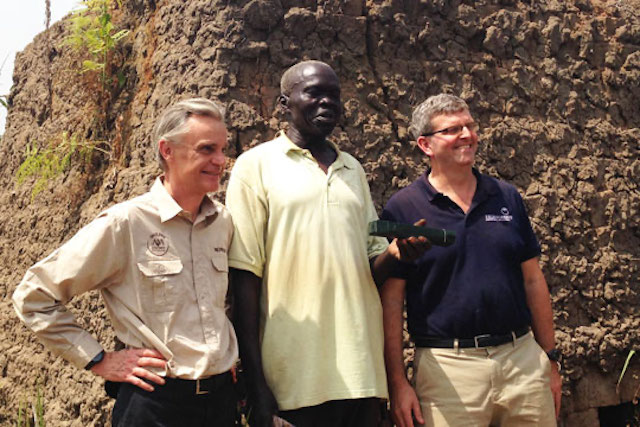 Coffee farmers around the world face increasing pressures from climate change, threatening their crops and their livelihoods. Since 2006, the international nonprofit TechnoServe and the premium coffee company Nespresso have partnered to develop sustainable coffee supply chains throughout the world, focusing on increasing farmer incomes, enhancing coffee quality, and improving climate change resilience.
Forward-thinking companies will incorporate sustainability into the very fabric of their operations – which includes a genuine commitment to the well-being of the farmers, suppliers, and small businesspeople that they work with. This reduces risk in businesses' supply chains, it cuts costs in the long run, and it enhances their reputation in the eyes of consumers, who increasingly consider the ethics behind the brands they purchase.
When major companies like Nespresso make a climate resilience program work successfully, it creates a positive domino effect in the business community – and even beyond. Anyone concerned about climate threats to smallholder farmers – which includes many coffee companies, but also governments, NGOs, and others – will sit up and take note. We're now working to adapt successful models to other sectors and geographies, given the scale of the climate resilience problem for small farmers.

4) What are your future plans for working with small farmers on climate resilience?

Will Warshauer: First, you have to be a little obsessive about finding what actually works. Most of our staff is local, and they work very closely with the farmers to track progress, determine what was the result of a TechnoServe intervention versus something else, etc. As a result, we have some proven methodologies that we're scaling up around the world, while always adapting them to the local context and looking for ways to refine them even more.
"While clearly the world must do more to address the root causes of climate change, we can still do a lot to help farmers improve their resilience to climate threats right now." –Will Warshauer
One example is the program we're working on with Nespresso now in Puerto Rico. The coffee sector there was nearly wiped out after Hurricane Maria. So we're applying the approaches that have helped other farmers recover from climate shocks around the world – teaching "climate-smart" agronomy, improving business skills, and making market connections that can survive a natural disaster.
Technology will also play a huge role. In the past year, we tested how drones in East Africa could provide early warnings of crop diseases and pests, and how rapid soil-testing technologies can help small farmers determine the precise amounts of water, fertilizer, and other inputs needed to maximize yields. We're also working on integrating blockchain into agricultural supply chains, a traceability technology that gives consumers a window like never before into how much their purchases are truly sustainable and climate-conscious.

Jean-Marc Duvoisin: Building climate resilience is embedded across the Nespresso AAA Sustainable Quality™ Program, so it is a key component in all of the projects we do with farmers. Currently, we are focusing more and more on how to support farmers in fragile regions, where coffee farming has almost been lost or forgotten, or is not economically viable. For example, we are working with TechnoServe in Zimbabwe, where coffee production has plummeted to almost nothing. We are also working in Caquetá, Colombia, where decades of conflict meant that it was hard to make a living from coffee. Our consumers value the opportunity to taste these coffees, and it is very rewarding for them to see those communities learning how to grow a sustainable crop and earning a good income.

We are also looking at how new technology can be used to better protect farmers from the impacts of climate change. We have worked with Blue Marble to develop an insurance product that, for the first time, means smallholder farmers can be insured against crop-devastating rainfall. The scheme uses a sophisticated model that combines satellite mapping and detailed climate data to assess when farmers have been impacted by heavy rains, and they automatically receive a pay-out. We are continuously working with our partners such as TechnoServe in the search for innovative solutions.


Related Blog Posts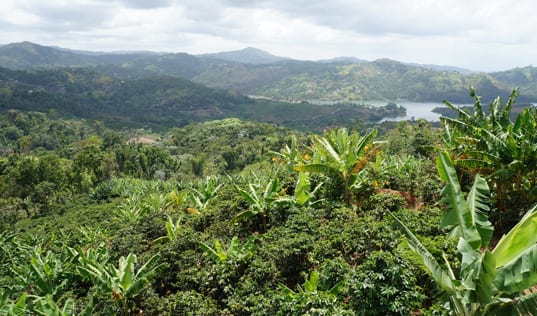 We spoke with TechnoServe's new coffee program manager for Puerto Rico about his background in coffee, his plans to revive the industry, and the biggest challenges he foresees.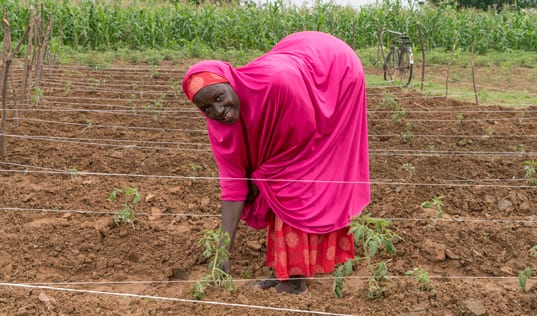 In Nigeria, TechnoServe is helping tomato farmers boost incomes and reduce post-harvest losses, while adapting to a changing climate.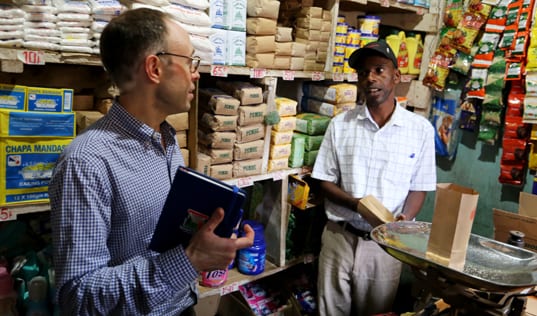 TechnoServe and Moody's Foundation have partnered to support micro-entrepreneurs in Kenya's micro-retail sector through the Smart Duka Initiative.