Growing Coffee in India Improves Incomes and the Environment
In Andhra Pradesh, farmers face many challenges that prevent them from earning reliable incomes from their coffee, including small land size and poor agricultural practices. TechnoServe is helping these farmers improve the quality and productivity of their coffee trees and linking them to markets where they can get the best price for their harvests.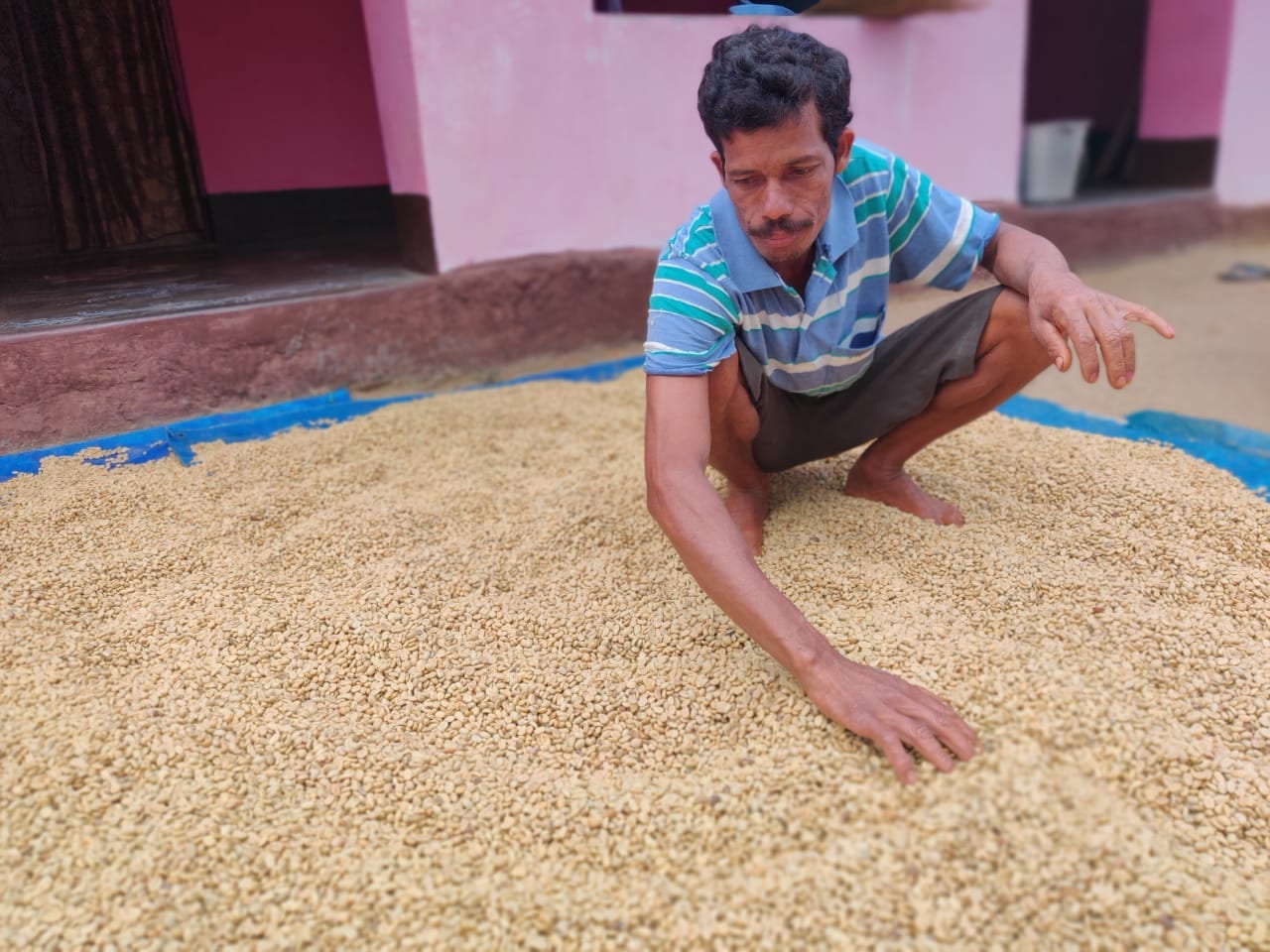 When a forest fire destroyed much of his five-acre farm three years ago, Palika Raju worried that he would not be able to earn enough income to support his family of seven. But through a new training program, Palika and his neighbors learned to transform the way they produced coffee — leading to increased incomes and new opportunities they never thought possible. 
Growing Challenges
Palika Raju grows coffee on his hilly farm in the remote village of Paderu, Andhra Pradesh, India. He is among the region's 93,000 smallholder coffee farmers — many of whom have long suffered from low coffee productivity. Farmers here face many challenges, including small land size, which limits the volume of coffee produced, forcing them to sell to local traders.
Coffee is a non-native crop to Andhra Pradesh and was first introduced in the region by the Andhra Pradesh Forest Department (APFD) in the 1960s. Previously, farmers in this hilly area practiced a slash-and-burn method of cultivation, which involved felling huge trees and burning them to clear land for agriculture. However, this practice had an adverse impact on the environment, not only reducing forest cover but also leading to soil erosion that made the area vulnerable to flooding. To shift farmers away from this practice without threatening their livelihoods, APFD introduced them to coffee farming. Coffee is suited to the local agro-climatic conditions of the region and can provide farmers with gainful employment and additional income. 
While this initiative has been successful with many farmers growing coffee today, most of them rely on practices that produce coffee of inferior quality. One farmer in the region admits: "In my five years of growing coffee, I've always harvested all the coffee cherries together — irrespective of how ripe they are." Harvesting the cherries together lowers the overall quality of the coffee and makes it difficult for farmers to earn higher prices. Most farmers in this area pick their coffee cherries prematurely, do not dry the coffee properly, and only partially wash it, resulting in lower coffee quality and reduced income for farmers. 
Creating High-Quality Coffee
TechnoServe's Sustainable Livelihoods for Smallholder Farmers program — made possible with grant funding support from the Walmart Foundation — aims to improve the incomes of smallholder farmers in Uttar Pradesh and Andhra Pradesh by strengthening farmer producer organizations (FPOs) and transforming them into sustainable enterprises. In Andhra Pradesh, TechnoServe is working with coffee farmers to provide agronomy training, post-harvest management support, and market linkages to help them improve their incomes and their lives. 
"Because of our low income, we had to always borrow from the local village middlemen," Palika explains. "Now, with this increased income, we only need to borrow a little or even nothing, providing us with the hope of stepping out of the debt trap." 
The difference is that I can now finance a major chunk of [my son's] education through my own resources and not from borrowed money."
— Palika Raju
Palika had always wanted to try parchment processing, a technique that typically earns farmers more money, but didn't have the practical knowledge he needed to get started. TechnoServe trainers introduced him to an FPO, where he could experience the benefits of agronomy and post-harvest management training. 
"Since the training was conducted in my village, my wife could also attend them, and both of us learned all of the techniques," Palika notes. "It was important that my wife also attended the training, as it helped us as a couple decide together to move up the value chain." Under the stewardship of a trainer, they learned how to execute each step of the coffee production process, including selective picking, fermenting, washing, and drying. 
Accessing Better Markets
Along with improving the quality of coffee, TechnoServe also works to link large institutional coffee buyers to the FPOs, ensuring that the farmers receive the best market prices for their coffee.  
Palika is now earning 40% more for his coffee by selling it through the FPO as parchment coffee. "For every bag of 66 lbs, local traders take at least 6.6 lbs extra, quoting reasons such as moisture loss, gunny bag weight, dust, etc.," he explains. "But I observed that the FPO didn't deduct any such weight. Not just that, they also offered me a higher price!" 
Palika plans to use the extra income to enroll his eldest child in college. "The difference is that I can now finance a major chunk of his education through my own resources and not from borrowed money," he says proudly.