From a Top Global Restaurant to the Farms of Peru
May 23, 2019
Kyle and Katina Connaughton, owners/operators of SingleThread Farms, recently traveled to Peru through the Chefs for Change initiative – a program that connects the world's best chefs to smallholder farmers in developing countries.
The Connaughtons meet the women of Mishky Cacao in Chazuta, Peru.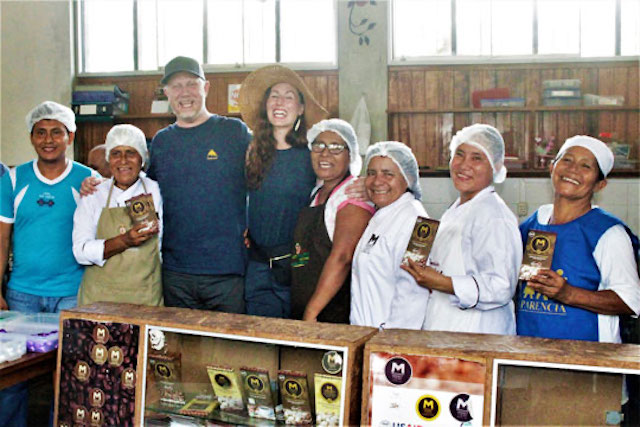 Standing on the hillside of a small Peruvian coffee farm, Kyle and Katina Connaughton are over 4,000 miles – and a whole world – away from their usual environment.
The husband-and-wife team operate the renowned SingleThread Farms inn and restaurant in Healdsburg, CA, one of the few establishments worldwide awarded three Michelin stars. Noted for its exquisitely prepared 11-course tasting menu, the restaurant won the coveted "One to Watch" prize in the "World's 50 Best Restaurants" rankings last year.
Now the Connaughtons are visiting TechnoServe projects in Peru as part of the Chefs for Change initiative. Founded by Farm Africa and TechnoServe, the program connects the world's best chefs with small farmers in developing countries through their shared reliance on agriculture. Participating chefs become "ambassadors" for the projects, promoting greater support for sustainable agriculture and the millions of small producers who grow most of the world's food.
Walking through rows of sun-dappled coffee trees with farmer Eli Linares Bustamente, his wife, and their young daughter, the Connaughtons may be far from home – but in many ways, they are on familiar ground. Katina asks a question about the harvest process as she leans over to examine a bright-red coffee cherry. It's no idle inquiry – Katina is a farmer herself, growing a wide range of crops and flowers on the five-acre farm that provides nearly 70 percent of SingleThread's produce.
Kyle is also in his element. The chef behind SingleThread's celebrated cuisine, he poses questions and studies coffee trees with the air of someone used to selecting and sourcing ingredients directly.
Eli explains his family's struggle to earn a living from coffee, selling partially-processed beans to intermediaries for immediate cash at prices well below market value. At one point, despite his deep love for coffee farming, Eli turned to bus driving to earn extra income.
Last year, however, Eli heard about the Coffee Alliance for Excellence Program, a TechnoServe program funded by the U.S. Agency for International Development, impact investment firm Althelia Ecosphere, global coffee roaster Jacobs Douwe Egberts, and coffee exporter Perhusa to benefit 12,000 coffee farming families in Peru. After joining the program, he learned the best ways to plant, rejuvenate, maintain, and harvest his coffee in order to earn the best prices.
"This was the first time in my life that I have learned the right techniques to produce coffee," Eli says.
Neighboring farmers gather in Lamas, Peru, to meet the Connaughtons. Everyone stands in front of the solar coffee dryer.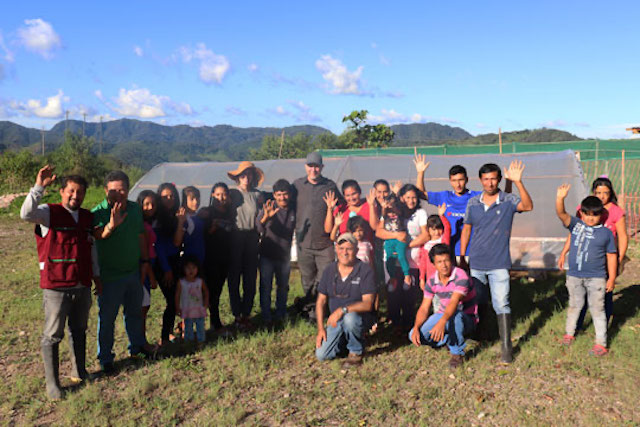 Kyle and Katina take a turn on Eli's bicycle-powered coffee wet mill, which swiftly separates the beans from the cherries using only the energy of its cyclist. They peer inside his solar dryer station, as giggling children dart inside to run their hands through oceans of pale coffee beans drying on long tables. Since joining CAFE, Eli's farm has become a model of organic coffee farming and processing, and recently, he even purchased chickens to provide his family with extra income.
The experience changes how the Connaughtons see a common daily beverage. "Coffee is our morning ritual or afternoon pick-me-up, but to these farmers, it's their livelihood, a pathway to live without fear," Katina remarks later.
The next day, the Connaughtons' car bumps over dirt roads that wind through thick jungle as they journey to Chazuta, a small town on the banks of the cocoa-brown Huallaga River, a landmark once synonymous with the drug trade in Peru.
Inside a brightly festooned house, the women of Mishky Cacao bustle around a kitchen, melting, mixing, and molding chocolate. Years ago, these women in hairnets and aprons took a stand against the violent narcotrafficking in their community, starting a cocoa business to provide better livelihoods for themselves and their children.
Today, the group's leader, Ayli Quinteros, stands before her visitors with tears in her eyes as she recounts their life under the drug trade. "We were scared, we had to stay inside...we were terrified of losing our children to the narcotraffickers."
In 2012, TechnoServe began working with Mishky Cacao as part of a USAID-funded program to help coca-growing regions transition to legal crops. After learning improved production and marketing techniques, the women greatly improved their cocoa production and profits, expanding their processing facility and even winning an award from Le Salon du Chocolat in Paris.
"Coffee is our morning ritual or afternoon pick-me-up, but to these farmers, it's their livelihood, a pathway to live without fear." – Katina Connaughton
Kyle and Katina tour the cocoa facility and send the women into a momentary scramble as the couple asks to purchase nearly all the chocolate on display in the store.
Later, they reflect on how the visit "touched our hearts and opened our eyes to how incredibly impactful this crop can be. These brave women and men are making great strides in creating safer and sustainable lives for themselves and their communities."
A few days later, Kyle and Katina are back in California, cultivating and preparing the many types of food available within a few miles of their restaurant. But their minds are on two of the only products that they source from abroad: coffee and cocoa. The two food pioneers are already full of ideas on how to lend their support to those they met on the other end of the agricultural value chain, and are working with TechnoServe to help those communities progress even further.
"As a farmer and chef, to be able to connect on a deeper level with our coffee and chocolate food systems was an undeniably powerful experience," they say after the trip. "Meeting the hard-working individuals who tend to these crops has forever humbled our perspective. With every sip of coffee and every bite of chocolate, we are endlessly reminded of where it all begins, and of the courageous individuals who shared their memorable stories of determination and perseverance with us."

Related Blog Posts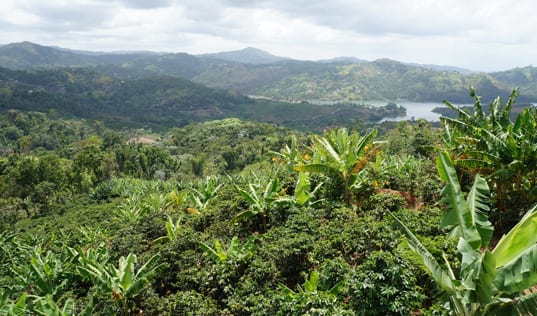 We spoke with TechnoServe's new coffee program manager for Puerto Rico about his background in coffee, his plans to revive the industry, and the biggest challenges he foresees.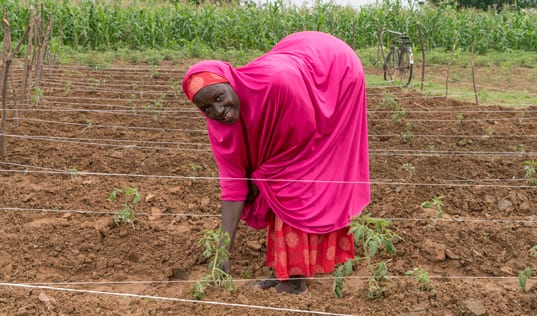 In Nigeria, TechnoServe is helping tomato farmers boost incomes and reduce post-harvest losses, while adapting to a changing climate.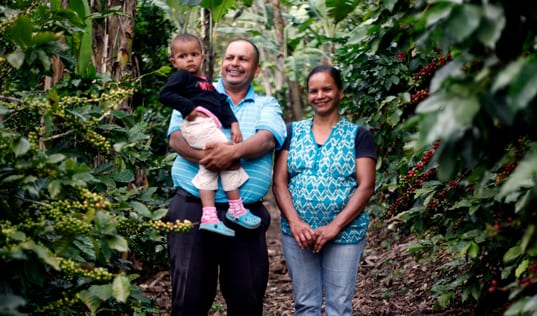 To celebrate National Coffee Day, TechnoServe shared insights and stories about the smallholder farmers who grow this transformative crop and the impact coffee has had on their daily lives.