Digital Training Helps Mother-Daughter Business Stay Open
In Mozambique, TechnoServe is using digital training to help entrepreneurs keep their small businesses alive during COVID-19. Read how Rita Sitóe and her daughter are using technology like WhatsApp to gain the knowledge to power through the pandemic.
Digital training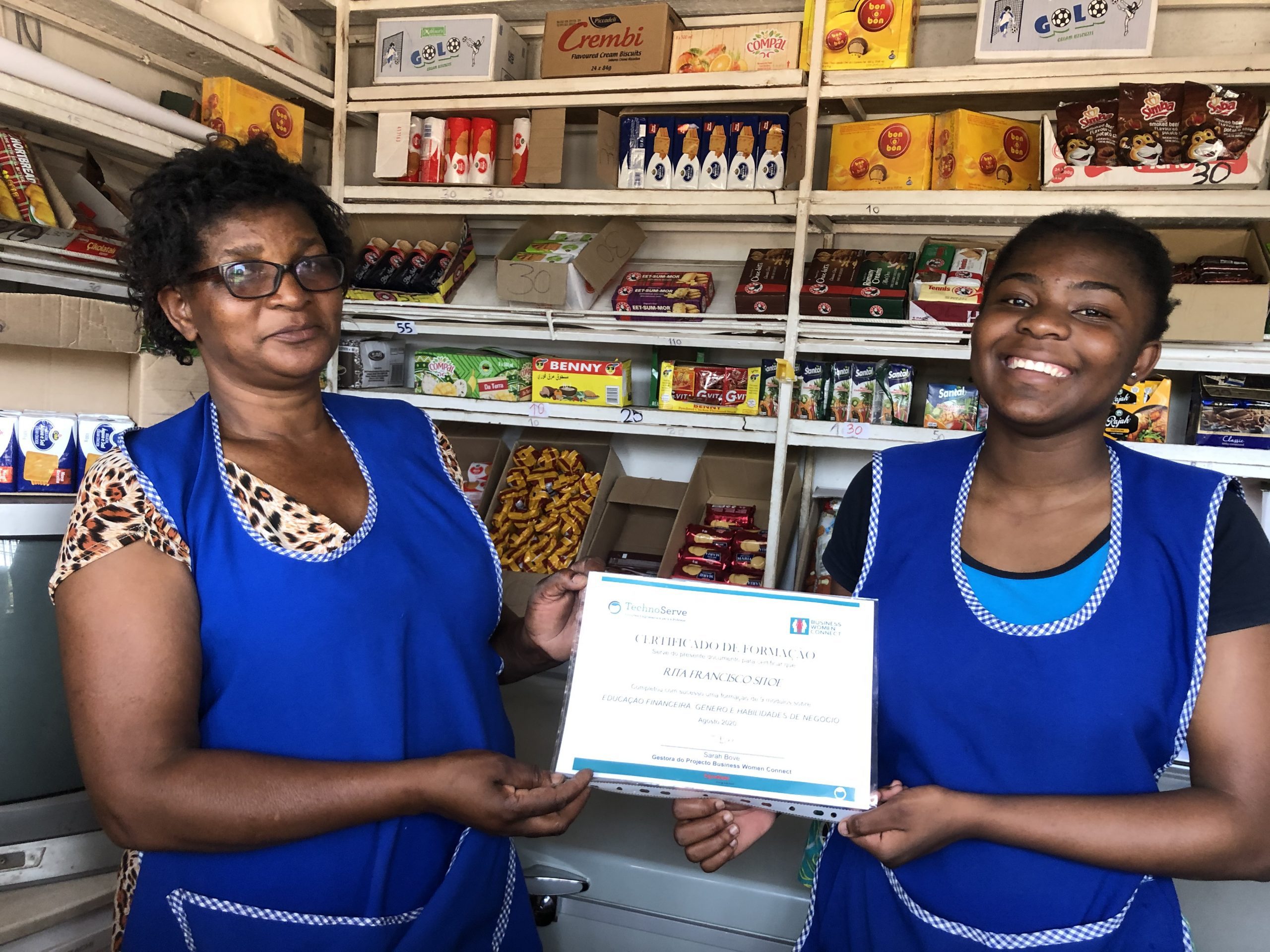 When the COVID-19 pandemic hit Mozambique early last year, 55-year-old Rita Sitóe was already struggling to run her business. A mother of three, Rita is the owner of a small grocery store in Laulane. The peri-urban neighborhood she calls home is near Maputo, the capital of Mozambique. 
Grocery stores like Rita's play an important role in local communities that is similar to that of a corner store or convenience store. These micro-retail businesses provide essential supplies like soap, food items, snacks, and phone credit at a low cost. But equally as important is their role in providing a source of income for entrepreneurs like Rita. 
Digital Training and New Technology Skills Help Solve Challenges at the Shop
Rita would consistently run out of products but didn't have the funds to replenish her stock, which resulted in fewer clients. Moreover, she couldn't track her daily sales and profit because she often withdrew money from the store for personal use without keeping records.
Even when I had my store full of products and good sales, I couldn't find out my monthly profit. I was constantly worried about losing my clients."
— Rita Sitóe
To make matters worse, the COVID-19 pandemic caused her daily sales to nosedive, to nearly a third of their previous level. She became increasingly concerned about the viability of her business and her income. 
Shortly afterward, in April 2020, Rita heard about TechnoServe's Business Women Connect (BWC) program through the local radio, and soon a business counselor sent her a formal invitation to join. Hoping to improve her skills and engage with other businesswomen, she signed up immediately. 
The BWC program, a partnership between TechnoServe and the ExxonMobil Foundation, is focused on increasing the business skills and financial literacy of businesswomen in Mozambique. 
Through the BWC course, businesswomen like Rita learn that the success of an enterprise does not depend solely on the volume of goods sold. Other factors play a critical role. For example, good management, good planning – especially related to savings – and adoption of good business practices. The program includes in-class training and one-on-one coaching sessions with TechnoServe advisors that help participants find real-world applications for their newfound skills.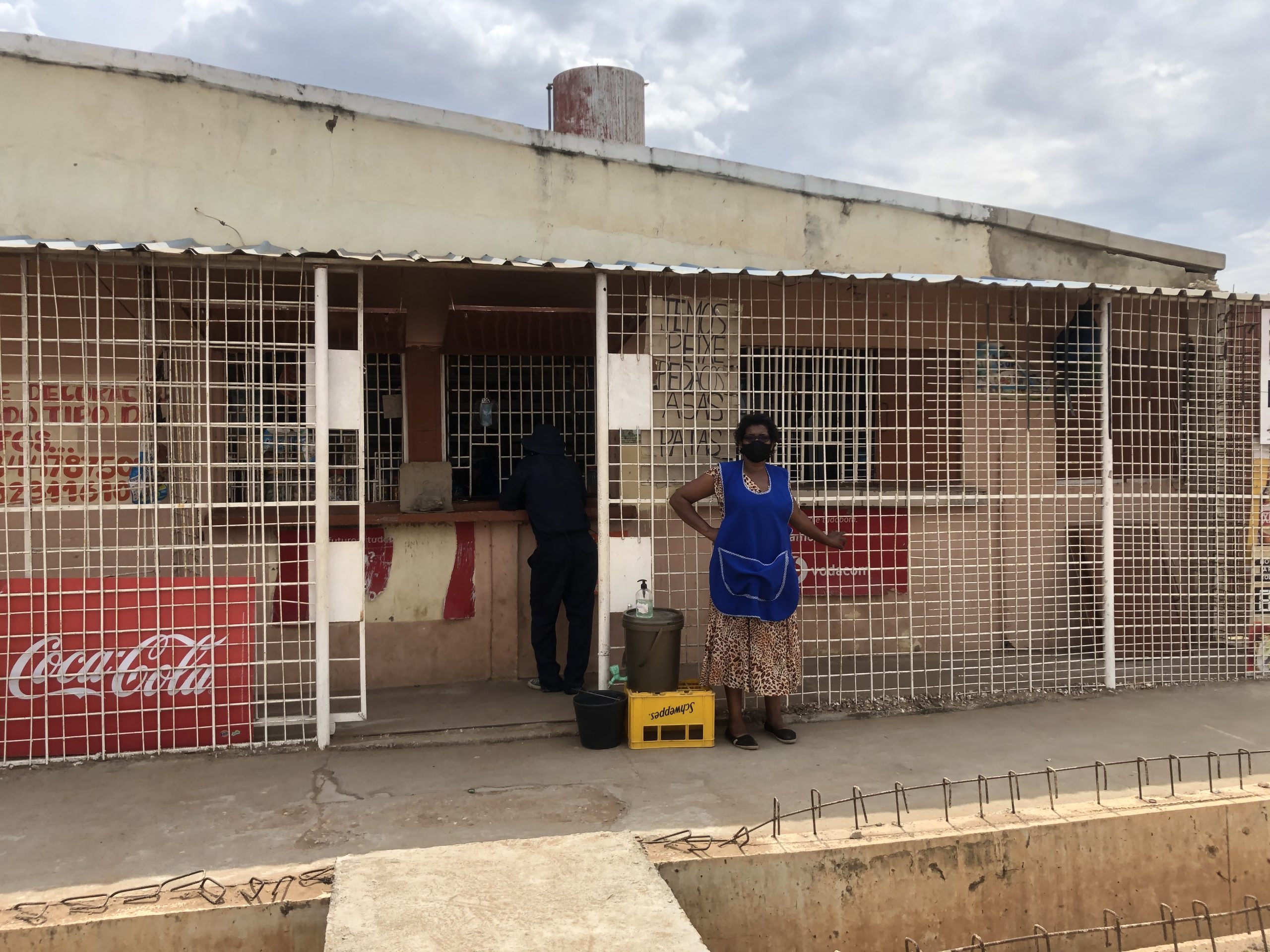 Digital Training Offers Continued Support During COVID-19 
Just one month into Rita's course, COVID-19 forced the program to switch from in-person to online training. Participants could safely access the program while following public health guidelines and avoiding health risks by accessing training via WhatsApp. 
The women enrolled in TechnoServe's Business Women Connect program participated twice a week in training through a WhatsApp group with other women from the same neighborhood. TechnoServe shared training information through short videos, images, and explanatory texts to facilitate discussions with women in the program. 
Rita was eager to continue with the course, but felt some apprehension about using WhatsApp, which she'd never used before. Luckily, Rita's 20-year-old daughter Jessica was already very familiar with the platform. She offered to attend the classes with Rita to help her adjust.
I was afraid to lose the opportunity to gain knowledge and improve as a businesswoman, so I asked my business counselor to include my daughter in our classes to help me out. It was the best decision to make."
— Rita Sitóe

Jessica notes: "Participating in the course enables me to help my mother with the business financial part. I make sure everything is well-recorded."
In early April 2020, nearly half of the participants in the program expected that their small business would have to close as a result of the pandemic – or had already had to shut their doors.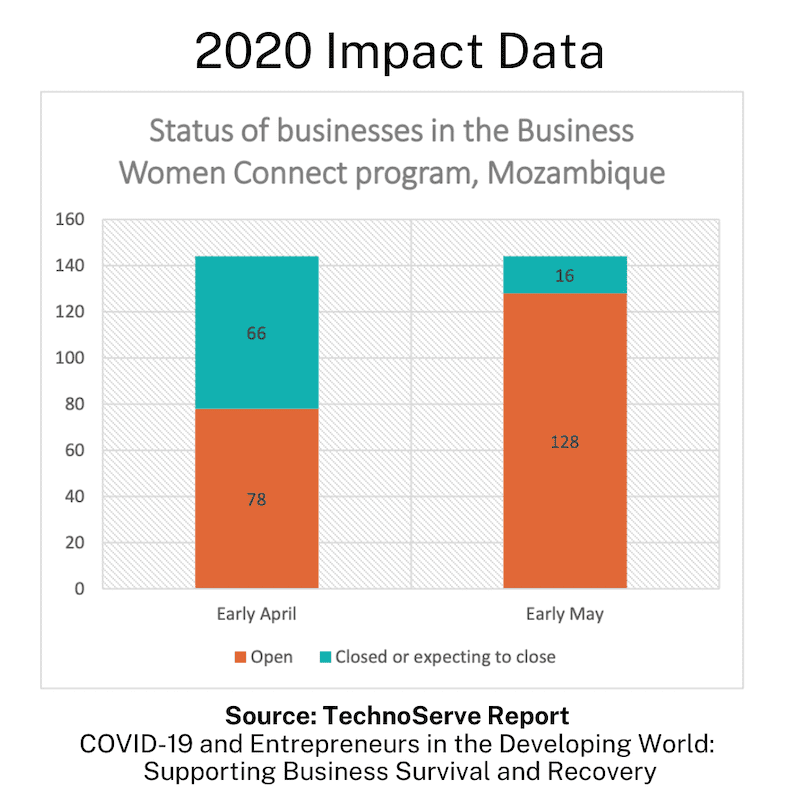 Just a month later, however, after additional training from TechnoServe – nearly 90% of the women entrepreneurs, including Rita, were able to keep their businesses open. 
Since early 2018, TechnoServe has trained over 549 women entrepreneurs like Rita through the BWC program. 
Some of the skills they acquire in the program include:
 Tactics to increase their savings

Financial literacy

Business skills like management and planning
Read more findings on the success these resilient women went on to achieve in the full report:  COVID-19 and Entrepreneurs in the Developing World: Supporting Business Survival and Recovery.
During COVID-19, Digital Training is Essential for Helping Small Businesses Stay Open 
Thanks to the digital training from the TechnoServe course, Rita and Jessica learned many essential business management skills. Jessica helped Rita to apply new practices to improve their small business, such as keeping business records and saving daily. This has enabled Rita to effectively manage her finances and even use the savings for investments. 
"Keeping records helped me know when and what products to buy," Rita explains. "It even helped me reduce some unnecessary expenses. Thanks to my daily savings, I was able to buy a weighted balance, which is enabling me to sell my clients their most needed products." 
One of the most transformational lessons Rita learned was how essential digital training would be for her business to survive during a time of crisis. After she began applying these new business practices and making these investments, her average daily sales nearly doubled from the start of the pandemic.  
Gaining Resilience Through Business Training
Although she is not back up at her pre-COVID earning levels, Rita has been able to keep her business afloat during these times – which feels to her like a huge success. She also notes that she has developed a more positive attitude toward her customers and has more confidence running the business. 
The training helped me to overcome my fear of running a business in a difficult moment. I believe that when the pandemic is gone, with my savings, my skills, and the support of my children, I'll double my income."
— Rita Sitóe
Rita's newly acquired knowledge and skills have also helped her build stronger relationships with her children. Now, she has more time to do other activities outside of running the business, including spending more time with her kids. 
Since Jessica also attended the course, she is now equally equipped to run the grocery store in her mother Rita's absence.
"Now that I have the skills, my mother doesn't have to spend most of her time in the shop," Jessica says. "I manage to help her out on a daily basis."
And Jessica even has business dreams of her own.
"Soon, my mother won't have to worry about paying for my studies. I will start my own small business selling second-hand clothes and help her reduce some personal expenses." 
Your support helps hardworking women like Rita and Jessica gain the skills they need to run successful businesses. 
Read More About TechnoServe's Business Women Connect Program: