Combating Youth Unemployment through Apprenticeship
Citi Foundation and TechnoServe are working together to reduce youth unemployment in Uganda by teaching young women the knowledge and skills to start their own businesses.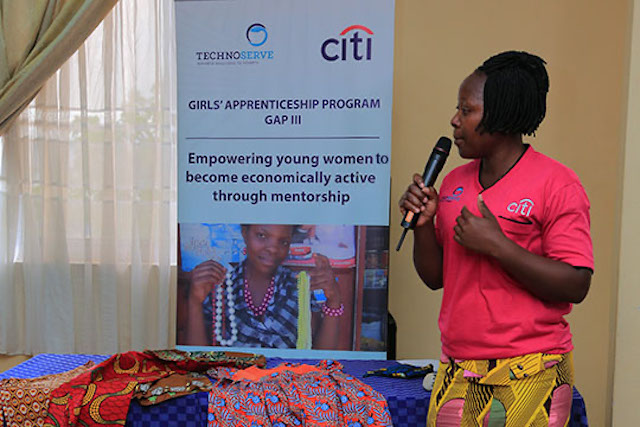 Justine received training in tailoring during her apprenticeship through Citi Foundation and TechnoServe's Girls' Apprenticeship Program. She now sells the various items she tailors at a local weekly market and has begun accruing savings.Justine is a young, single mother who was staying with her brother's family in a one-room home outside of Kampala, Uganda. She struggled to make ends meet and provide for her son, as her work mainly consisted of washing clothes for her neighbors.
Many young women face similar challenges across Uganda. Nearly 80 percent of the population falls under 30 years of age, and the majority of youth are female. Girls in particular face two major employability disadvantages, as Uganda has the highest school drop-out rate for females in East Africa as well as the highest teenage pregnancy rate in sub-Saharan Africa. The result is prevalent poverty among young women who are raising families without sufficient skills to earn a living.
In an effort to combat this unemployment crisis, Citi Foundation and TechnoServe have partnered to help young women in East Africa through initiatives like the Girls Apprenticeship Program (GAP). Now in its third phase, the project aims to equip 60 low-income young women in the urban areas of Uganda's Central Region with the necessary skills and resources to start their own businesses or obtain paid employment. In the previous phase of this program, 83 percent of the participants either found jobs or started their own business after graduation.
I'm going to save, grow my business, generate more profit, and employ other girls who will also be able to sustain themselves."
This one-year project links participants with mentors: successful businesswomen graduates of another TechnoServe initiative, Women Mean Business. The graduates of this program, where participants saw a 22 percent increase in monthly revenues, welcome the young women from GAP as apprentices in their businesses for three to five months. During that time, participants are trained in practical skills such as tailoring, crafts making, baking, or hair-dressing. Concurrently, they are mentored on how they can turn their newly-acquired skillsets into a business or gainful employment.
Upon entering the GAP program, Justine was trained in tailoring for five months and learned to make uniforms, dresses, aprons, bags, cooking gloves, and more. She sells them at the local weekly market, where they have become quite popular. Due to her initiative and drive, Justine was named "Most Resilient Entrepreneur" in her cohort at the GAP business plan competition, which awarded her funding (provided by Citi Foundation) to purchase a semi-industrial machine, equipment that is essential for growing her business. "TechnoServe has taught me how to tailor different fashions and products, and I can now save and look after my son, which I couldn't do before joining GAP," Justine said.
Sauya, another GAP participant, was raised by a single mother who struggled as a market vendor to pay school fees for her and her three sisters. Sauya dreamed of baking for a living and helping support her family, and joining GAP was the opportunity she had been hoping for.
During her apprenticeship, she was trained in financial literacy, customer service, marketing, and business planning. With these refined skills, Sauya opened her own business, Sawiez Home Bakery, where she makes a variety of sweet treats and sells them to nearby shops, supermarkets, friends, and family.
Sauya began her business while using her mentor's equipment, but as her apprenticeship drew to a close, she was named "Runner Up" at the GAP business plan competition and awarded a cash prize from Citi Foundation that allowed her to purchase her own equipment. This enabled Sauya to run her business out of her home, saving transport costs, and she now has plans to expand her business even further.
One benefit is more intangible. "Before joining the Girls Apprenticeship Program, I couldn't face a group of people and speak, but I can now confidently address people," Sauya explains. With boosted confidence, she has big plans for the future: "I'm going to save, grow my business, generate more profit, and employ other girls who will also be able to sustain themselves."
Combining the power of two enterprise development programs—GAP and Women Mean Business—is expanding opportunities for dozens of young women like Justine and Sauya, who represent a crucial part of Uganda's economic potential.
Learn about the other ways Citi Foundation and TechnoServe are working together to tackle poverty.