Impact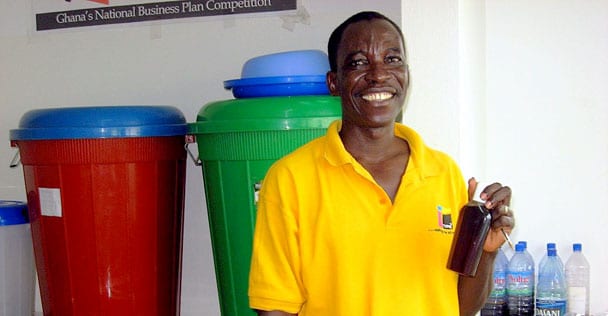 For more than 40 years, TechnoServe has worked to support farms, businesses and industries in Ghana through an evolving array of programs and strategies. In 2011, TechnoServe helped Ghanaian businesses generate nearly $74 million in sales and $29 million in profits. These businesses purchased agricultural products from 43,000 farmers and employed 38,000 people, demonstrating the powerful impact of enterprise development.
Stories
A wide range of partners come together to make Africa's first Believe Begin Become business plan competition a success.
Read More
Isaac Bohulu has high hopes for his blossoming pharmaceutical business, a past winner of Ghana's business plan competition that promises to benefit the region's economy as it continues to grow.
Read More
On The Ground
Projects
Sparking New Enterprise
TechnoServe helps aspiring entrepreneurs turn their ideas into sustainable businesses through Believe Begin Become (BBB), a national business plan competition. BBB winners receive business training and seed capital to help them create thriving new enterprises that generate much needed jobs in various sectors. Participating entrepreneurs receive help fine-tuning their business plans and gain access to a wide network of business professionals, investors and service providers.

Growing the Cashew Industry
TechnoServe is an implementing partner in the African Cashew Initiative, which works to improve the volume and value of cashews produced and processed in Africa. TechnoServe's role focuses on assisting cashew processing facilities, which create much-needed employment for women in rural areas. In Ghana, TechnoServe has provided four cashew processors with intensive technical assistance, helping create more than 1,000 jobs and purchasing from nearly 6,000 cashew farmers in 2012.

Raising Women's Incomes through Shea Butter
TechnoServe is helping 3,000 rural women in northern Ghana maximize their income potential through shea butter. The organization has helped women's shea-producing and -processing groups upgrade their business skills, acquire financing, find new market opportunities and develop a culture of savings and investment. In 2012, TechnoServe worked with more than 1,000 women, who increased their income through shea butter nearly fivefold within a year.
Making Cocoa More Profitable
Ghana is one of the world's top producers of cocoa, a highly-demanded export crop grown by an estimated 700,000 farmers. TechnoServe trains cocoa farmer groups to operate as businesses and optimize their productivity so that the farmers can triple their incomes. Trainings on best farming practices have helped some producers quadruple their yields.
Supporting Enterprise Development in Mining Communities
TechnoServe has developed projects for several mining companies to catalyze economic development in the communities where they operate. For example, one International Finance Corporation-supported program worked to build the capacity of 62 local businesses to supply goods and services to mining operations, ultimately tripling the businesses' sales to $13 million collectively. Other programs have provided business training to enterprises unrelated to the mining industry to encourage a diversified local economy.

Enhancing Food and Income Security
TechnoServe is helping farmers in marginalized areas of northern Ghana to earn more for their crops while ensuring a better food supply for the region. TechnoServe is training thousands of farmers to better grow peanuts, onions, corn and other staple crops, while also helping them access credit and markets. We are also helping several rice businesses to boost productivity and introduce value-added processing in order to meet local market demands and reduce dependence on imported rice.

Food for Business
Ghana's horticulture sector is rapidly expanding, thanks to a national push to promote non-traditional farm exports. TechnoServe is helping entrepreneurs build businesses that capitalize on these opportunities, for example selling high-value exports such as pineapple, papaya and mango. Entrepreneurs learn to improve their operations and manage their businesses more competitively, in turn increasing incomes and creating jobs. TechnoServe also helps farmer groups to produce and market crops for the nation's growing urban market.
Contact
TechnoServe Ghana

75 Volta Street, Airport Residential
P.O. Box 135
Accra, Ghana

Tel: +233 302 763 675
Fax: +223 302 772 789

Emmanuel Toureille

Country Director
etoureille@tns.org