Impact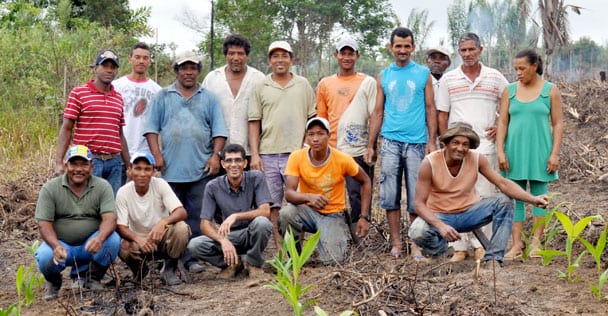 To date, TechnoServe has completed a pilot program in the south of the State of Bahia generating benefits for 60 farmers who live on settlements created after agrarian reform. The program developed an outgrowing model for the farmers in partnership with an agro-processing company, Inaceres, and an impact investor, Instituto Ventura. Farmers obtained long term credit of $5,400 and technical assistance to establish a high value horticultural product, heart of palm, generating on average close to $400 per month in income for each family. Inaceres has since adopted the model for replication and scale up to ensure it obtains a high quality, reliable supply of product, benefiting even more smallholder farming communities in the area.
On The Ground
Projects
Smallholder Farmer Integration
TechnoServe's two-year pilot project in Southern Bahia State helped 60 smallholder farmers to diversify their crops and integrate into the value chain of a leading national agro-processing company, Inaceres. Through an innovative partnership with Inaceres and Institute Ventura, a Brazilian organization that promotes the development of environmentally sustainable businesses, TechnoServe identified a market for hearts of palm, a high-value gourmet delicacy in Brazil. In addition to establishing a long-term relationship with the buyer, participating farmers received training and access to finance to establish palm tree plantations, which will allow the farmers to increase their incomes by 80 percent.

Promoting Best Practices in Agronomy and Sustainability
TechnoServe is implementing a two year program to deliver training to 3,000 smallholder farmers in agronomy and sustainability best practices, supported by the corporate foundation of a global retailer. The empowerment of women in the participating rural communities is of particular focus, with 1,500 of the targeted beneficiaries being women. Program activities are taking place in the North East region of Brazil, consisting of the development and deployment of innovative technologies alongside traditional training delivery approaches. TechnoServe is convening an inclusive partnership of farmer training actors in the North East to ensure the sustainability and replication of results.
Blog Posts
May 8, 2012
In the south of the Brazilian state of Bahia, three organizations are uniting to implement an economic development project that is generating benefits for 60 farmers who live on settlements created after agrarian reform.
October 13, 2011
The great Peter Drucker once said, "Innovation is the specific instrument of entrepreneurship. The act that endows resources with a new capacity to create wealth." The story of Liset and Ximena Contreras embodies this quote and much more.
Contact
TechnoServe Brazil

David Williams

Country Director Brazil and Senior Advisor
dwilliams@tns.org