TechnoServe's Fifth Micro-Retail Stakeholder Forum Will Celebrate Progress in a Key Sector for African Economies
The event will also bring together a range of actors to discuss some of the challenges impacting small shopkeepers
(Nairobi, Kenya)—  On November 23rd, TechnoServe will host its fifth Micro-Retail Stakeholder Forum, bringing together key actors to celebrate successes and identify opportunities in the continuously evolving micro-retail sector. The event is organized in conjunction with TechnoServe's micro-retail partners: the Mastercard Foundation, Moody's Foundation, Citi Foundation and  elea Foundation for Ethics in Globalization.
The event comes at the end of a year when micro-retailers across Africa, as well as the organizations that support them, have had to exhibit significant resilience, as the pandemic disrupted supply chains and forced them to change their way of doing business. This experience has underscored the importance of micro-retail programs that provide shopkeepers with both financial and technical assistance, offering them digital training and access to funds to help the businesses survive the crisis.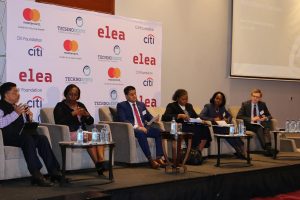 This forum will use data gathered through micro-retail programs to highlight the possibilities for young people to gain meaningful economic opportunities in the sector.  In addition to increasing awareness of the sector, the event will share practical insights about micro-retail and sustainable project implementation, and it will serve as an opportunity to rekindle networks and recognize the contribution of stakeholders.
The event will include a media breakfast at a city hotel, followed by a stakeholder forum and gala from 5.00PM to 9.00 PM.  Key themes to be covered include entrepreneurship, technology, innovation, capacity building, gender, and youth.
"Whether you are a newbie in the retail sector or an advanced practitioner looking to fine-tune your network, the stakeholder forum will highlight valuable concepts from leading figures in the industry," said Elsie Ngina, senior business advisor for TechnoServe. "As the year comes to a close, this gala should serve as the climax for the year's business calendar.
The headline virtual panel will be moderated by senior business journalist Laban Cliff Onserio. The participants will also be featured in the Legally Clueless podcast, which is hosted by Adelle Anyango, an icon of youth change in Kenya.
This stakeholder forum gala will be held via Zoom and broadcast on Facebook and YouTube in real time. Additionally, there will be Twitter chats that highlight key updates from the ongoing sessions for those that would like a recap.
For more information and to register, visit: https://hubs.li/H0_pq_30
##
About TechnoServe
TechnoServe is a leader in harnessing the power of the private sector to help people lift themselves out of poverty. A non-profit organization operating in 30 countries, we work with hard-working men and women in the developing world to build competitive farms, businesses, and industries. By linking people to information, capital, and markets, we have helped millions to create lasting prosperity for their families and communities. 
Founded over 50 years ago, TechnoServe has been named the #1 nonprofit for fighting poverty by an independent charity ratings agency.
More information at: Facebook: @TechnoServe | Twitter: @TechnoServe | LinkedIn: @TechnoServe