TechnoServe and Alteia Partner to Deploy AI Solutions for Climate-Smart Cashew Program in Benin
Cotonou (Benin) and Toulouse (France): International nonprofit TechnoServe and technology platform Alteia announced this week that they have signed a partnership agreement that aims to improve cashew farming practices through the use of aerial drone imagery and artificial intelligence. This collaboration is part of TechnoServe's CajùLab project, funded by the Wehubit program of the Belgium Development Agency Enabel and further supported by the United States Department of Agriculture (USDA).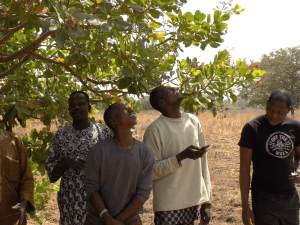 Cashew farmers across Benin will benefit from the high-tech drone, satellite and AI solutions. 
Benin's cashew cultivation has expanded more than tenfold in the past two decades, now accounting for around 17% of the country's exports ($437M) – the second-largest export commodity after cotton – and providing income for 200,000 farming families. Cashew production is also an opportunity for climate mitigation through tree planting. However, there are still challenges to be addressed in order to improve productivity and environmental benefits. In particular, land pressure can lead to environmentally detrimental farming practices, such as monocropping and land clearing for farm expansion. Arming farmers with climate-smart agricultural skills is essential for ensuring that production can be sustainably increased. For that reason, it is important to generate objective and quickly accessible data that helps provide targeted training to farmers.
By assessing land management through drone imagery and artificial intelligence, TechnoServe can identify the areas of highest need and target interventions and training services to reach farmers more effectively. Ultimately, the project aims to increase the number of farmers engaged in the climate-smart production of cashew in Benin.
In this context, Alteia will provide Technoserve a turnkey digital solution to visualize drone imagery of cashew orchards and extract key agronomic indicators at the tree level. "The existing components of the Alteia Cloud platform will be leveraged, including the data management and collaborative structure and off-the-shelf analytics such as Tree Count, Fraction of Vegetation Cover or Plant Height. On top of this, complementary modules will be specifically developed by Alteia's data scientists and fine tuned to fit the characteristics of cashew. These modules will include cashew species identification, density and health evaluation as well as intercropping indicators," said Lenaic Grignard, head of agriculture and forestry at Alteia.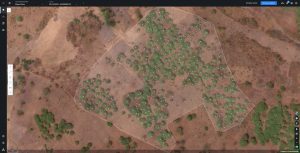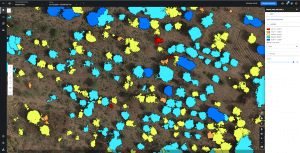 The Alteia Platform will provide tree-level agronomic indicators based on aerial images.
By mid-2021, TechnoServe and Alteia expect to process and analyze more than 1,500 smallholder cashew plantations across the country, representing dozens of terabytes of data. This process will be automated as far as possible to deal with the high data volume and to allow for continued plantation monitoring in the future. "This is made possible by the Alteia architecture that is rapidly deployable in any organization. It is a matter of weeks to completely integrate our easy-to-use workflows so that they perfectly fit the analysis of cashew plantations in Benin. We are very happy to support TechnoServe on this project and in delivering on-the-ground impact for cashew farmers," said Grignard.
"We are among the first to deploy drones at this scale in the context of smallholder agriculture in Africa. We are working hard to cover more than 1,500 cashew orchards – often no more than one hectare in size – by drone and collect good quality data that is fit for Alteia's powerful AI algorithms," said Christoph Weigl, TechnoServe's Senior Technology Advisor and Project Lead in Benin. 
So far in Benin, TechnoServe has trained over 71,000 farmers in best agricultural practices such as intercropping and agroforestry management through the BeninCajù program. As a result, over 145,000 ha of cashew orchards are now under sustainable forestry practices. Under the CaùLab program, TechnoServe will target an additional 10,000 farmers with an updated curriculum on climate-smart agriculture based on the insights generated through the collaboration with Alteia. 
About Alteia
Alteia is an AI-driven platform, offering a comprehensive suite of tools to enable digital transformation in enterprise asset management. The company has over a decade of experience in capturing and analyzing imagery, resulting in a Visual Intelligence offer that combines the best of computer vision and AI technologies. The platform ingests and structures massive varieties of data from the field into a single source of truth, and builds predictive models of industrial and agricultural assets. It facilitates the optimization of the entire operations lifecycle, mitigates risks, and delivers critical assessments in real time.
About TechnoServe
TechnoServe is a leader in harnessing the power of the private sector to help people lift themselves out of poverty. A non-profit organization operating in 29 countries, we work with hard-working men and women in the developing world to build competitive farms, businesses, and industries. By linking people to information, capital, and markets, we have helped millions to create lasting prosperity for their families and communities.
Founded over 50 years ago, TechnoServe has been named the #1 nonprofit for fighting poverty by the ImpactMatters charity ratings agency.
Contact TechnoServe:
media@technoserve.org
Contact Alteia:
press@alteia.com