Report: 3.1 Million Lives Improved through TechnoServe's Work in 2022
The organization's annual report also highlights the $366 million of financial benefits earned by people and businesses in the Global South
Arlington, VA (April 19, 2023) – Today, international nonprofit TechnoServe released its 2022 annual report, Ending Poverty at the Root, providing data and stories to demonstrate the organization's impact across 30 countries in Latin America, Africa, and South Asia. 
TechnoServe's work helped 1.3 million million people and businesses earn an additional $366 million of revenue and wages and improved the lives of 3.1 million people in 2022. The report also showcases the cost-effectiveness of TechnoServe's programs, with each dollar invested in projects yielding $5 of financial benefits for the participants.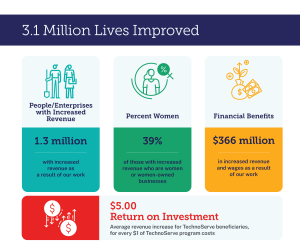 The report focuses on the potential of market approaches to create lasting impact. "By design, the people and businesses TechnoServe works with gain the power to spread wealth, knowledge, and opportunity to others around them, creating locally generated, long-lasting change," said president and CEO William Warshauer and board chairs Michael J. Bush and Rachel Hines.
Ending Poverty at the Root also provides detail on how TechnoServe is carrying out its strategic plan, which was announced in July 2022 and focuses on three priority areas: regenerative business, local food systems, and job creation and youth economic empowerment. 
It highlights the launch of TechnoServe's Regenerate 30 commitment and how the organization's programs are working to support nutrition and healthy diets in the face of rising food costs caused by climate change and the conflict in Ukraine. In support of the strategic plan's emphasis on generating employment in communities with limited economic opportunities, the report also includes a new metric, Better Jobs; in 2022, TechnoServe's programs helped 32,460 jobs to be created, strengthened, or placed around the world.
The full report can be found at: https://www.technoserve.org/2022-annual-report/
##
About TechnoServe
Founded in 1968, TechnoServe is a leader in harnessing the power of the private sector to help people lift themselves out of poverty for good. A non-profit organization working in 30 countries, we work with people to build a better future through regenerative farms, businesses, and markets that increase incomes. Our vision is a sustainable world where all people in low-income communities have the opportunity to prosper.
More information at: Twitter: @TechnoServe | Facebook: @TechnoServe | LinkedIn: @TechnoServe