Working for a Brighter Future: One Load at a Time
Jessica Vargas started Le Blanc laundry services with a single washer and dryer. Now, her business has more than doubled, providing key services and employment to her community.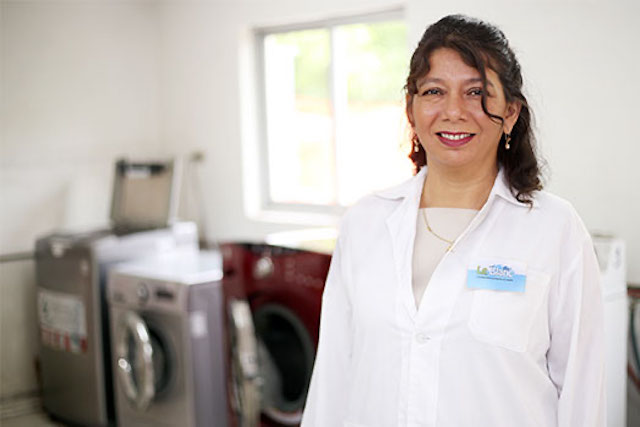 Six years ago, Jessica Vargas opened a laundry business with her mother using a single washing machine and dryer. They started small, offering laundry services out of their home near Los Andes, Chile, but Jessica had a bigger vision: to become the leading laundry service provider to the many mining operations in the area.
Anglo American, a recognized international mining group that operates near Los Andes, created Emerge, a local economic development program focused on entrepreneurship that has been implemented by TechnoServe since 2011. Hoping to develop her management skills and grow her business, Lavanderia Le Blanc, Jessica applied to the program in 2015.
During six months of Emerge training and one-on-one business advisory services, Jessica gained a set of practical tools that allowed her to design and implement a growth plan. She refined her understanding of the business's cost structure, improved numerous operational processes, and applied for a loan to purchase equipment that would address a bottleneck. "Participating in the program was really of great value. Applying the new concepts was key to getting my finances in order," she said.
The next year, Anglo American and TechnoServe opened a new phase of Emerge focused on small and medium enterprises (SMEs), like Le Blanc, that had the potential to become suppliers to big companies.
The mining company signed agreements with nine partner companies working in the region to facilitate relationships with local SMEs. Seeing the impact of her initial training with Emerge, Jessica applied and was selected for another round of Emerge.
"This time the work was more specific: I learned how to present my business and services to potential corporate clients," she explained. After advising entrepreneurs on how to apply for corporate bids, Emerge organized a roadshow to introduce participants' businesses to corporate buyers. "The roadshow was a big milestone in our growth, since we were invited to participate in a bid held by the second biggest cement company in Chile," Jessica said.
Emerge also encouraged Jessica and other entrepreneurs to form a network of small businesses that can help each other grow. "I was able to meet someone who has a hostel, for whom we now wash their bedclothes. I also met a woman who has a printing service business, with whom I now print all our bags," she said.
Jessica's business has grown 110 percent since she joined Emerge for the second time. She has won five new contracts, allowing her to diversify her revenue sources and prove to clients that she can offer competitive services at a convenient location.
She has also doubled her staff, now employing eight local women as permanent staff, and another four during peak demand periods. Not only is Jessica creating jobs and empowering women in her community, but she is also committed to providing staff with a positive and flexible work environment.
Emerge helped Jessica design a staff schedule with morning and afternoon shifts, allowing employees to balance work with family life and studies. "We all live in the same area. My work is now walking distance, and I can even bring my toddler with me on days I don't have help," said one employee.
Jessica is proud of the progress Le Blanc has made. "I graduated from Emerge six months ago, and my TechnoServe Business Advisor still calls me periodically to ask how we're doing, whether I have new clients, if I've lost any, and whether we have increased our revenues," she said. "Participating in a program like Emerge can really change your life."
Over the past seven years, Anglo American and TechnoServe have worked with more than 1,400 SMEs in Chile. The Emerge program has helped hundreds of entrepreneurs like Jessica grow their business and improve the lives of their families and communities.