Paving the Express Lane for Women Entrepreneurs in El Salvador
With the support of TechnoServe's Impulsa tu Empresa program, Lorena Gonzalez is growing her taxi service for women and is creating change for women entrepreneurs in El Salvador.
This story is part of our month-long #SheFightsPoverty blog series in honor of International Women's Day 2017.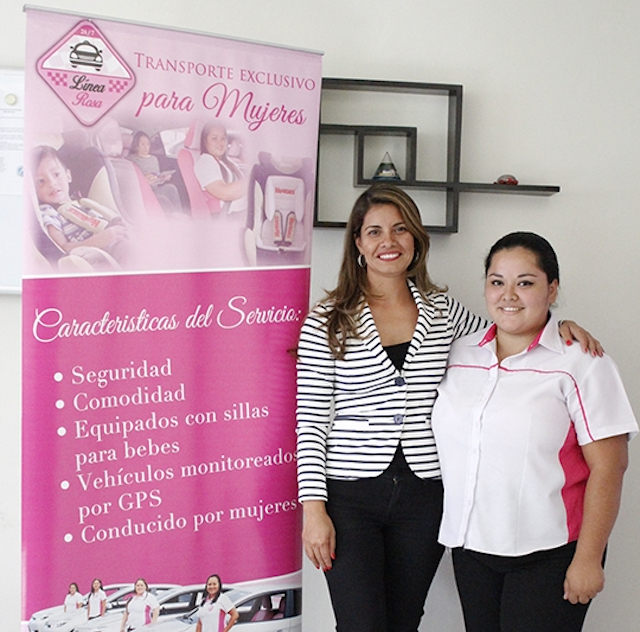 Redefining women entrepreneurs in El Salvador
Lorena Gonzalez describes herself as three women. First and foremost, she says, she is a mother to her two teenaged children. Second, she is a businessperson, driven by her desire to better provide for her family and to spend more time with them. Finally, she is a woman in her own right who grabs coffee with friends and gets some exercise when she has a chance. Lorena believes that maintaining the balance between these three identities is the key to leading a happy and productive life, although she says the latter two are not recognized or supported in El Salvadorian culture.
These three identities are intrinsic to the values that define Lorena's work and family lives – so it's no surprise that Línea Rosa (The Pink Line) – Lorena's taxi service employing and serving women – got its start through a conversation with her daughter. At the time Lorena was struggling to make ends meet by renting out a minibus she had bought, but her dream was a taxi service for women. When her daughter asked why she didn't simply take the plunge as a businessperson, Lorena knew it was time to set an example, promising to get the venture off the ground within a year.
More than just a taxi service
The idea for Línea Rosa came from similar services Lorena had heard of in other countries and through her desire to help women in her native El Salvador. Línea Rosa is the culmination of Lorena's values, providing employment and safe transportation to women in a country with some of the highest crime rates around the globe and where women are still defining their roles in the economy.
Línea Rosa is for women on the go with many responsibilities to take care of, places to go, and no time for the insecurity and hassle of other modes of transportation in El Salvador. With these busy mothers and daughters in mind, Línea Rosa provides car seats for children, and its drivers are trained to assist the elderly and provide first aid. The pink interiors and  "beauty kits" included in the back seat encourage women and girls to take a moment for themselves on the way. This consideration for women's many responsibilities also applies to Línea Rosa's employees. Lorena provides some flexibility to her drivers' schedules, making it easier for them to juggle their many roles as caretakers and working women, providing them with an opportunity to join the workforce, which might otherwise be impossible for them.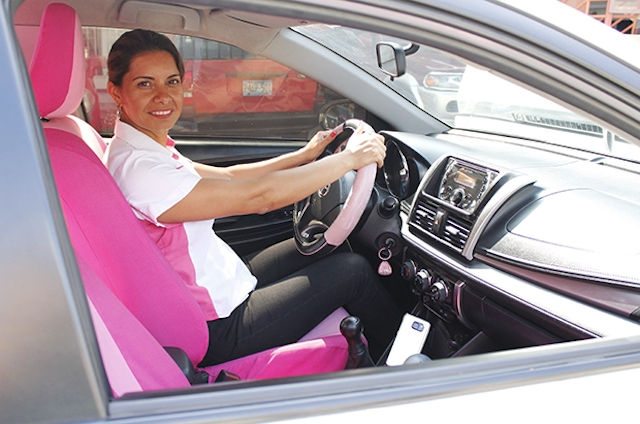 Success through strategy
Lorena's dream has become a sustainable reality through TechnoServe's Impulsa tu Empresa (ITE) Project, a collaboration with the Argidius Foundation, the Citi Foundation, the Multilateral Investment Fund (MIF), the PIMCO Foundation, and the Walmart Foundation. Between 2012 and 2016, ITE has helped more than 1,040 small and growing businesses boost their growth through mentoring and business training, increasing sales by more than $35 million and generating more than 1,400 new jobs throughout El Salvador, Guatemala, Honduras and Nicaragua.
When Lorena joined the program in November 2015, she had been running Línea Rosa for almost a year, but she couldn't get her sales where they needed to be. She was confident in her idea, and didn't understand why she couldn't get clients on board. Through ITE Lorena reassessed her business strategy and finances in order to identify where she was underachieving. "When you are a lone businessperson you can get absorbed in the day-to-day management and lose sight of the strategy." she explains. "ITE provided me with the tools to be more strategic."
Some of the enhanced business strategies that Lorena developed alongside her TechnoServe mentor were more extensive marketing and incentive schemes to capture new and returning customers. She also learned the importance of being perfectly in tune with her clients' needs. Lorena now dedicates more of her time to working as a driver in order to interact more with her customers and gain key insights about their experiences as they unfold.
Paving the way to the future
One year after Lorena began the ITE program, Línea Rosa had increased its revenues by 38 percent, and she now employs 16 women. Not surprisingly, however, Lorena doesn't plan to stop there. Her goal is to grow by 100 percent, and she has her sights on developing a franchise of women taxistas. As always with Lorena, these goals are born from her personal philosophy around being a working mother and a woman in El Salvador. She hopes that Línea Rosa will be an agent of change, helping the Salvadoran economy and community to see the potential of women entrepreneurs and support them.
Of course, just like with her business, Lorena is happy to lead the charge, supporting her friends to pursue their ideas for new products and services, and to seek out the expertise and tools they need through programs like ITE.
To date, Impulsa tu Empresa has worked with 527 women-owned or women-led businesses, accounting for nearly 45 percent of the total small and growing businesses supported by the program. Read more about how Impulsa Tu Empresa is helping small businesses across Central America, and about our #SheFightsPoverty campaign around International Women's Day.