"Never Say I Can't"
After a devastating flood forced Daria Arabulo to start a new life in a different country, she launched her own business as a way to provide for her family. After participating in one of TechnoServe's entrepreneurial training programs, her business has continued to grow.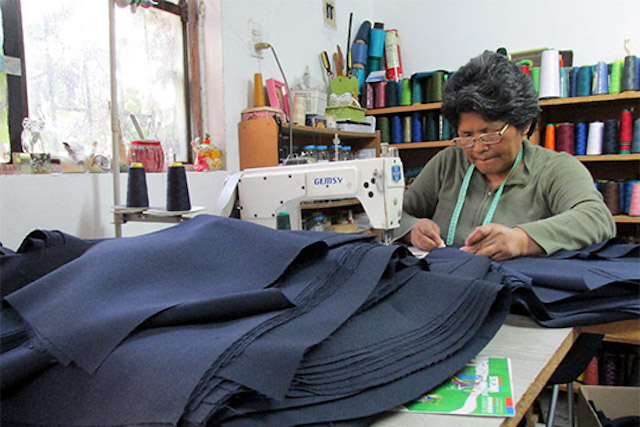 When a devastating flood ripped through the southern desert region of Peru in 1997 – destroying Daria Arabulo's home, belongings, and livelihood – she could never have imagined that today her family would be running two successful businesses.
Determined "not to let my family die here of hunger," Daria set off alone for Buenos Aires, Argentina, where she hoped to find new opportunities to provide for her family. But by the time she reached Santiago, Chile, she no longer had the resources to continue her journey. With no money and two changes of clothes, Daria got to work. At first, she worked at a monastery, which allowed her to begin sending money home. After a year, she was able to bring her husband to Chile, and within two years, had reunited the entire family – including her mother – in Santiago.
From Starting Over to Starting Up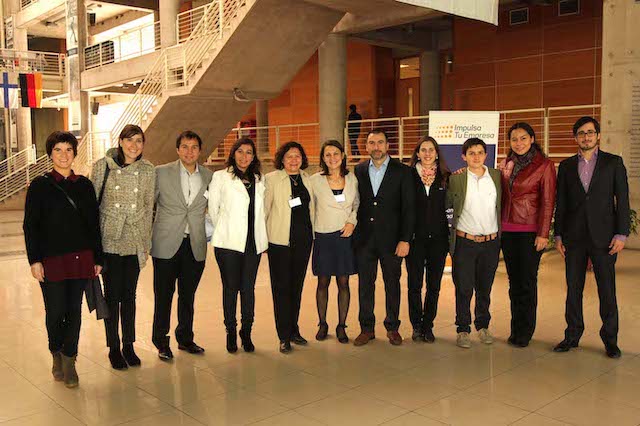 While continuing her work at the monastery, Daria began to sew for the monks – a job she particularly enjoyed – and eventually bought her own small sewing machine to expand and continue her work at home. As her demand and clientele grew beyond the monastery, the small motor on her sewing machine limited her productivity. Even while Daria balanced her work with her household responsibilities, the machine simply couldn't keep up with her unstoppable drive.
Unwilling to settle while she knew she could do more, she invested in a new sewing machine with a larger motor. Daria believed in the potential of her burgeoning business and after the arrival of her new machine, she left her work at the monastery to devote herself to running a full-time clothing business from her home.
Growing a Business Alongside TechnoServe
After nearly 20 years spent rebuilding her home and livelihood in Chile, Daria joined TechnoServe's Impulsa Tu Empresa program after seeing a flyer at the local municipality office. The program promised "practical training and quick results" for entrepreneurs, and Daria recognized an opportunity to once again take her business to the next level.
In group lessons and one-on-one training with her TechnoServe business advisor, Sebastian, Daria began to absorb and implement new business practices. With more financial knowledge, she better understood her business and was able to increase her profits by calculating her costs, margins, and profits. Alongside Sebastian, she even reassessed her entire business strategy.
You don't need money to make money, just the desire to work hard and plan well."
— Daria Arabulo 
Whereas before Daria would take on small jobs that required significant preparation for limited return, she decided to increase her efficiency by attracting orders to sew mass quantities of goods, such as company bags and uniforms. To implement her plan, she began marketing her business through social media to connect with larger clients and began calculating the amount of time she would need for more extensive projects, allowing her to better manage her time and costs and to bring on other workers for large orders, providing income for workers both within and beyond her family.
With time, Daria has grown her business from one small sewing machine to eight – all within her home. Thinking back on her trajectory, she says, "you don't need money to make money, just the desire to work hard and plan well."  Daria's hard work has meant financial stability for her family, despite their previous hardships.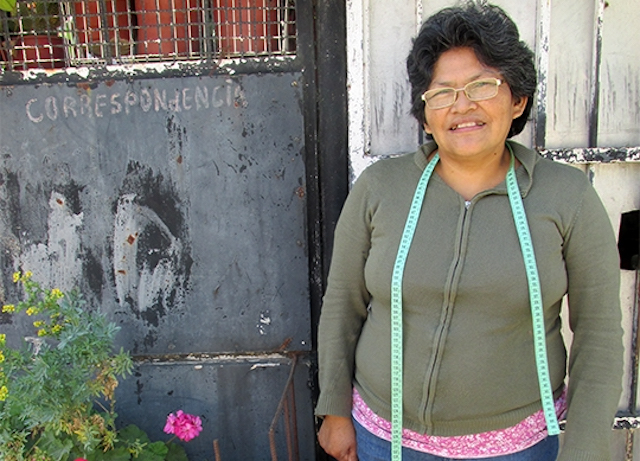 Cut from the Same Cloth – Spreading the Enterprising Spirit
Armed with new business skills and her keen eye for opportunity, Daria passed on her business knowledge to her husband. Through her training and experience, Daria knew the importance of leveraging her existing resources as investments in her future. Ever-enterprising, Daria purchased an industrial oven to make traditional empanadas for the month-long independence celebrations in September. While participating in Impulsa tu Empresa, she was inspired with a new idea. She asked her husband, "Why don't we use this oven to make bread and cakes that we could sell year-round?"
Daria helped her husband — who was unemployed at the time — get started by showing him how to make the dough, which he would bake into bread and sell three to four days a week at a nearby market. The first day he sold 2 kilograms of bread, followed by 4 the next day. Today, he has built up his sales to 20 kilograms of bread every day at the market, where he offers breakfast combos with coffee and tea. Daria exclaimed, "He has not stopped making bread!"
Looking Forward to an Even Brighter Future
Daria is grateful to have overcome the many obstacles that women entrepreneurs can face, both in the business world, as well as within their families. "Had my family been an obstacle like in other people's situations, I would not be where I am today," she explains. "WE would not be where we are today." She's proud to provide for her family through her own business. "I love being an entrepreneur, as I have to be creative to solve problems."
Our own effort is a powerful tool to escape poverty. Never say 'I can't.' If you want something, you can achieve it."
— Daria Arabulo
Two decades after the flood forced her to start anew, Daria formally registered her business, allowing her to accept orders from large corporate clients that require receipts, such as mining companies and schools.
Looking back on her journey as a mother, provider, and businessperson, Daria repeats the philosophy she developed over her years of hard work and tireless growth from poverty to a stable future for her children. "Our own effort is a powerful tool to escape poverty. Never say 'I can't.' If you want something you can achieve it."
Over five years, Impulsa Tu Empresa helped generate $2.7 million in increased revenue and wages for growing businesses in Chile.
---
Make A Difference
$25 provides a business webinar to one entrepreneur, with guidance for strengthening his/her business through COVID-19 and beyond.
---
$45 provides one business training session and one 1:1 advisory session to an enterprise.
---
$180 provides one month of digital business training and mentorship for one small business