Mónica is a dreamer. Everyone who knows her, knows that. And it's an attitude Mónica is determined to teach her daughter.
So, Mónica always does what supports her dreams. The 26-year-old chef gives cooking lessons at home, runs a takeout food business, and has even been on a weekly television program, where she gives cooking tips.
At work, she dons an all-red chef's outfit, complete with the floppy hat, and can cook all day – juicy burgers, big breakfasts, hearty sandwiches with crispy fries – wearing a big smile for happy customers.
But things aren't always like that in life. Running a business means more than just cooking, and Mónica had to learn the hard way – especially with her daughter's future in mind.
"Honestly I did not see much future for my business," she reflects. "It wasn't far from closing."
Back of the House: Management, Records, and Tough Decisions
"I could no longer pay my employee, I couldn't pay rent of the establishment, and I had many debts from customers," Mónica remembers.
While she loved to cook, Mónica knew things had to change if she were going to keep her takeout business alive. She thought about the people who loved her food, and what it might mean for them if she had to close down her shop. 
She knew that she needed "control over the business…[as] running a business is not just selling [food]."
And control meant planning, budgeting, and managing. Sometimes, Mónica wouldn't have enough money in the business to buy products. Other times, she stocked the wrong products, or too much of a single product, which led to waste. 
"This always led to loss of sales, which affected my business significantly," Mónica reflects. "I didn't worry about record keeping nor controlling my stock and saving money."
And these back-of-house processes aren't always fun for a chef who would rather be cooking delicious foods. "Analyzing my sales without records was very challenging, took too much time, and was unhelpful in determining how much money I made in the shop or which products brought in the most sales."
"It was also very difficult to determine profit margins, and therefore I relied on estimates."
Changing the Recipe for Success
Knowing things had to change, Mónica found her way to Business Women Connect (BWC), a TechnoServe program, funded by ExxonMobil Foundation, that started working in Mozambique in 2018 and supports women micro-entrepreneurs in the Maputo, Gaza, and Inhambane provinces. The program is designed to help women business owners in Mozambique – a traditionally male-dominated society – overcome the obstacles to growing their small enterprises.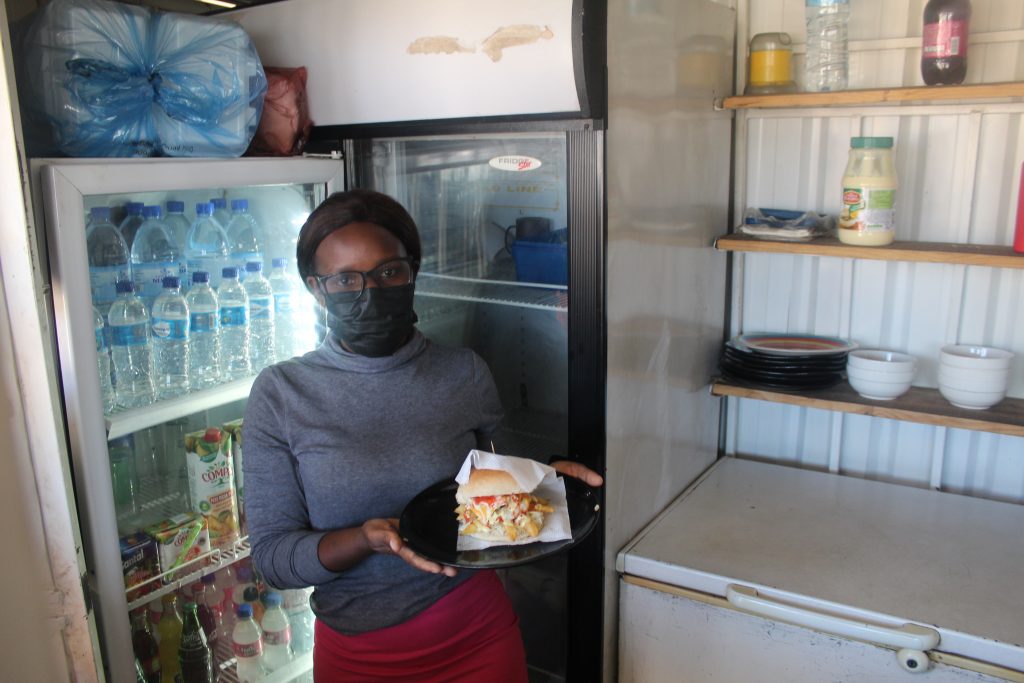 In implementing the business skills she learned, Mónica started to give more importance to record keeping, in particular, and she saw a significant growth in her sales, savings, and number of clients.
"Since working with TechnoServe and putting into practice all the learnings, I was able to move from loss to break-even-point," Mónica says with a smile. "And since I improved my business skills management, I am now able to make 20% more profit than I was making before attending the training."
Business Beyond Burgers
For a woman business owner in Mozambique there's an added layer to the training and development. Since 2019, Mozambique has faced two cyclones, a violent conflict in the north, and the COVID-19 crisis. These events strained resources for displaced women, created a higher risk of gender-based violence, and made it more difficult to provide health services to women.
My biggest pride is that I'm making my business visible, and with the savings I've already bought some equipment that is helping me, like a hamburger griddle and a mixer.
But there's more to growing her business than expansion. Mónica kept her daughter's future in mind throughout the training, knowing that changes she made to her business could have a real impact on her daughter's life. "I hope to be able to afford the best schools for my daughter so that she is exposed to better opportunities in the future," Mónica reflects.
She is also proud to have built her skills as a business owner, a role that is sometimes seen as dominated by men. She's doing what she can to help other women and girls in her community, too, knowing how important it is for women in Mozambique to support each other. "I intend to share the knowledge gained with more girls around my community as a way of encouraging them to create self-employment," Mónica says now that she has gotten her business to a better place.
As she turns back to the grill in her red chef's outfit to continue cooking, Mónica says one more thing: "I am very proud of the enterprising woman I am becoming."