On a small farm in central Guatemala, 31-year-old Manuel Guarcas Batzibal skillfully maneuvers through narrow rows of pea plants. After plucking one of the bright green pods off a nearby plant, he places it into a large plastic crate slung over his left shoulder. Eventually, he pauses, glancing up at the sky with concern. Clouds are beginning to gather in the distance, and rain is on the way. 
"I'm concerned about the weather," he shares. "Too much rain causes the peas to get too sick or too spotted, which is our main concern."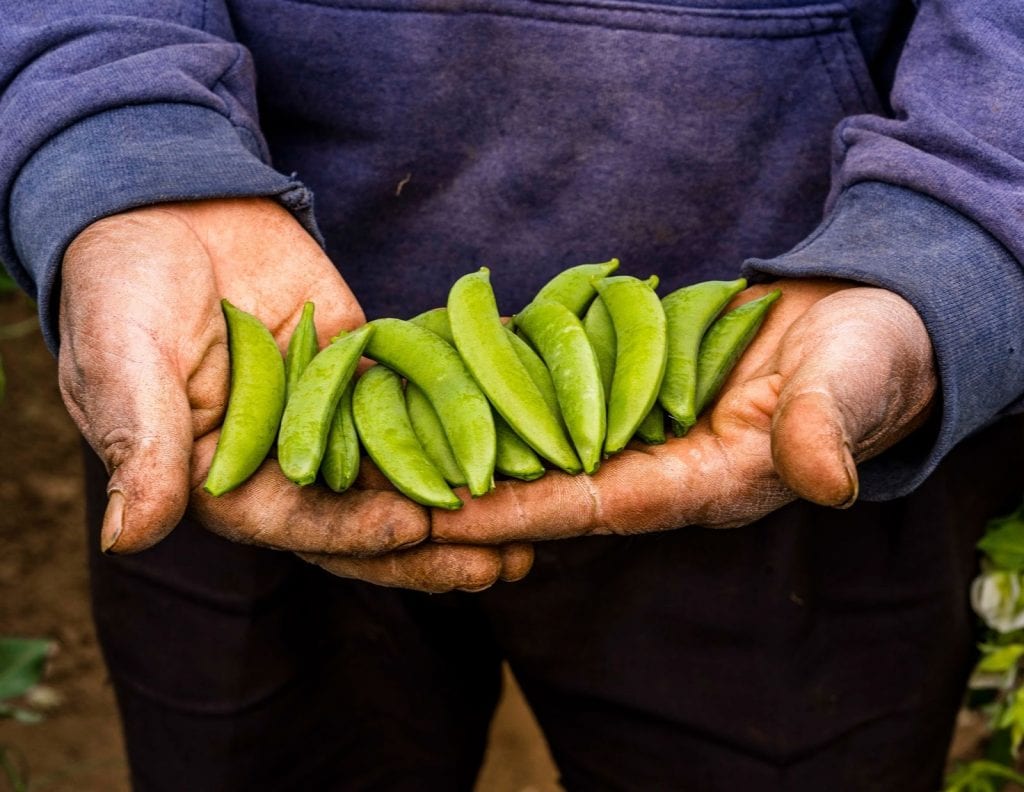 For smallholder farmers like Manuel, rain is both a blessing and a curse. Too little rain, and his plants will wither up and die. Too much rain, and he risks soil erosion, waterlogging, and new pests and plant diseases. 
Today, farmers in his community have noticed that the wet season is getting wetter, and the dry season is getting drier, jeopardizing the crops they rely on for their livelihoods. 
To make matters worse, extreme weather events have also become more frequent.
Addressing Climate Risks on the Farm 
Guatemala ranks in the top five countries in the world most affected by natural disasters such as floods, earthquakes, and hurricanes. Over 40% of the population is exposed to five or more threats simultaneously. For smallholder farmers like Manuel, who rely on rain-fed agriculture for every aspect of their daily lives, even one extreme weather event can have devastating consequences. 
Last November, back-to-back hurricanes hit Central America. Although the storms were no longer considered hurricanes by the time they reached Guatemala, they still did extensive damage to many small farms throughout the country. 
Vegetable farmers watched helplessly as heavy winds blew fruit from the trees and rainwater flooded their fields. According to an interview TechnoServe conducted shortly after the storms, 52% of interviewed farmers reported severe damage on their farm, resulting in a 35%+ loss in crops.
TechnoServe's Smallholder Market Access Program, funded by the Walmart Foundation, seeks to help farmers increase their resilience to climate change threats while also addressing challenges related to suboptimal agronomic practices, high production costs, price volatility, and informal market connections.
Training on Climate-Smart Agriculture Helps Farmers Thrive
Manuel lives with his wife, two children, mother, and two sisters, on a small farm in central Guatemala. He first started growing peas to earn extra income for his family, but for several years, he struggled with low yields, inconsistent quality, and low prices. 
In 2020, Manuel heard about the TechnoServe program through his local farmer organization and decided to attend one of the first training sessions.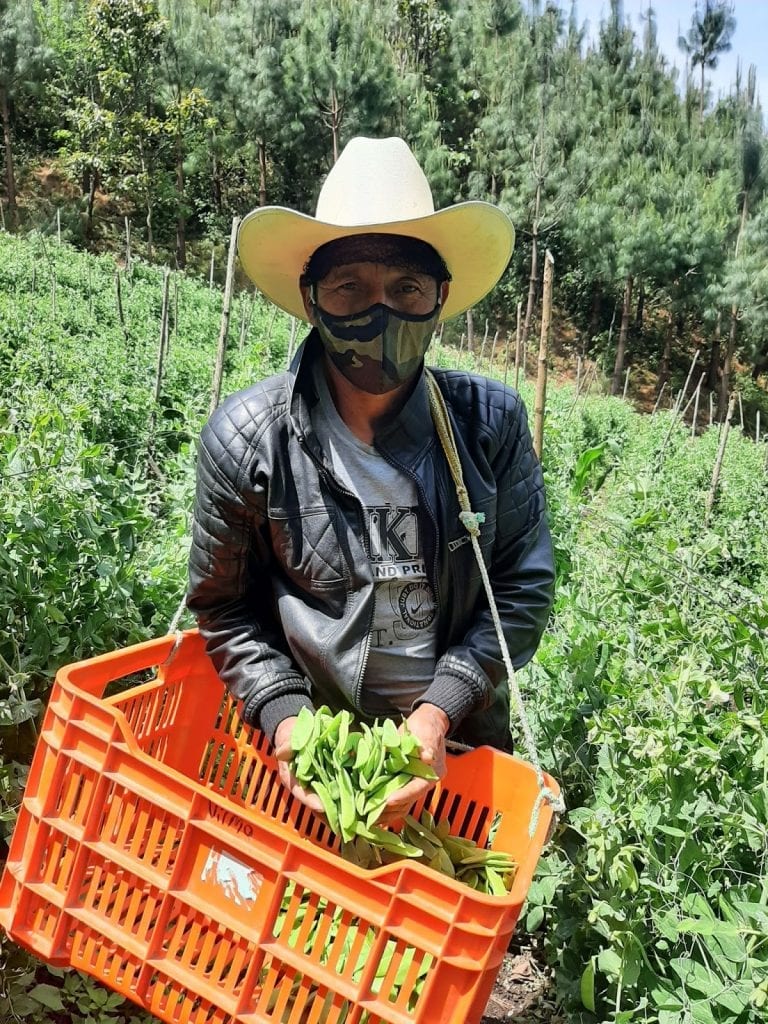 "Before TechnoServe arrived, I had not received training to manage my crop," Manuel recalls. "We did not know the right time to apply the fertilizers, and we did not know what they were for." 
The program aims to work with 5,000 smallholder farmers in Guatemala and Nicaragua over two years, increasing their farm productivity by 15% and their incomes by 20%.
Farmers in the program learn important agronomic and farm management practices through practical workshops. TechnoServe staff then visit their farms on a regular basis to help them apply the new practices. 
"I got involved because I was part of the association, and I really liked the first training I attended," says Manuel. "I am learning new things, and I like that because it helps me to improve the quality of my peas. Thus I will be able to have a better income." 

Techniques to Improve Climate Resilience

Environmental sustainability is an important component of the program, which teaches farmers like Manuel the climate-smart agricultural techniques that will help them increase their productivity and incomes and improve resilience to climate change. Examples include: 
Integrated pest and disease management

Applying lime and organic fertilizer to improve soil quality 

Planting cover crops to reduce soil erosion and increase moisture content 

Rotating crops to improve soil fertility 
"Previously, I used to apply the fertilizer incorrectly, and I didn't know what it was for," Manuel says. "Now I know how to use them and how the plant takes advantage of them to have a better yield in my peas."
Manuel also learned how to maximize the quality of the soil on his small farm. "We do not have much land, so we always plant in the same place," he says. "It is difficult for me year after year to have a better harvest because the soil is sick. So now I know that I have to use agricultural lime to improve my soil and reduce the diseases that are in the soil." 
Connecting Smallholder Produce to Markets

In addition to working with farmers to improve their crop quality and yields in the face of climate change, TechnoServe also helps farmers connect to reliable markets for their produce – an essential component of improving livelihoods. TechnoServe is supporting producer organizations like Manuel's to better connect farmers with formal markets, facilitate their access to financing, add value to their products, and secure the best possible prices for their harvests.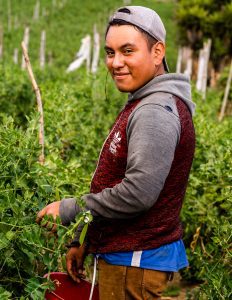 Thanks to the improvement in crop quality and yields – in addition to new market linkages with partners in the formal market, such as producer organizations, packing houses, and exporters – Manuel has been able to get a higher price for his peas. "I'm getting a better price from the association, and the percentage of rejection I'm getting is less, so the association pays me more for the product I deliver." 
"Now we will have a better family income that will help us to move forward with our family and continue to grow," he says proudly.